Agency Partner
Deliver quality and compliance—not lawsuits
As an agency, your clients expect you to design an accessible and compliant site, not one putting them at risk of a potentially costly lawsuit. With the power of AudioEye's team and technology in your hands,
you can, quickly and affordably, achieve and sustain substantial conformance with WCAG. An accessible site also improves your client's SEO, broadens their consumer market and boosts their brand image. Win. Win. Win.
Agency Partner Benefits

Affordable
Receive multi-site, bulk pricing for your clients
Compliant
Design and deliver legally compliant websites

Competitive
Accessible websites enhance competitive advantage
Become an Agency Partner
Tell us a little about your agency, your clients' needs and the sites you create.
Web accessibility is not something AI alone can address. Real human intervention is required to manage, test and ensure issues are adequately resolved. AudioEye gives us that control.
Jon Sasala
President, Morey Creative Studios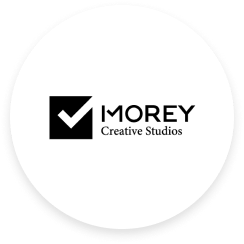 Frequently Asked Questions
1
What are the benefits of partnership?
2
As an Agency Partner, am I entitled to any special discounts on pricing
3
As a partner of AudioEye, can I white-box or white-label the product if a client requests us to do so?
4
Do you provide Marketing materials and training tutorials to help us sell AudioEye to our clients?
5
Would AudioEye be willing to speak about accessibility?