Why businesses are choosing AudioEye over accessibility consultants
Today's compliance requires efficiency and speed. AudioEye delivers best-in-class web accessibility by combining automation with expert support, saving you up to 80% of what consultants would charge you.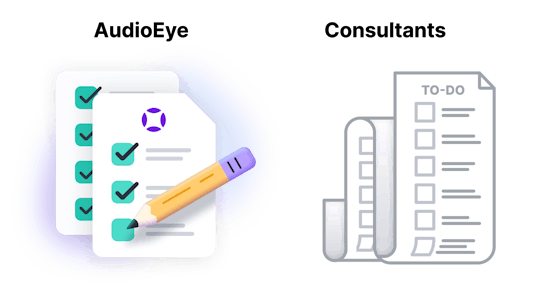 Consultants give you a list of to-dos and leave your developers to it, while we fix most accessibility issues for you without the need for developers. Imagine if an exterminator came to your house and just pointed out all the bugs, without getting rid of them?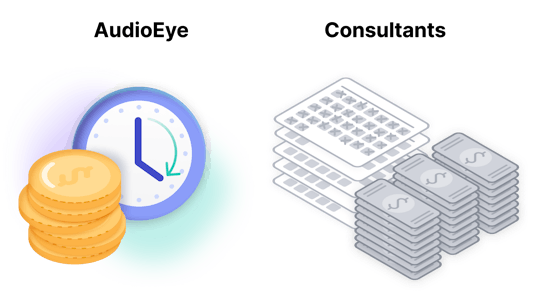 Consultants often charge over $10,000 for just a website audit, plus hourly rates for development and support. Our technology resolves common errors and experts fix complex ones: we simply do much more for thousands less.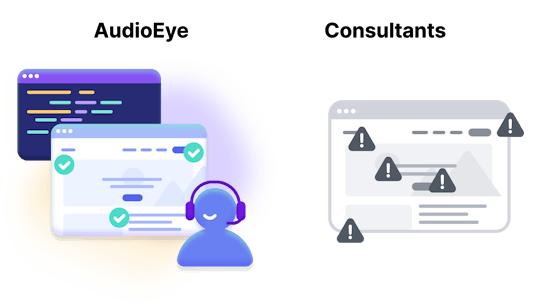 From custom accessibility fixes to robust legal support, we offer expert services for your needs, including Dedicated Account Management, Online Training, and a US-based 24/7 Help Desk.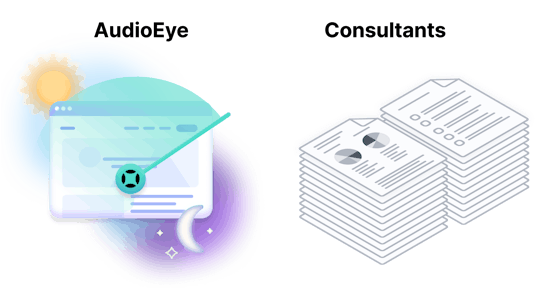 Consultants provide expensive tools and licenses that cost you tens of thousands of dollars, and their audits become outdated the moment you make a change on your website. We include all our software tools in every plan while continuously monitoring and fixing errors for you as you make changes, providing everything you need in a compliance plan.
AudioEye's world-class technology paired with certified accessibility and legal experts make them stand out as a partner that we can trust."
CEO and President at Celerant Technology
What AudioEye offers vs. consultants
Swipe to see and compare plans
Ongoing automated testing
Free fixes for reported issues
Estimated cost
Based on a typical business website with 10-12 unique page templates
AudioEye
~$25,000 / year
Bi-annual expert audit: Included
Tools and licenses: Included
Developer work: minimal — we build custom fixes for you
Consulting solutions
~$100,000 / year
Bi-annual manual audit: $20,000
Tools and licenses: $30,000
Developer work: $50,000 — est. 50% of a developer's time
Trusted by over 76,000 customers. Forward-looking companies choose AudioEye to gain compliance, manage risk, and grow revenue. We work with organizations of all sizes, including digital agencies, governments, and technology partners.
Bring AudioEye to your organization today