Back to Blog
Digital accessibility legal landscape: are you at risk with an inaccessible site?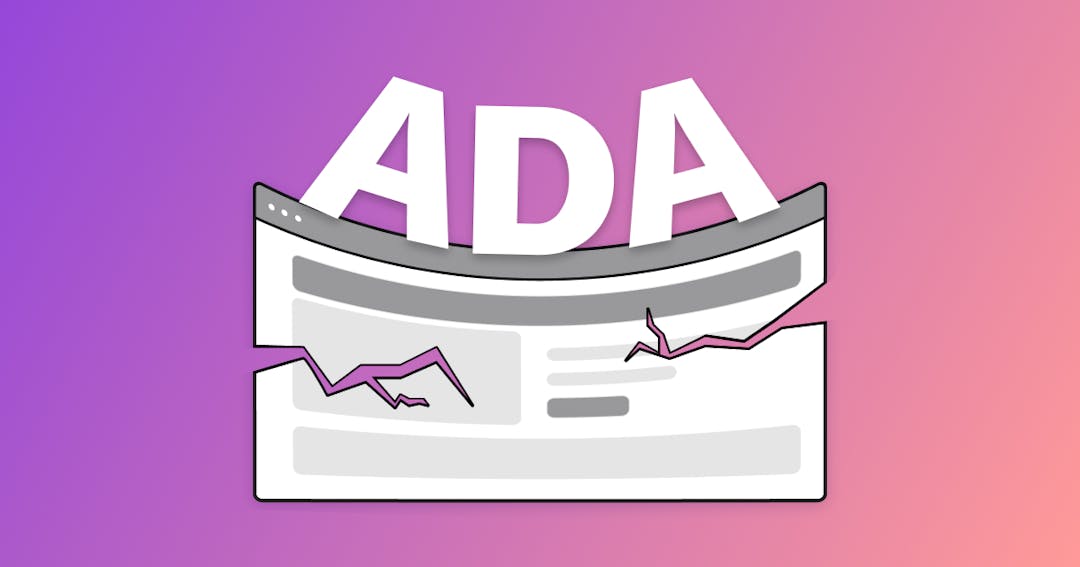 U.S. law guarantees the right of equal access for all people regardless of their ability. But what about access to online information? Although the relevant legislation – the Americans with Disabilities Act (ADA) – actually predates the first web browser, it was designed to keep pace with changing technology.
In fact, in 2018, the Department of Justice confirmed that the ADA's requirements, specifically what constitutes "places of public accommodations", are applicable to websites – and have been for more than 20 years. Further, legal precedence supports the same notion that the websites should be considered a place of public accommodation.
Given the litigious nature of modern society and the fact that an estimated 26 percent of U.S. adults are living with a disability, it's perhaps surprising that ADA-related lawsuits have only recently begun to proliferate.[1] But what started as a trickle is fast becoming a torrent, and all commercial organizations should now be aware of the growing risks of litigation.
In 2017, there were 815 ADA lawsuits filed in US Federal District Courts. In 2018, that number almost tripled to 2,250. Last year – based on AudioEye tracking[2] – saw a further increase to 2,446 lawsuits, of which 2,345 were aimed at commercial organizations.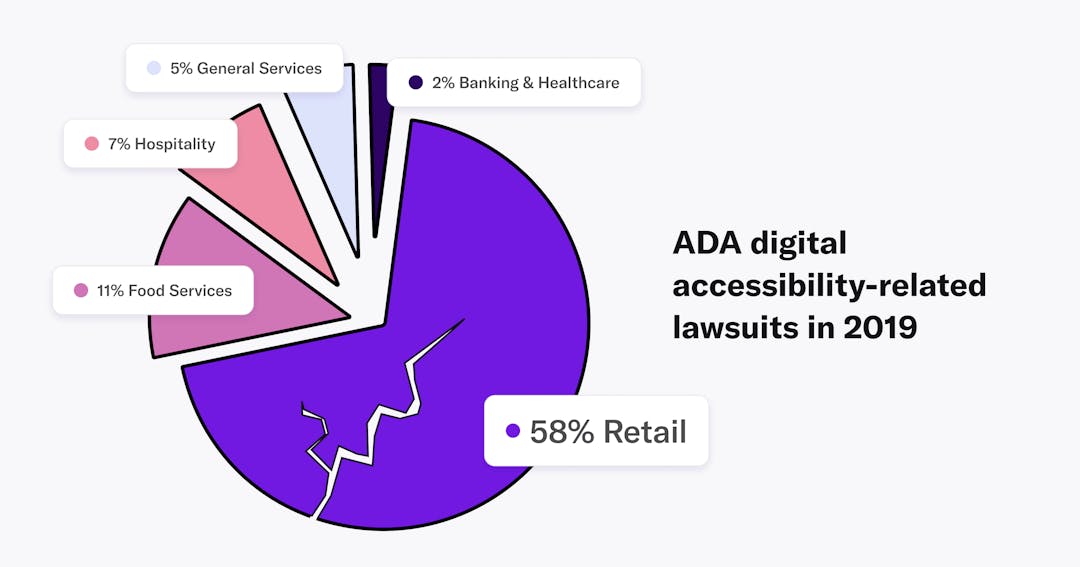 Hot spots for legal risk
As you might expect, some industries are targeted more often than others. According to AudioEye tracking, some 58% of ADA digital accessibility-related lawsuits in 2019 were directed at the retail industry, 11% at restaurants and other food services businesses, and 7% at hospitality companies. Meanwhile, general service industries attracted 5% of all lawsuits, with banking and healthcare each racking up 2%.
So far, the industry split for 2020 looks broadly similar—but does that mean organizations in other industries can rest easy? It may be tempting to assume that only large enterprises in high-profile consumer industries are at risk, but the reality is that all commercial organizations need to ensure that their websites are fully accessible to individuals with disabilities. The precedents now being set in U.S. courts strongly suggest that lawsuits will become routine – and routinely successful.
The growing number of court cases will also help to define best practices for compliance. A past criticism of the ADA is that it doesn't provide a prescription for ensuring website accessibility. This seems to have lulled some organizations into a false sense of security about the need to take meaningful action to fix their websites.
However, as more cases come to court, any defense that relies on a weak interpretation of accessibility is increasingly likely to fail. Likewise, any organization that thinks it can simply slap a $500 "accessibility toolbar" on its website may have a nasty surprise coming.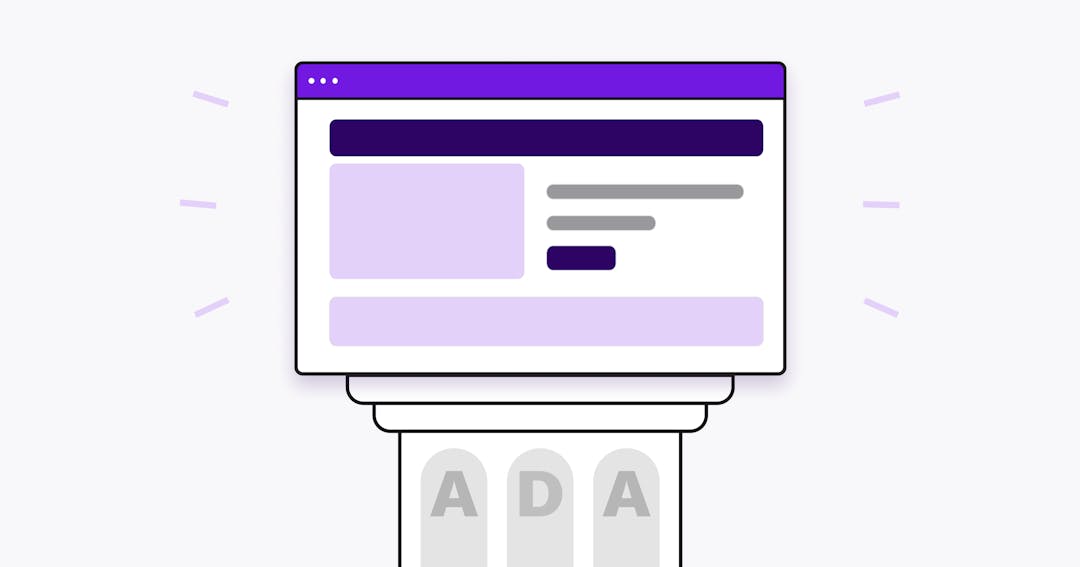 No time like the present
While the ADA only provides for injunctive relief (not damages), U.S. courts typically instruct unsuccessful defendants to pay the plaintiff's legal costs (which can be quite extensive, especially when styled as a putative class action suits) in addition to investing in curing their websites to achieve compliance. State courts, on the other hand can go much further. Under the California Unruh Civil Rights Act, damages start at a minimum of $4,000 per incident. During the redevelopment, companies may also need to take their existing non-compliant websites offline, which can entail a significant loss of revenue, especially for online-focused businesses.
The options are therefore quite stark: invest in making your website compliant today or face the stress, cost and consequences of legal action tomorrow.
If that is not compelling enough in itself, consider the potential PR damage of being publicly condemned for failing to meet your obligations to individuals with disabilities, a demographic often marginalized. It also makes commercial sense to be compliant: according to Forrester research, the annual disposable income of US citizens with some kind of disability is estimated to be more than $1.2 trillion. That number jumps to $8 trillion when you consider their friends and family.[3] Ensuring full accessibility for your website could be good for your bottom line as well as your organization's reputation.
If you want to avoid the growing legal risk of a non-compliant website, AudioEye can help. We offer fast and effective ADA compliance solutions that enable our clients to fend off lawsuits from day one. Don't wait to be sued, start your compliance journey with AudioEye today.
[1] https://www.cdc.gov/ncbddd/disabilityandhealth/infographic-disability-impacts-all.html
[2] Throughout 2019, AudioEye has tracked ADA Title II and Title III lawsuits as filed in U.S. Federal District Courts and State Supreme and Superior Courts. This report considers all identified lawsuits as tracked by AudioEye staff. It does not include any calculation on the number of legal demand letters asserted by plaintiff's making claims of non-compliance. AudioEye does not guarantee the accuracy of this report but has taken measure to track the details of the filed claims to the best of its ability given the resources available and the limited information supplied through the various sources associated with the publicly available information.
[3] https://go.forrester.com/blogs/the-billion-customer-digital-accessibility-opportunity/