Back to Blog
Happy Global Accessibility Awareness Day (GAAD)!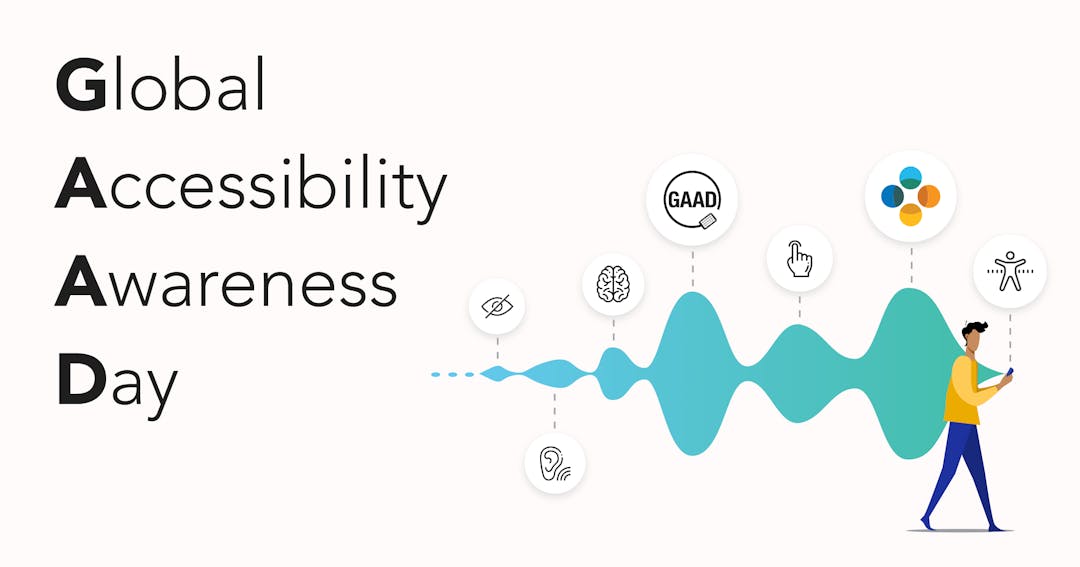 Today is Global Accessibility Awareness Day (GAAD). All over the world, technology pros and disability advocates will come together to further the discussion about how we can promote inclusivity through technology.
What started with a Blog post in 2011, is now a global movement to raise awareness about an issue that to many of us seems like a "no brainer." The fact that we're still discussing, debating and litigating whether access to digital content should be mandated under the Americans with Disabilities Act (ADA) seems absurd, when the issue is as simple as this: digital accessibility is about people and treating them equally for the benefit of all.
Access to information through the Internet is all about inclusivity. It levels the playing field, giving ALL people equal access to convenience, information and the ability to positively impact their lives on a daily basis. There are more than 1 billion people worldwide and 42+ million people in the U.S., impacted by a disability – digital accessibility is so much bigger than the "ramps and rails," and accommodations required for access in the physical world. Digital accessibility is the great equalizer of our time.
The State of California, where the technology revolution was born, has mandated that all state agencies make their website accessible by next summer. The state has also officially recognized today, and the third Thursday of every May, as GAAD in the State of California. We commend them for their leadership in recognizing the importance of drawing the legal line.
What is unfortunate, is that compelling public or private entities to be inclusive requires mandate, legislation, regulation or legal action. If you're interested in AudioEye's position, I invite you to review our position on the legal landscape.
But I digress. Again, we commend the State of California and specifically, Assemblymember Adam Gray, for clear leadership. But for a moment let's set aside legislation and regulation, and focus on people – and frankly, common sense.
Today, on Global Accessibility Awareness Day, I'd like to address the importance of digital accessibility on key levels. The discussion has become centered around whether or not digital accessibility is required under the Americans with Disabilities Act, when the discussion should be centered around the people impacted by their inability to access the world's largest infrastructure- the Internet. It should be quite simple.
The Right Thing to Do
Would you build an office and say: 15% of you can't work here.
Would you open a store and say: 15% of you can't shop here.
Would you open any business and say: I don't need business from 15% of you.
When your website, intranet, or recruiting site is not accessible, you might as well be saying all of that. I believe most business leaders don't realize the impact disability has on their team and their audience. Unfortunately, most people tend to think of "disability" as people who are blind, deaf or with severe mobility issues – such as the late Professor Stephen Hawking. Who, by the way, could only access websites that were designed / coded to interact with his assistive technology.
So, it begs the question: are 15% of the population blind, deaf or experiencing severe mobility issues? The answer is no. But you need to rethink disability. According to the World Health Organization (WHO), 15% of the world's population is disabled. Keep in mind, 71% of disabilities have no visible effect.
Aging populations, people with low vision, dyslexia, color blindness and a range of cognitive, intellectual and mental disabilities experience barriers to access and consumption of digital content. That's what accessibility and usability addresses. Accessibility and usability remove barriers on just about every level so that more people can access and consume content and enjoy the equal access they deserve (and are guaranteed under laws and regulations, but I again digress, compliance is a story for another day).
Digital Accessibility provides access in the most extreme case, to those that rely on assistive technology, and improves the experience for everyone regardless of their level of ability.
Smart Business
Ensuring your website and digital content are accessible, expands your reach, allowing more people to effectively use and consume your information. By its nature, designing / coding for accessibility also positively impacts SEO. More importantly, it speaks to the desire of your business to be inclusive. And frankly, without getting back into the legal landscape, considering accessibility in your digital strategy, mitigates risk.
The decisions business leaders make as it relates to digital strategy, can either be inclusive or excluding millions. Seems pretty simple, doesn't it?
Happy Global Accessibility Awareness Day. To those working to improve accessibility, we commend you. To those that are just learning: Ask yourself, what are you going to do about it as you move forward?
Todd Bankofier
CEO, AudioEye, Inc.
In June, AudioEye will launch a series of webinars designed to quickly and concisely introduce CEOs to digital accessibility and the "big picture". Contact TeamAudioEye@AudioEye.com for the schedule.
Participate in a Local AudioEye GAAD Event
AudioEye GAAD – Atlanta
AudioEye GAAD – Bay Area
AudioEye GAAD – DC Metro
AudioEye GAAD – NYC