Back to Blog
The ADA in retrospect: How far have we come, and what's next for digital accessibility?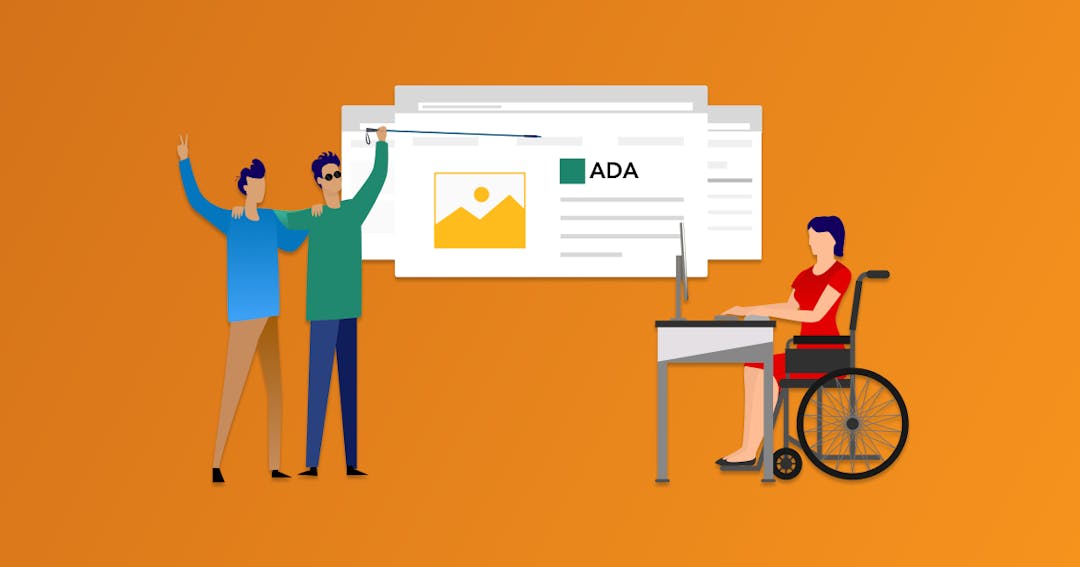 Over the past 30 years, the United States has come a long way in breaking down the attitudinal, institutional and environmental barriers that prevent people with disabilities from fully engaging in social, academic and professional life.
One of the most important reasons that accessibility has become such a priority for public and private organizations alike is the Americans with Disabilities Act (ADA) of 1990. The ADA marked the first time that accessibility issues received the full protection of Federal law.
As well as prohibiting employers from discriminating against people on the grounds of disability, Title II of the ADA prohibits disability discrimination by public organizations at the state and local level. Title III of the act mandates that places of public accommodation—for example, theaters, stores and restaurants—be accessible to people of all abilities.
Considering place and space
Throughout the 1990s, it was relatively straightforward to assess the degree to which public organizations and places of public accommodation were complying with the ADA. Glaring infractions—for example, lack of mobility and hearing access in banks or schools—were easy to identify and correct. However, as the popularity of online and mobile channels exploded in the 2000s, accessibility issues took on a new dimension.
Today, we may take for granted the fact that digital systems govern almost every aspect of our working and personal lives. Everything—from collaborating with our colleagues to ordering groceries and consuming entertainment—is mediated by data-driven services.
Although online and mobile services are a crucial part of our lives, surprisingly few websites are fully accessible to people of all abilities. In the UK, an estimated 70 percent of websites are non-compliant with domestic accessibility legislation. In the United States, the picture is similar—and few websites achieve the gold standard for accessible design laid out in the Web Content Accessibility Guidelines (WCAG).
Entering the digital arena
Digital accessibility matters, even if we set aside the fact that it is the right thing to do for moral reasons. That's because the "places of public accommodation" in Title III of the ADA are overwhelmingly interpreted by US Courts to include the digital world.
Tony Coelho, retired congressman and member of the AudioEye board of directors, was one of the key figures involved in the writing and passage of the ADA. In a recent interview with Forbes, Tony Coelho explained: "When the ADA was enacted, the internet was not as pervasive as it is today, so the ADA did not specifically cover it. The digital arena is the new interstate highway, and it's impossible to do business without having access to this interstate highway. I've made this argument over and over again, and I've testified that the ADA does apply to digital accessibility."
This assertion isn't just Tony Coelho's opinion—there's also increasing legal precedent to back it up. The number of digital accessibility lawsuits filed under Title III in US Federal District Courts climbed to more than 2,400 in 2019, of which 2,345 targeted commercial businesses. Courts have consistently ruled that Title III is applicable to the virtual world, and the trend seems set to continue as social justice issues loom ever larger in the public consciousness in 2020.
Mitigating compliance risks
To avoid the substantial legal, financial and reputational risks associated with ADA non-compliance, it's never been more important for businesses and public-sector organizations to ensure that their digital properties are accessible to people of all abilities. However, while the ADA makes the responsibilities clear, the route to compliance is much less so.
Because web technologies and content are constantly evolving, attempting to achieve the accessibility best practices defined in the WCAG without the support of an expert partner can be a costly, time-consuming and high-risk strategy.
AudioEye is ready to help
If you're concerned that your website is not fully accessible—and the statistics suggest that you should be—AudioEye can help.
AudioEye offers something unique in today's accessibility marketplace: AI to automatically identify some of the most common WCAG errors coupled with certified human expertise to monitor your website for ongoing accessibility compliance. For those who want to monitor their own compliance, AudioEye offers advanced tools that can rapidly remediate issues at the code level.
While the ADA fired the starting pistol, it's clear that the race to accessibility is a marathon, not a sprint. As Tony Coelho commented: "My hope is that we continue to recognize the importance of equal access and continue to push for online equality. We have accomplished a lot for the physical space in 30 years, but we have a lot left to do in this digital era."
If your business is ready to take the next step on your accessibility journey, schedule a meeting to speak with an AudioEye expert.