Back to blog
AudioEye's Accessibility Score: Your Site's Accessibility at a Glance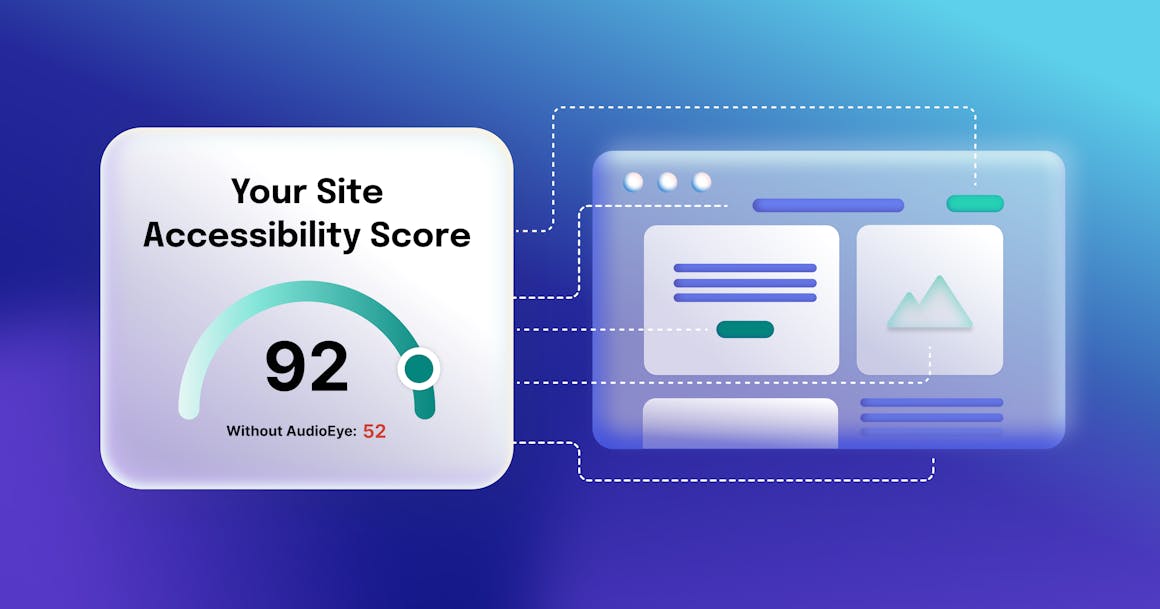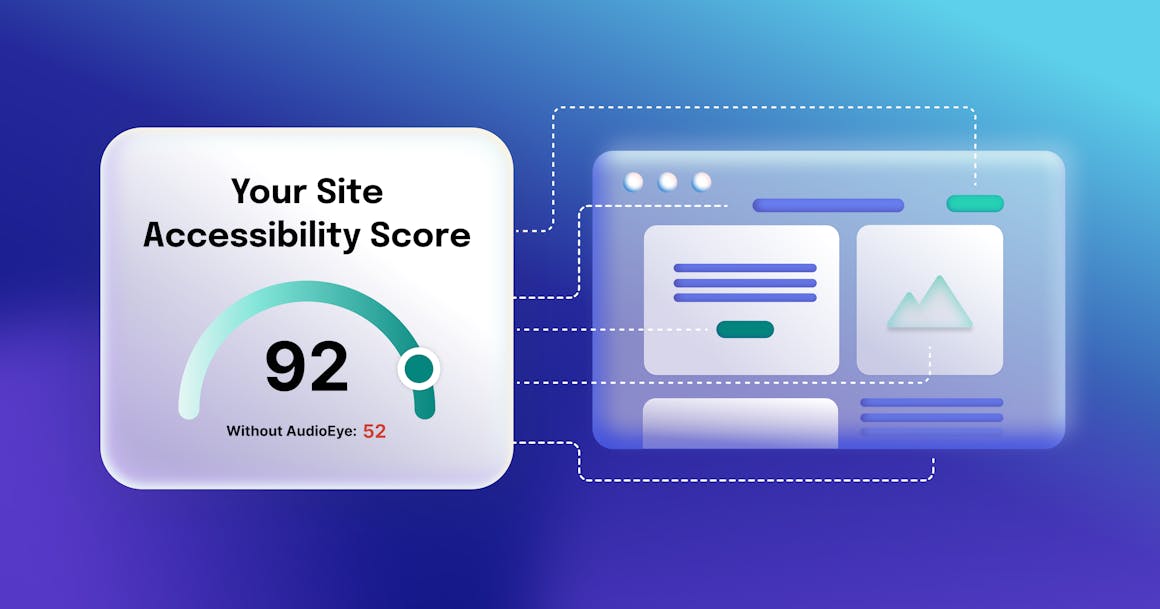 Learn how AudioEye's Accessibility Score makes it easy to get a real-time view of your site's accessibility.
Is your website accessible to people with disabilities?
That's a hard question for most businesses to answer, for a few reasons.
Most websites are full of accessibility errors. With so many issues to fix, it can be hard to prioritize which ones to act on first.
Websites are always changing. Every time you update a product page or sign-up form, you risk introducing new accessibility issues.
It can be hard to understand the results of an accessibility site scan or human review. Most accessibility reports are written for experts — and can be overwhelming to people less familiar with accessibility best practices.
Based on feedback we've received from our customers, AudioEye set out to help solve this problem by developing an easier way for businesses to monitor their website's accessibility.
The AudioEye Accessibility Score is a summary of a website's overall accessibility, based on the latest Web Content Accessibility Guidelines (WCAG). WCAG provides a wide range of guidelines that will make content more accessible to a wider range of people with disabilities. Instead  of sharing detailed reports on the results of hundreds of pass/fail tests, we simplify everything into an easy-to-understand score between 1 and 100. The higher your score, the more accessible your site.
Below, we explain the methodology behind the Accessibility Score and share tips on how businesses can use their score to improve their site's accessibility.
For a snapshot of your Accessibility Score on a single URL, try scanning it for free.
What Makes the AudioEye Accessibility Score Different?
Web accessibility is measured by how well websites or digital content (i.e., PDFs) adhere to the latest version of WCAG. Tools like Web Accessibility Evaluation (WAVE) and Power Mapper can be used to scan websites for a detailed report of accessibility issues.

However, these reports can be difficult for web developers and business owners to understand — or take action on. They often provide exhaustive lists of issues, errors, and alerts with no indicator of overall accessibility. You may see a scan with 100 errors, but won't know whether this result is good, bad, or normal.
The AudioEye Accessibility Score combines scan details to provide a starting point for all businesses to understand their site's accessibility.
From here, businesses can:
Monitor their score to see what progress they're making toward a more accessible site.
Quickly identify when new accessibility issues are introduced to their site.
Focus on key accessibility issues with AudioEye's detailed Issue Reporting.
How Is My Accessibility Score Calculated?
We calculate the overall site score based on three variables: issues, frequency, and time:
For issues, we use the results of automated tests to calculate an Accessibility Score for each page, then roll those scores up into a site-wide score. The page-level score looks at how many elements on the page failed tests for a given WCAG Success Criterion, compared to how many were tested.
For frequency, we weigh the average of each page score — based on how frequently each page is visited — and calculate a site-wide score.
For time, we look only at the last seven days. By using this approach, we can better approximate accessibility for your most-visited pages in recent history.
Please note: Your Accessibility Score helps you understand how closely your site follows WCAG criteria that can be automatically tested, but some guidelines cannot be tested without human interaction.
How Can I Use My Accessibility Score To Fix Accessibility Issues?
AudioEye's Accessibility Score makes it easy to identify and triage accessibility issues. Let's say that your score has a sudden 5-point drop. With our reporting tools, you can dig deeper into what's causing the drop by opening the Issue Reporting tab on your dashboard. This will display the severity and location of your current accessibility issues.
If you have multiple high-severity issues, you can prioritize which ones to fix first by using your web analytics tool to determine which affected pages get the most traffic. The Accessibility Score uses pageviews to help weight the severity of issues, so addressing the most-visited pages first can have a bigger impact on your overall score.
For example, you might encounter the issue "Vector Graphic Isn't Labeled Or Marked As Decorative." From your dashboard, you can see which success criteria this violates (WCAG SC 1.1.1 Non-text Content), who it will impact (people with vision impairments or cognitive disabilities), how to fix it, and where it occurs on your website.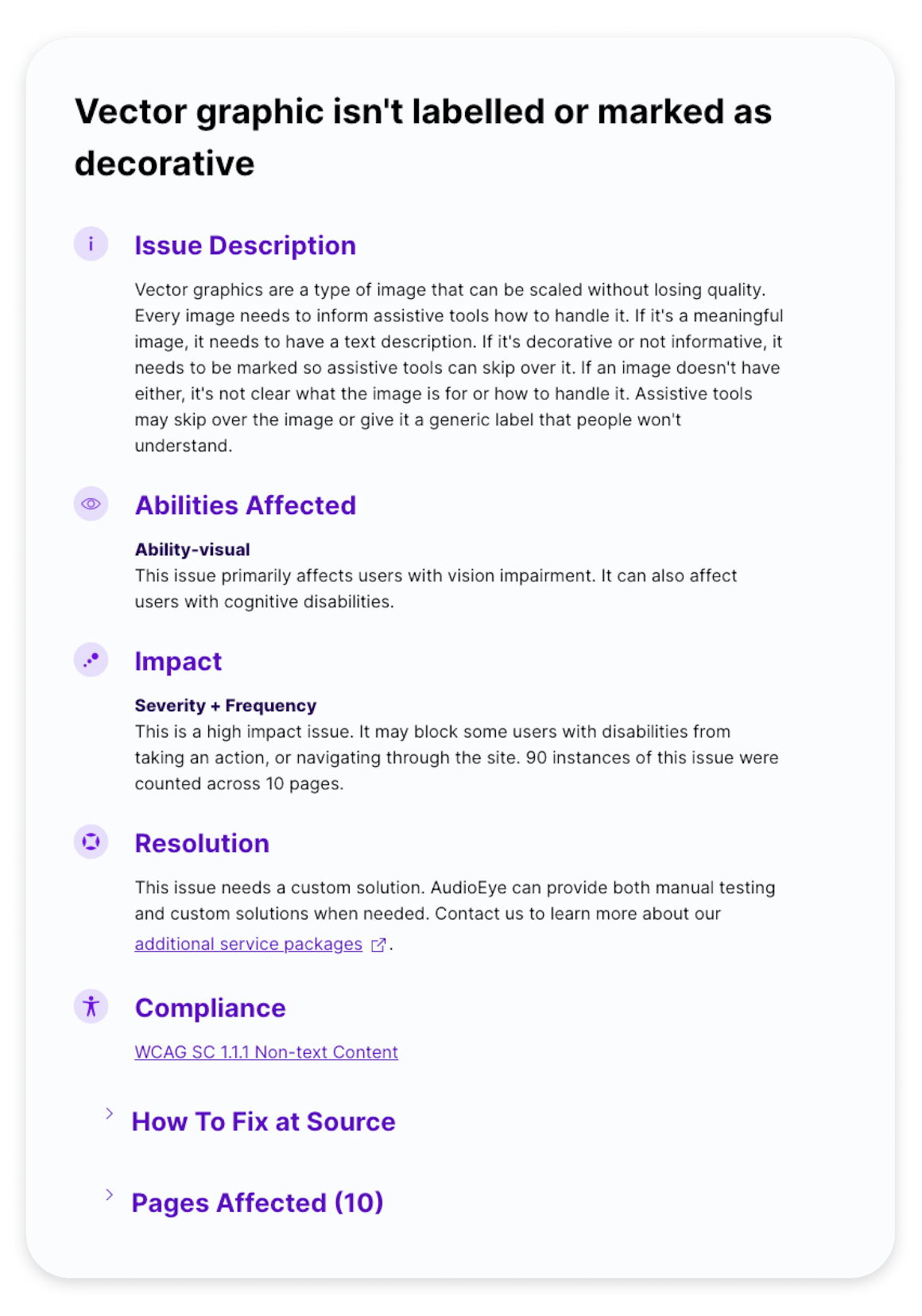 Your Accessibility Score can also help you determine if an update to your website is causing accessibility issues. If your score drops around the time you launch a new page or make a major update, you can filter to the URL(s) you want to check in the Issue Reporting tab.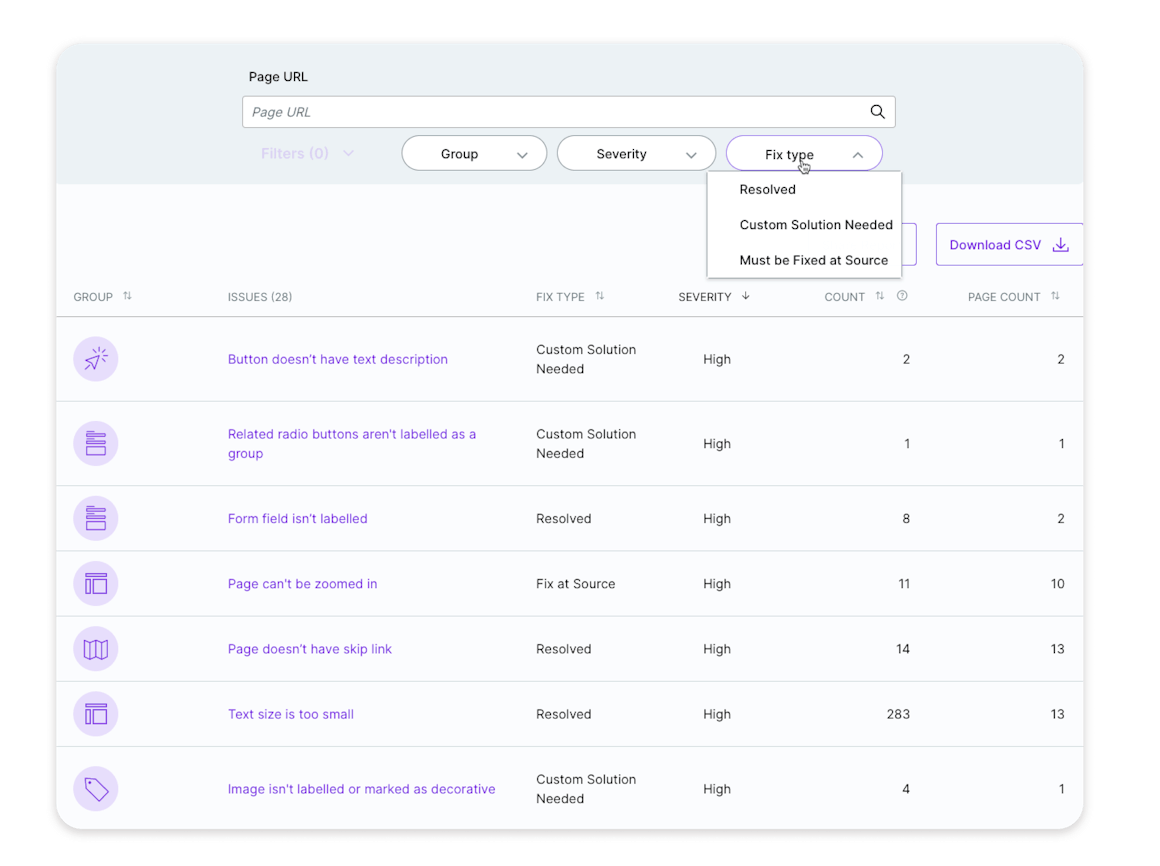 Making Digital Accessibility More Accessible
Digital accessibility is a continuous process. Even if your website rarely changes, accessibility standards and user expectations do. In order to be accessible, you need to regularly review your site against the latest standards.
At AudioEye, we help streamline this process by providing real-time monitoring, automated testing and remediation, manual audits and custom fixes, and, when needed, legal support. The Accessibility Score is an important next step, giving you better visibility into the "how, why, and where" of your site's accessibility issues.
Want to take a deeper dive into the methodology behind our Accessibility Score? Check out our technical blog post for insight into our approach and how we're working to improve the score.
Keep Reading