Trusted Process, Holistic Approach
Our AI-powered accessibility platform and team of experts provide full-coverage support needed to ensure your website is compliant—keeping you protected from legal risk.
Our Approach
400+ Automated Tests
Smart Fixes to Common Errors
Reporting & Analytics
Patented Accessibility Software
Certified Accessibility Experts
Manual Site Evaluations
24/7 Helpdesk
STAR Plan for Legal Support
Trusted by companies of all sizes
Accessibility Journey
Test
Our comprehensive, AI-powered testing gives real-time insights into the errors your site visitors are encountering.
Report
Our easy-to-understand reporting allows you to quickly see the improvements AudioEye has made on your site and the extent of remaining errors.
Remediate
Our patented algorithms automatically fix the most common and unique accessibility errors. Our team of IAAP-certified experts is always ready to step in when needed.
Monitor
Websites are dynamic and can change frequently. Our Live Monitoring system scans your site with every visit, identifying accessibility errors and performing real-time remediations that update your Accessibility Score.
Easy Steps To Add AudioEye
Simple instructions explaining how to install AudioEye's JavaScript line of code onto your website's platform. Once installed, our Platform immediately starts working—identifying errors on your site and applying fixes to many of the most common issues using our patented AI.
Comprehensive Compliance On Day One
All of our plans deliver comprehensive compliance and a more inclusive experience for your website's visitors. Your Portal Dashboard displays your site's Accessibility Score, the applied fixes, and the remaining errors. You'll always have a clear indication of how accessible your site is and where you can improve.
User-Controlled Experience Available
Designed with accessibility and usability in mind, the Toolbar provides every user with access to the visual tools that control how they experience your website content. The Helpdesk is easily accessible within the Toolbar, allowing users to report issues they experience directly to AudioEye experts who provide relevant details for you.​
Real-Time Accessibility Insights
AudioEye scans your website every time it's visited. Based on what your users are doing and which parts of your site they are visiting, AudioEye identifies real-time insights on any accessibility issues, performs immediate remediations, and makes live updates to your Accessibility Score and other reporting.​
Feel safe knowing that AudioEye reduces your legal risk and has your back. Our Accessibility Warranty covers all our plans and we continuously monitor to identify high-risk websites that require review from our team of IAAP-certified experts. And should you receive a demand letter, the AudioEye STAR Plan is a ready-made playbook that you can use in your response.
Ready to get started on your accessibility journey?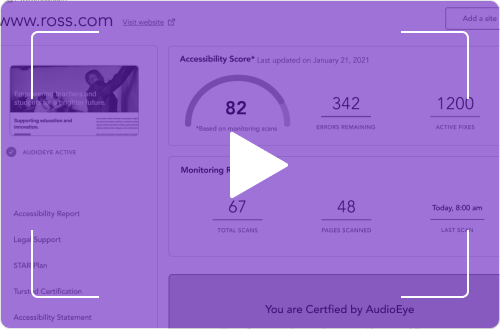 Our new Portal and Toolbar are completely redesigned to give you more accurate insight into your website's digital accessibility and better tools for an improved experience with your site content.
We have the peace of mind that our digital properties are accessible to everyone in the community, and to a standard that goes far beyond the minimum requirements of Title II and Section 508."
Chief Information Officer
Frequently Asked Questions
Have more questions? Feel free to hit us up on our chat—we'd love to help you out!
What is digital accessibility compliance?
Is the AudioEye solution secure? 
A toolbar is all I need, right?
Do you do the work to make my site accessible or do I?