Setting the Standard for Digital Accessibility
AudioEye's industry-defining digital accessibility hybrid offering helps deliver website remediations efficiently and affordably for organizations of all sizes. Our platform leverages a decade of investment in advanced technology supported and informed by our team of dedicated IAAP-certified professionals to help deliver improved access to the web.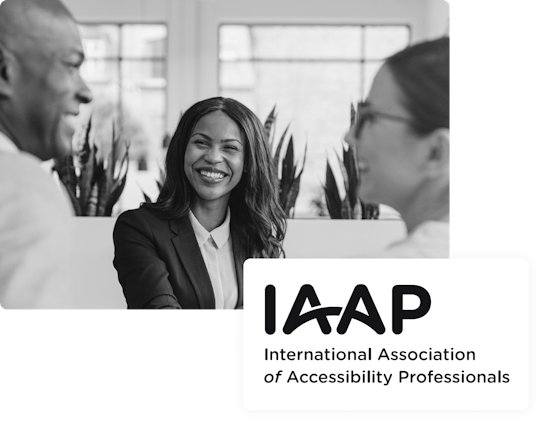 AudioEye is dedicated to eradicating every barrier to digital access. We recognize that, for too long, the technologies and digital experiences that so many of us take for granted are rife with errors and issues that prevent people with disabilities equal access. We believe that investment in technology is the best way to break down the barriers and to deliver sustainable solutions that can be implemented across the entire Web. At the same time, we believe that technology alone is not the full answer. The knowledge, empathy, and expertise of dedicated individuals are needed to support technology and make the overall solution better. 
Founded in 2005, AudioEye has been involved in Digital Accessibility for over 15 years. What started as an R&D company seeking to introduce innovations has grown into the most trusted company and the most robust technology platform in the industry.
Today, AudioEye is constantly setting new standards with our Digital Accessibility platform, where our patented AI and automation are informed and supported by our team of IAAP-certified accessibility professionals. Our unique hybrid approach to digital accessibility is revolutionizing access and moving us forward to deliver digital accessibility across the entirety of the Web and beyond. 
David Moradi
Chief Executive Officer
An entrepreneur, investor, and advisor to numerous market-leading technology companies, the founder and CEO of Sero Capital, and co-founder and executive chairman of virtual reality (VR) video game development studio...
Kelly Georgevich
Chief Financial Officer
Kelly is an experienced finance and business leader bringing over 15 years of experience with high-growth, entrepreneurial companies with specific focus on SaaS and technology...
David Mazza
Chief Marketing Officer
David brings over 15 years of hyper growth start-up experience to the team and has a track record of working with early to mid-stage companies to find repeatable patterns of growth...
Mase Graye
Chief Technology Officer
Mase has a proven track record of leading engineering teams and delivering industry-transforming products for over 15 years. Most recently working at Facebook, where he served as its product and technical lead...
Rob Ulveling
Chief Business Officer
With more than 20 years of experience building strategic product partnerships and scaling customer acquisition, Rob focuses on building the partnership strategy to support the company's growth...
Dominic Varacalli
Chief Operating Officer
Dominic has extensive experience straddling product and engineering teams both at his own startups as well as large, multinational companies. Most recently leading product and operations as a founding partner at Kickstand...
Dr. Carr Bettis
Executive Chairman
A serially successful entrepreneur, as the founder and chief architect of numerous market-leading financial science and technology innovations and businesses...
David Moradi
Chief Executive Officer
An entrepreneur, investor, and advisor to numerous market-leading technology companies and the founder and CEO of Sero Capital...
Tony Coelho
Independent Director
A member of the U.S. House of Representatives from 1978 to 1989. After leaving Congress, Tony was the President and Chief Executive Officer of Wertheim Schroder Financial Services...
Jamil Tahir
Independent Director
A co-founder and managing member of TurnMark Capital, a private investment firm founded in 2008. Mr. Tahir has more than 20 years of public stock and bond investing experience...
Marc Lehmann
Independent Director
Marc Lehmann manages Flamingo Drive Partners, a family investment vehicle that is an active investor in small and medium-sized growth companies, real estate investments and public markets...
Joyce Bender
Advisor
The 2007 recipient of ACHIEVA's Sattler Humanitarian Award. She also received the 2005 UCP of Pittsburgh's Gertrude Labowitz Lifetime Achievement Award, given to an individual or organization in recognition of their outstanding record of enhancing the quality of life for people with disabilities...
Dennis Cardoza
Advisor
Dennis A. Cardoza is currently a public affairs director, co-chair of the Federal Public Affairs Practice and chair of the California Public Affairs Practice at Foley & Lardner LLP, which is recognized globally for its achievements in the area of diversity...