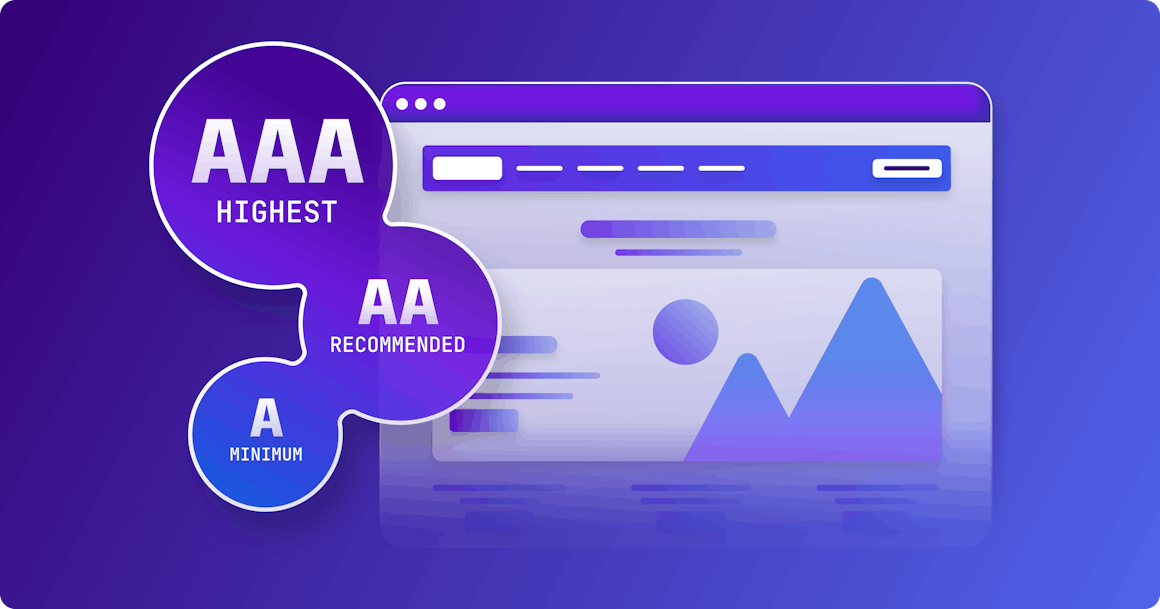 WCAG 2.2 Compliance, Explained
Everything you need to know about the Web Content Accessibility Guidelines (WCAG) and steps you can take to make your website conformant.
Published by the World Wide Web Consortium (W3C), the Web Content Accessibility Guidelines (WCAG) are a set of accessibility standards and instructions on making digital content like websites, mobile apps, and PDFs more accessible to people with disabilities. Updated from version 2.1 in 2023, WCAG 2.2 lists 86 success criteria for digital content to meet in order to be accessible.
Although the term "WCAG compliance" is often used when people talk about web accessibility, WCAG is not a law. Instead, the guidelines serve as a roadmap for businesses looking to provide an accessible experience for all users and a standard for litigating digital accessibility complaints.
Who needs to follow WCAG?
Every organization should design and develop digital content with accessibility in mind. Ignoring accessibility best practices can prevent people with disabilities from completing crucial tasks on the internet, such as making a purchase, setting an appointment, or finding information.
Put simply, offering equal access to people of all abilities is the right thing to do. 
Businesses and government organizations must also follow WCAG to reduce legal risk. Many jurisdictions use WCAG as the benchmark for compliance, and in the U.S. there are significant legal precedents for treating WCAG as the gold standard for web accessibility.
WCAG and Accessibility Laws
Here's a brief overview of a few of the non-discrimination laws that use WCAG as a standard to help evaluate accessibility.
The Americans with Disabilities Act
Title III of the Americans with Disabilities Act (ADA) prohibits discrimination on the basis of disability in public accommodations and commercial facilities. Legal precedents show that adhering to WCAG 2.0 is key to ADA compliance.
Title III of the ADA applies to:
Private businesses
Non-profit organizations
Other agencies that operate as "places of public accommodation"
Section 508 of the Rehabilitation Act of 1973
The Rehabilitation Act of 1973 requires federal agencies to make their electronic information technology accessible to people with disabilities. Section 508 of the act uses WCAG 2.0 Level AA success criteria and conformance to determine compliance on both web and non-web electronic content.
Section 508 applies to:
Federal agencies in the United States.
State, county, and municipal authorities that receive financial assistance from the US government
Universities, museums, galleries, medical centers, and other organizations that receive federal funding
Any contractor — regardless of size or services offered — that wants to work with the US government
The Accessibility for Ontarians with Disabilities Act
The Accessibility for Ontarians with Disabilities Act (AODA) aims to identify and remove access barriers (physical and virtual) for people with disabilities by 2025. It uses WCAG as its benchmark for determining compliance.
The AODA applies to:
Government bodies in Ontario
Non-profit organizations in Ontario
Commercial organizations in Ontario
WCAG 2.2 consists of 86 success criteria, which are pass-or-fail statements that address accessibility barriers such as low-contrast text, ambiguous anchor text, and keyboard accessibility issues. 
These criteria are organized into three levels of conformance: Level A (the most essential and least strict), Level AA, and Level AAA (most strict). 
Legal precedent in the U.S. shows that courts generally consider Level AA – the standard level of WCAG conformance – to be the benchmark for demonstrating ADA compliance.
The Four Key Principles of WCAG
WCAG outlines four guiding principles for digital accessibility: perceivable, operable, understandable, and robust. Together, these principles form the acronym POUR — and they can be used to help businesses create content that is accessible for everyone.
Information and user interface (UI) components must be presentable and perceivable to all users. Nothing should be "invisible" to any of their senses.
How to make content perceivable:
Provide text alternatives for any non-text content, such as images, graphs, or videos.
Add live captions to video content.
Add pre-recorded audio descriptions to video content.
Ensure minimum levels of color contrast between the text and background.
Web or device interface and navigation, such as controls and buttons, should be operable in a variety of ways to make sure people with different abilities can use them.
How to make content operable:
Avoid content that flashes more than three times in any one-second period, or keeping the flash below given thresholds.
Provide enough time for users to read and use content.
Content and user interface should be easy to understand by all.
How to make content understandable:
Specifying the language (for example, English) of content on a page, so screen readers can determine the correct pronunciation and visual browsers can display the right characters.
Ensuring repeated navigation elements appear in the same order on every page.
Providing relevant, clear, and simple instructions or labels when user input is required.
Content must be robust enough that it can remain accessible, even as technologies and user agents evolve. Websites should be compatible with current and future user agents, such as browsers and assistive technologies like screen readers.
How to make content robust:
Ensuring all elements are correctly nested, have complete start and end tags, and have unique IDs, so assistive technologies (AT) can parse the content correctly.
Ensuring that the name and role of each user interface element can be programmatically determined.
Website Accessibility Checker
Check your website's conformance in seconds. Find out if your site is accessible for people with disabilities and meets the ADA, WCAG, and other requirements.
Scan Your Site