Back to Blog
What Is a Digital Accessibility Audit, and How Do You Perform One?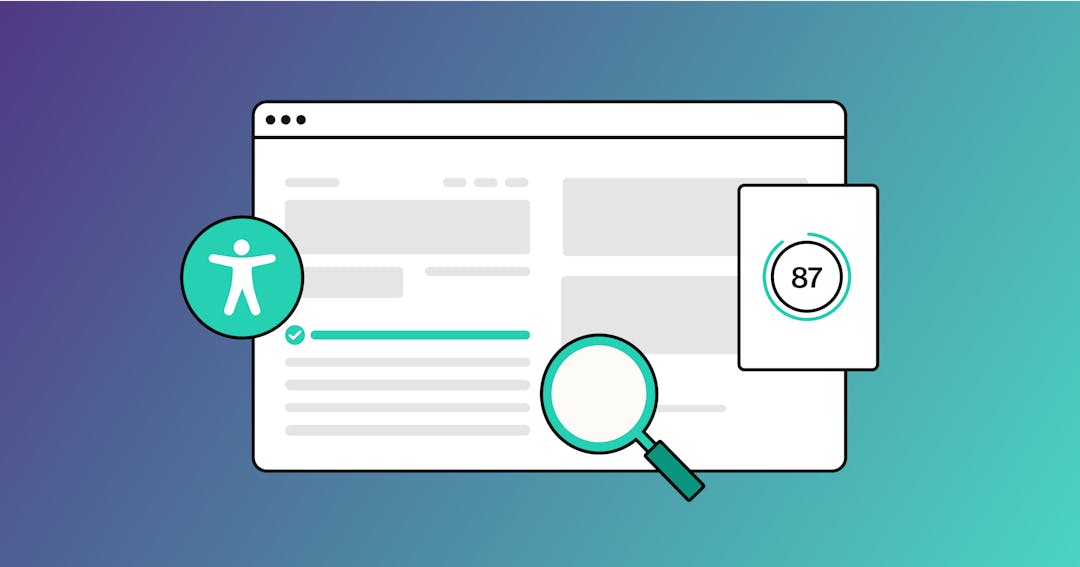 Summary: A digital accessibility audit measures how well people with disabilities can access your digital content — websites, PDFs, applications and so on. The best-practice approach for running an audit requires you to: 
Decide the type of audit appropriate to your needs. 
Determine the scope of the digital assets you will audit. 
Identify the standard(s) you will test against. 
Determine your goals, reporting format, and testing methodologies. 
Ensure that you have auditors with the appropriate skills. 
With deep in-house expertise in digital accessibility and extensive experience with helping clients comply with accessibility legislation, AudioEye can help you design and perform an effective digital accessibility audit. Schedule a time right away to speak with an AudioEye expert.
A digital accessibility audit is a formal measure of the degree to which people with disabilities can access your digital content — including websites, PDFs and online applications. It's an essential element in ensuring that your digital content is accessible to as wide an audience as possible. The stakes are high: Failure to comply with accessibility legislation can lead to costly lawsuits and shutting out the estimated 26% of the U.S. population living with a disability is just bad business, and lawsuits are up over 300% in the past couple years alone.  
In most major economies around the world, legislation is in force to ensure that businesses, nonprofits and government organizations provide services that are accessible to people living with disabilities. While this blog post focuses on the U.S. market, the general points we cover also apply to many other countries and jurisdictions.  
What Does an Accessibility Audit Involve, and When Is It Necessary?
Although there are no mandatory standards regarding audits, there are clear best practices that every organization can adapt to its specific needs.
An accessibility audit can include both automated and manual testing of digital assets, conducted by people with the appropriate expertise, including lived experience and using a broad range of tools. Auditors will typically make use of automated scans, code reviews, browser extensions and assistive technology (AT) to assess the key user journeys and use cases.  
For most organizations, the start of the journey to digital accessibility begins with an audit of some kind — measuring the existing level of accessibility and highlighting areas for improvement. Beyond that, the best practice is to complete a full audit of all new content and evaluate all software, websites, documents and apps on an annual basis.  
Legal precedent in the U.S. courts strongly suggests that compliance is less about by-the-numbers adherence to standards such as Web Content Accessibility Guidelines (WCAG) 2.0 and more about the practical, ongoing steps your organization is taking to ensure accessibility. To put it another way, proving the accessibility of your digital assets is never as simple as passing an automated test, because it's even possible to deliberately build inaccessible sites that appear to conform to checkbox compliance standards. In practical terms, this means that your audit needs both automated and human-led testing, and it should produce a report that is rich and nuanced. 
Accessibility Audits: A Step-by-Step Guide  
For organizations that lack previous experience in this area, an accessibility audit can seem like a daunting task. In reality, while it will often require a significant commitment of time, effort and expertise, an accessibility audit is something that every organization should be able to step up to — particularly with the help of a specialist like AudioEye.  
Depending on the size of your organization, its activities and the scope of your digital assets, there will potentially be several options for completing an audit. For example, a basic risk audit — whereby you test only for the most significant potential barriers to accessibility, with the aim of reducing the threat of litigation — might be most suitable. For other organizations, it might be appropriate to run a full audit to highlight the variance between the current level of accessibility and the targeted standard. AudioEye can help you decide on the most appropriate type of audit for your needs.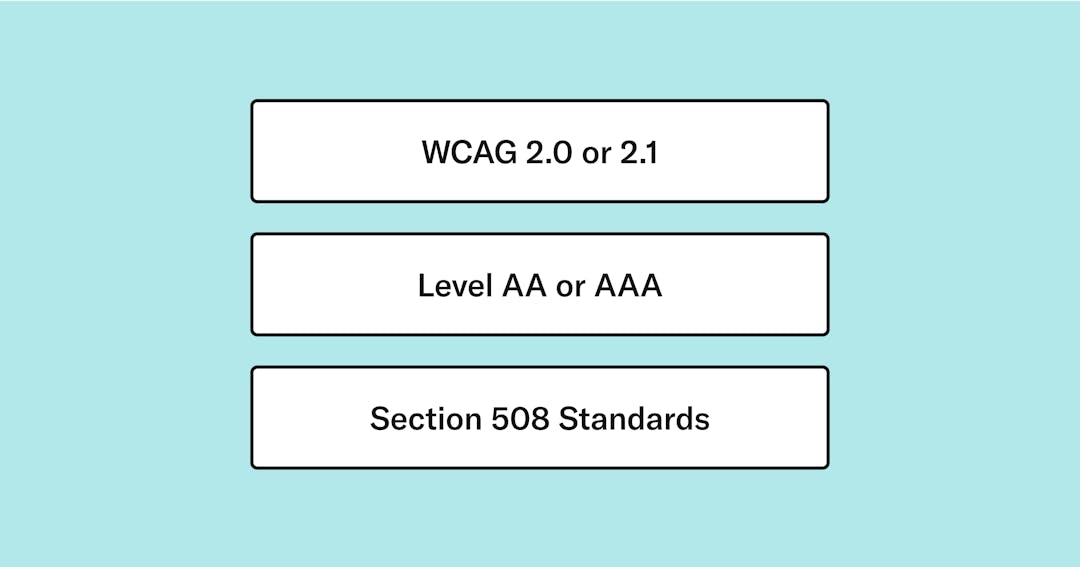 Step One: Standards 
Typically, the first step in an audit will be to determine the required standard. For many organizations in the U.S. and other major markets, that will be WCAG 2.0 or 2.1 to Level AA. If your organization works for U.S. federal government clients, you may also need to demonstrate conformance with Section 508 Standards by completing a Voluntary Product Accessibility Template (VPAT™) as part of your audit reporting.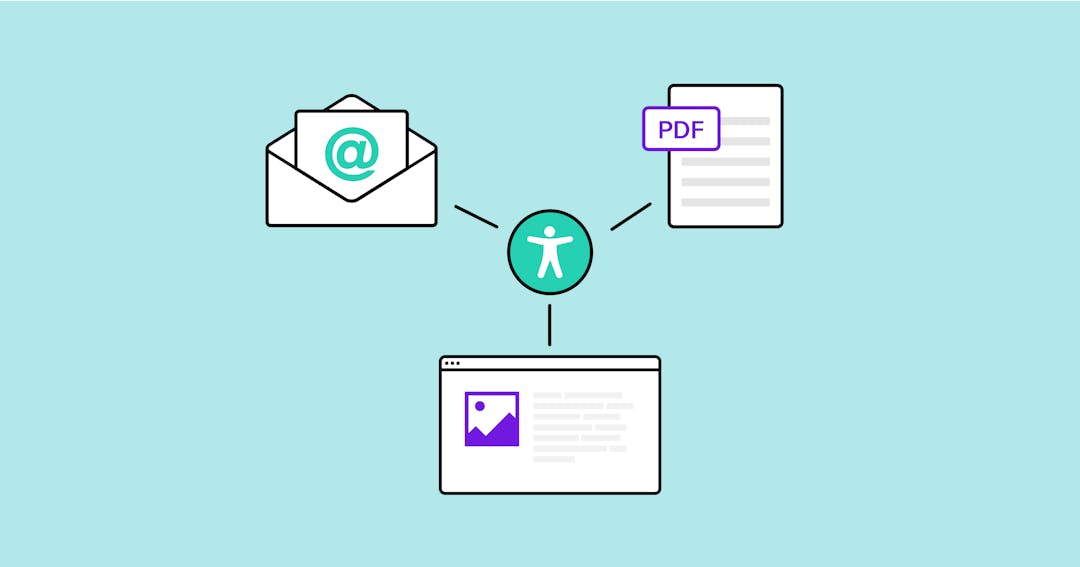 Step Two: Scope 
You'll need to determine the scope of your audit, both in terms of the digital content you test and the platforms on which you test it. Many organizations focus solely on HTML pages on their website, but it's important not to overlook other content such as PDFs, videos, desktop or mobile applications, and outgoing email. While it's crucial to aim for the greatest degree of accessibility possible, it's best to start by analyzing the most common user journeys through your digital content — for example, subscribing to an information resource or adding a product to a shopping cart. This is not only more cost-effective than a blanket approach, it's also more in line with U.S. courts' expectations for practical accessibility rather than box-checking. 
Similarly, your audit should plan to test accessibility on the most important platforms your users employ to access your content, including common combinations of operating system, web browser and AT. 
If your site uses templates, you can potentially save time and effort by auditing a single instance of each template rather than checking every time it's used.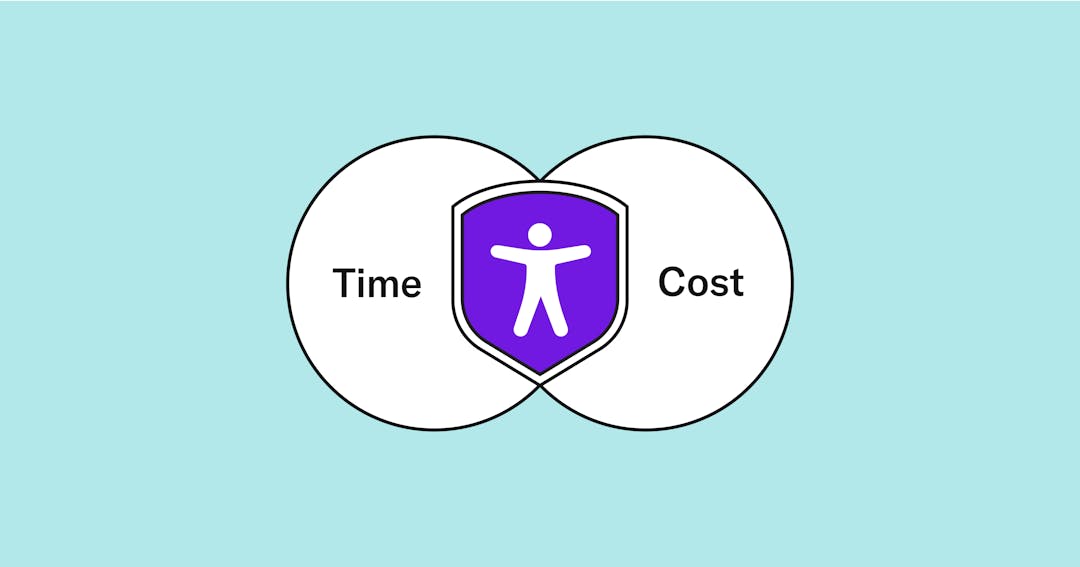 Step Two: Scope 
The universally accepted WCAG standards are very thorough and detailed. They are also composed of both mandatory requirements and best-practice recommendations; without an expert who can tell the difference between the two, the time and cost of your digital accessibility program could become unsustainably high. Therefore, if you don't have significant in-house skills and experience concerning WCAG, you should consider engaging an external partner with the appropriate accreditations, such as International Association of Accessibility Professionals (IAAP) certification. To minimize your future dependence on a third-party organization, choose a partner that will provide education, tooling and managed services to help you build a sustainable, self-sufficient approach to digital accessibility over time.  
Choosing the right partner will also enable you to take advantage of consistent, field-proven methodologies governing both manual and automated testing.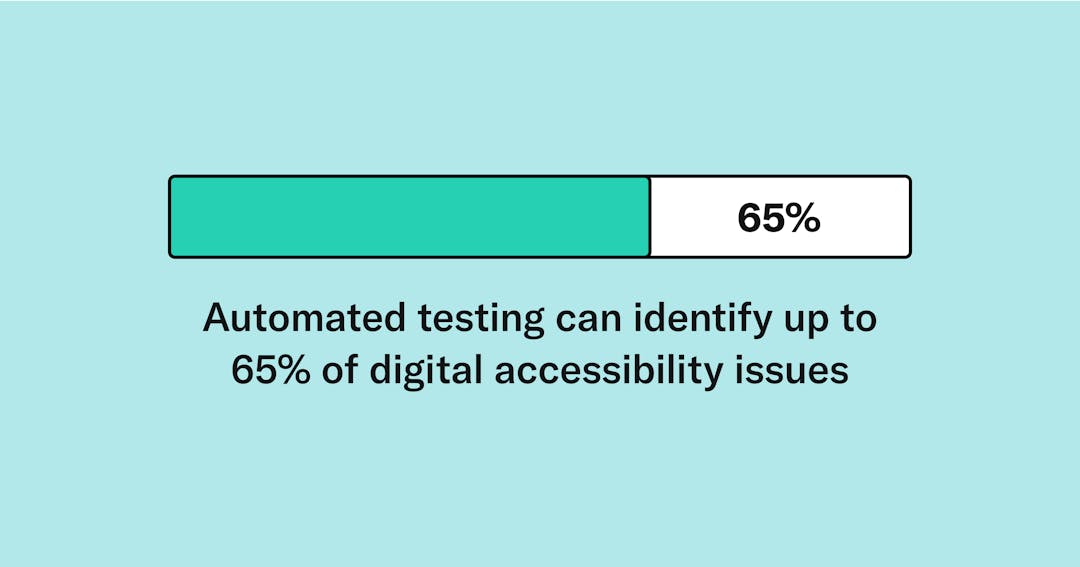 Step Four: Testing
Automated testing can be extremely effective for the low-hanging fruit, potentially identifying (and even automatically resolving) up to 65% of digital accessibility issues at high speed and low cost. For a full audit, you will also need expert-led manual testing of typical user journeys through your digital content.  
You should carry out testing in a structured way, using your chosen standard as a guide and recording your findings in detail. You will also need to determine the criticality of each accessibility concern you uncover by measuring its real impact on the user experience. This is the point at which it becomes particularly important to have human testers using the most common types of AT.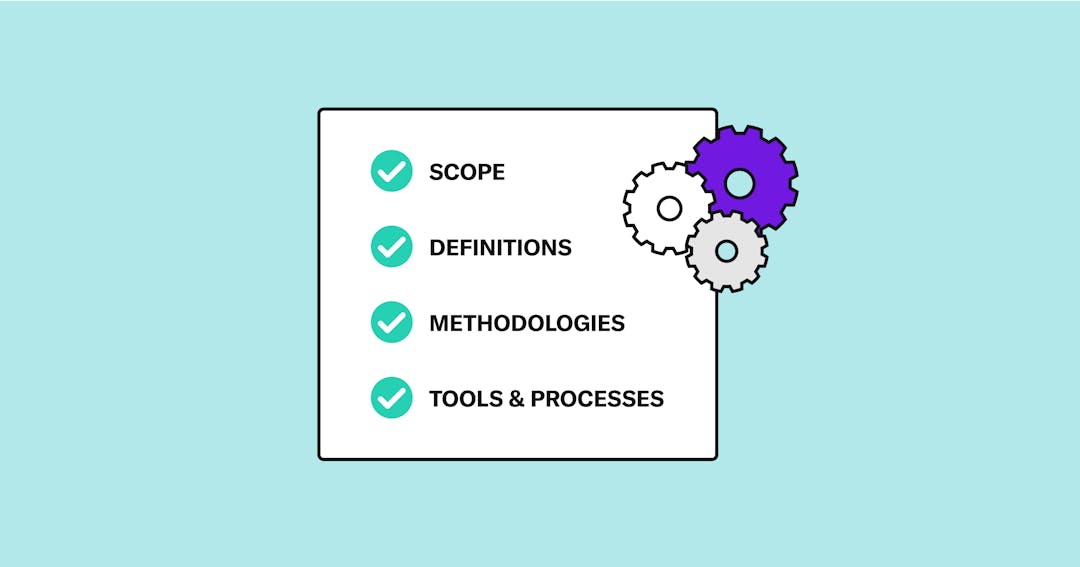 Step Five: Reporting  
The most basic output of an accessibility audit might be a report listing the identified issues and the associated costs of fixing them. But given the investment in time and resources required just to complete the audit, it makes sense not to skimp on the reporting. An audit report can play an important role in demonstrating past and present commitment to meeting accessibility standards, which could be vital in defending an accessibility lawsuit.  
Naturally, your audit report should provide detailed supporting documentation on the scope, definitions, methodologies, tools and processes employed, as well as an explanation of how the report will be used to improve accessibility. 
A best-practice audit report will include both high-level information for executives and detailed information on identified problems and their remediations for web developers and designers. The report should not only show where your digital assets fail to meet the chosen standard but also what practical impact this has on users. This will help in prioritizing remediation actions as well as demonstrating that your organization understands why all of this is necessary: not because you're trying to check the compliance boxes but because you want your digital content to be accessible to as wide an audience as possible.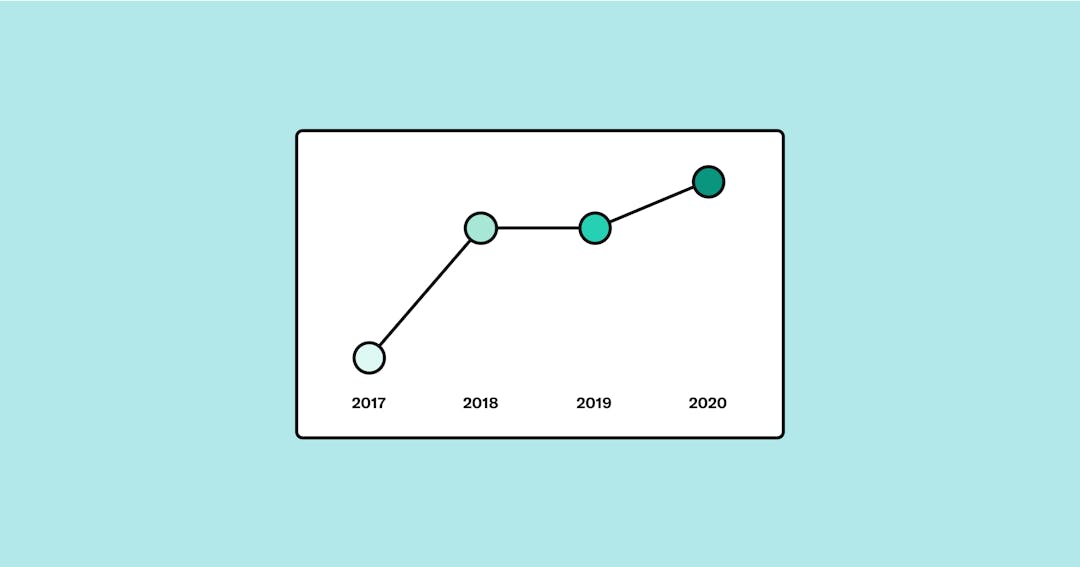 Step Six: Learn and Repeat 
Web technologies, AT and accessibility standards are constantly evolving, which means that digital accessibility is an ongoing requirement rather than a one-off hurdle to clear. Frequent audits can act as a benchmark for future improvements and provide a clear picture of the areas in which your organization needs to invest. A best-practice approach should therefore seek to use the audit findings as a learning asset and planning tool.   
Hit the Ground Running 
Building an effective audit capability is a key element in compliance with digital accessibility legislation. It's also a specialist topic with a steep initial learning curve. By subscribing to AudioEye's unique hybrid service for digital accessibility, you can rapidly reduce the number of problems on your site and accelerate your audit. Our hybrid platform combines intelligent automated remediation with the industry's leading accessibility experts and testers, enabling us to offer automated and manual identification and AT testing, accessibility reporting, ongoing maintenance and monitoring, web personalization tools, training and resources, AudioEye Trusted Certification and an accessibility claims commitment that goes further than any other solution in the marketplace. Schedule a time right away to speak with an AudioEye expert. 
How accessible is your site?
With AudioEye's site scanner, you can evaluate the risk of your website and determine your Accessibility Score. All for free, and in seconds.