Back to blog
Understanding the Difference Between WCAG A, AA, and AAA Conformance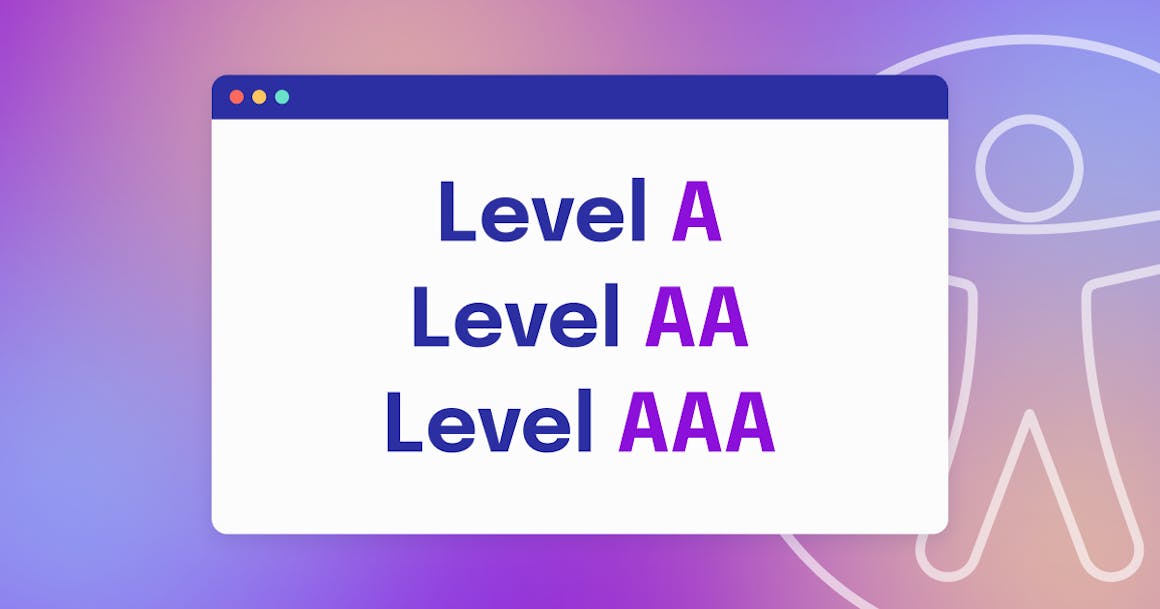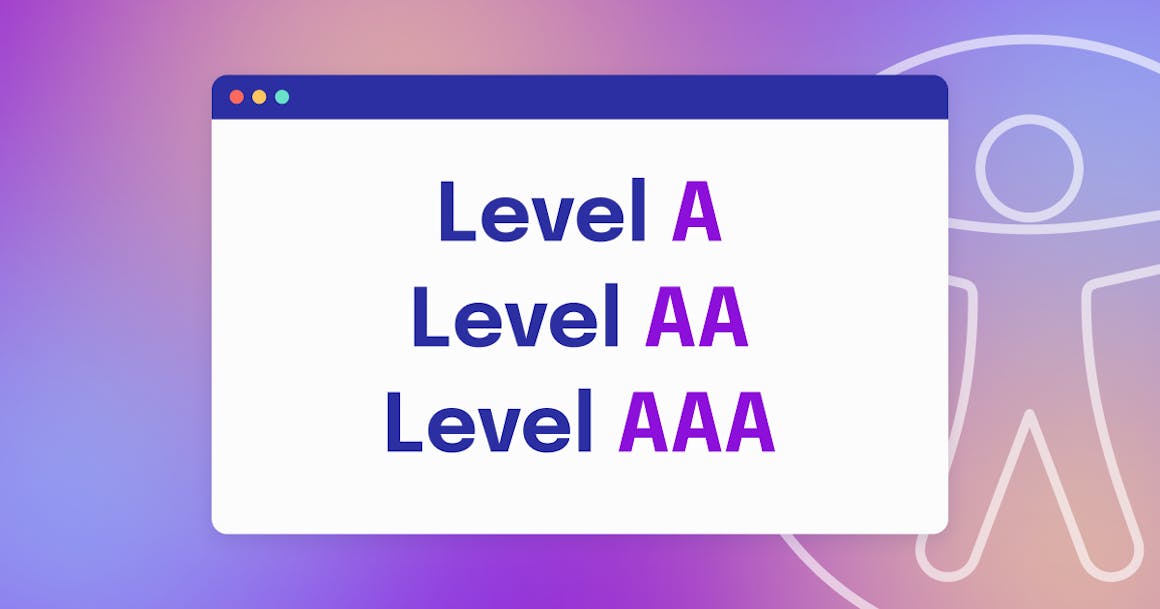 What's the difference between WCAG Level A, Level AA, and Level AAA conformance? Each level contains its own set of accessibility criteria and represents degrees of website accessibility strictness. Learn more about the differences between WCAG conformance levels in this post.
The Web Content Accessibility Guidelines (WCAG) are a set of globally recognized standards for digital accessibility. Published by the World Wide Web Consortium (W3C), WCAG is intended to help make the internet accessible and usable for people of all abilities. Following the guidelines also helps to stay compliant with non-discrimination laws, such as the Americans with Disabilities Act (ADA). 
The WCAG guidelines are based on four main principles: Content must be perceivable, operable, understandable, and robust. These principles are incorporated into success criteria, which are testable statements that website owners can use to determine whether content is accessible for users with disabilities.
WCAG success criteria are categorized into three levels of potential conformance:
WCAG Level A: The minimum level of conformance, Level A contains basic success criteria for removing serious accessibility barriers that affect a wide range of users.
WCAG Level AA: Level AA removes additional barriers and establishes a level of accessibility that works for most devices and assistive technologies, such as screen readers.
WCAG Level AAA: The most strict level of conformance, Level AAA contains additional success criteria to establish the highest possible level of accessibility.
Each WCAG level builds on the previous level. In other words, in order to meet the requirements of Level AA, your content will need to follow all Level AA and Level A success criteria. To meet WCAG 2.1 Level AAA, you'd need to follow all 78 success criteria.
Looking to learn how your website conforms to WCAG? Check your site for accessibility errors based on WCAG criteria.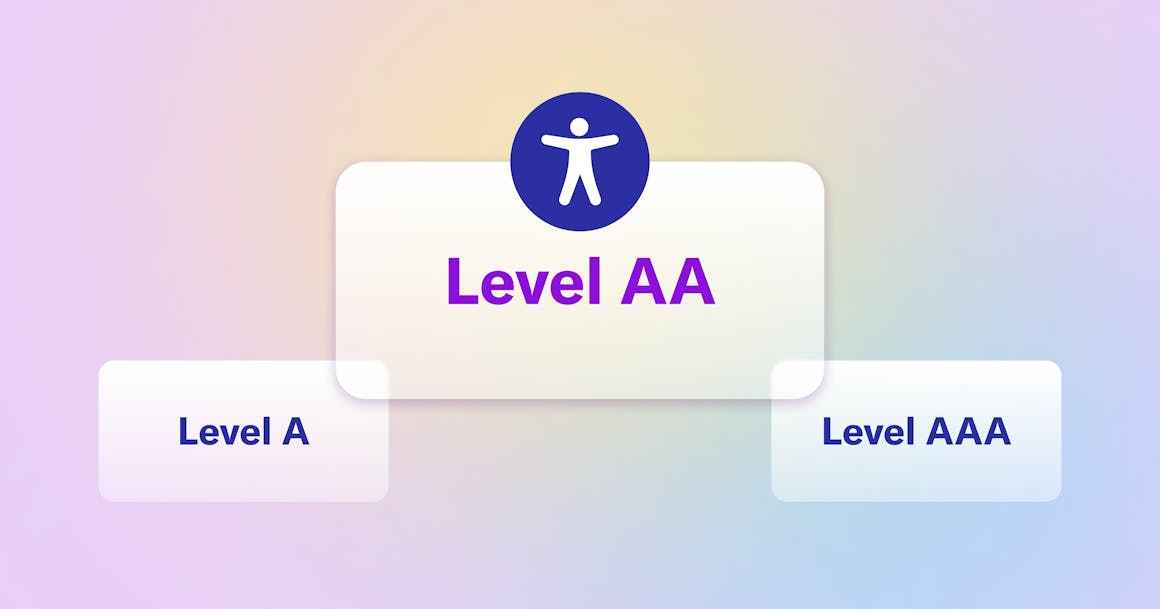 What Level of WCAG Conformance is Recommended?
Level AAA criteria are quite strict, and most websites have content that cannot conform with every success criteria. As such, the W3C recommends Level AA conformance with the most recent version of WCAG (currently, WCAG 2.1, with WCAG 2.2 expected for release in late 2022). 
Websites that follow all Level AA success criteria are generally considered accessible for most users with disabilities. In public statements and settlement agreements, the Department of Justice has identified WCAG Level AA as a reasonable standard for following the requirements of the ADA. So, meeting Level AA success criteria can help stay compliant with the law.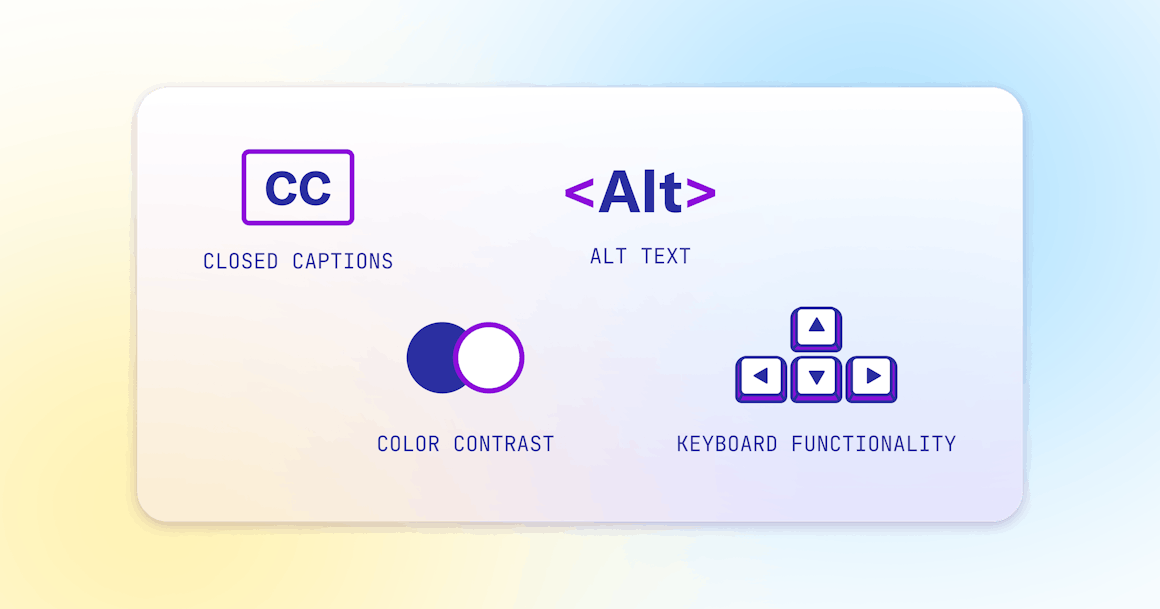 What Accessibility Issues Does WCAG Level AA Cover?
As mentioned earlier, Level AA conformance means meeting both Level AA and Level A success criteria. To earn conformance, you'll need to test your content against every criterion.

WCAG 2.1 contains 30 Level A criteria, which cover serious accessibility barriers that can impact a website's functionality. That includes requirements for:
Providing captions for video content
Providing alternative text (also known as alt text) for images and other non-text content
Using color thoughtfully, and never using color alone to convey information
Ensuring that the content is fully operable for keyboard users
Level A barriers affect the widest variety of users with disabilities and the overall accessibility of a website. If your website has Level A issues, you'll need to remediate those issues as soon as possible.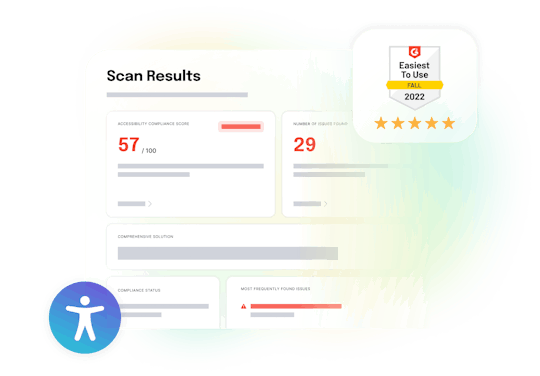 Find out if your site is accessible for people with disabilities and meets WCAG, the ADA, and other requirements.
Free Scan
Examples of WCAG 2.1 Level AA Success Criteria
Provided that your website is fairly simple, you may already meet Level A requirements — but you may still have serious accessibility issues that require attention.
Level AA includes 20 additional criteria to provide a better experience for users with disabilities. These criteria cover important user experience (UX) issues, such as:
Maintaining appropriate color contrast levels for text
Writing descriptive subheadings 
Keeping navigation mechanisms (such as header and footer links) in the same relative order from page to page
Ensuring that content is operable in different display orientations
Level A barriers affect the widest variety of users with disabilities and the overall accessibility of a website. If your website has Level A issues, you'll need to remediate those issues as soon as possible.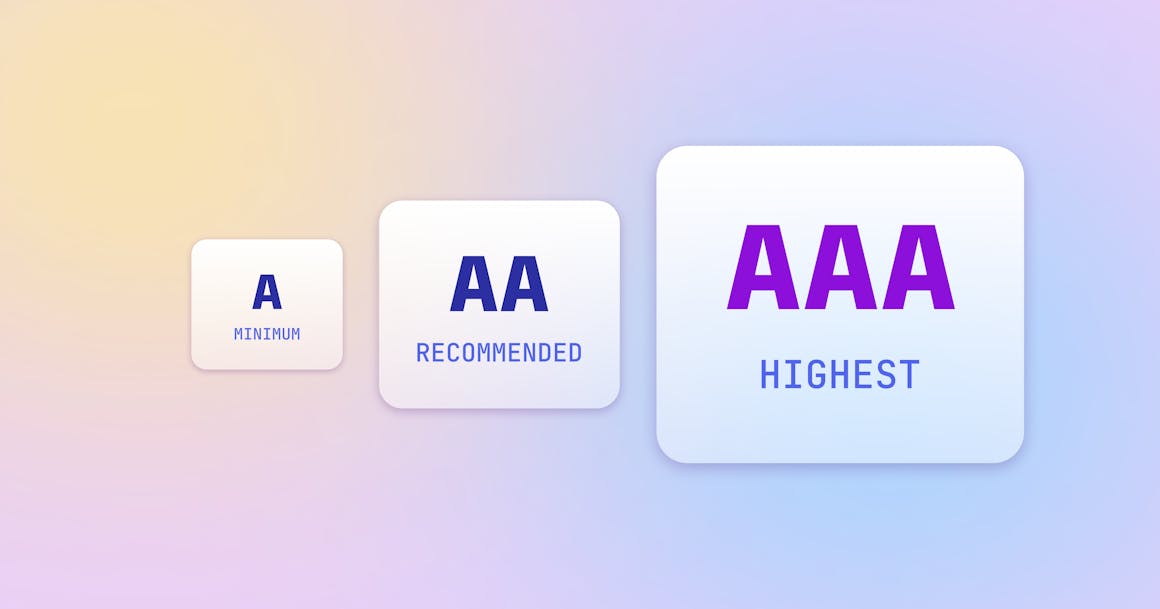 Should You Ignore WCAG Level AAA Guidelines?
Some types of content cannot conform with certain Level AAA success criteria, and the WCAG 2.1 does not recommend Level AAA conformance as a general policy for entire websites.
In other words, if your goal is WCAG Level AA conformance, Level AAA recommendations are optional. However, following Level AAA guidance may make your website more operable for some people with disabilities. Since the ultimate goal of accessibility is to provide the best experience for all users, it's a good idea to follow Level AAA success criteria wherever possible. 
For example, WCAG 1.4.7, "Low or No Background Audio," requires background noises to be significantly quieter than foreground speech content. If you're producing a video, following this criterion may be relatively easy — and by doing so, you'll accommodate a wider range of users, regardless of whether your entire site meets Level AAA requirements. 
One important note: Disabilities impact people in a wide variety of ways, and even if a site fully conforms with WCAG 2.1 Level AAA, it may not be fully accessible to every individual user. When prioritizing remediations, remember that Level A and Level AA criteria will have a more noticeable effect on your site's overall accessibility.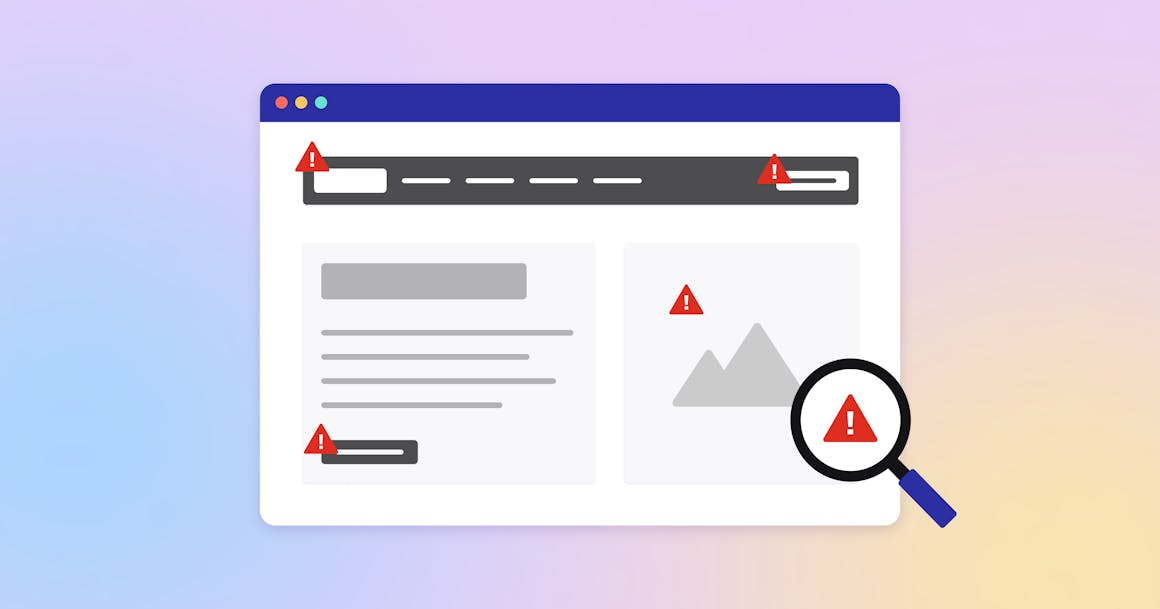 How Do You Test Content for WCAG Level AA Conformance? 
At AudioEye, we recommend using a combination of manual and automated tests to audit your website for WCAG 2.1 conformance. Our hybrid approach leverages the experience of the industry's leading accessibility experts with the power of artificial intelligence to find — and fix — many common WCAG violations. 
Our automated process tests for over 400 accessibility issue outcomes, remediating most barriers automatically and without changing the visual appearance of your website. AudioEye also continuously monitors your website for new accessibility issues, making sure that all remediations align with the latest  WCAG recommendations. 
Manual Accessibility Testing
While artificial intelligence has come a long way, automated testing has some limitations. Some WCAG criteria require human judgment and understanding. For example, artificial intelligence can correctly determine whether websites use alternative text for images — but may not be able to determine whether that alternative text is useful for real-life users. 
Manual testing helps to address these types of accessibility barriers (and ensure WCAG Level AA conformance). AudioEye's accessibility experts review content, establish best-practice remediation tactics, and approve the final product before it is released.
Start By Scanning Your Website for WCAG Issues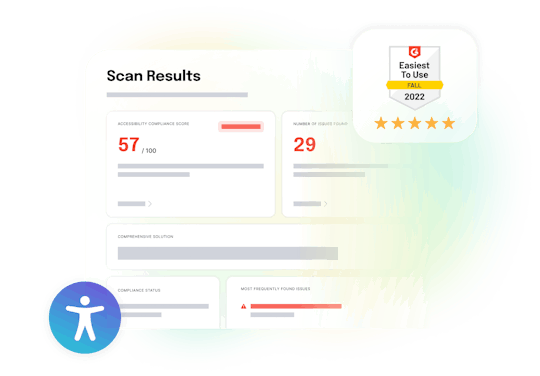 Find out if your site is accessible for people with disabilities and meets the ADA, WCAG, and other requirements.
Free Scan
Ready to test your website for accessibility?
Scan your website now.