Back to blog
Breaking Down the Accessibility for Ontarians with Disabilities Act (AODA)
The AODA is an Ontario law that outlines accessibility standards organizations must follow to become more accessible for people with disabilities.
Enacted in 2005, the Accessibility for Ontarians with Disabilities Act (AODA) is powerful non-discrimination law that applies to both government agencies and private organizations operating in the province of Ontario.
It requires organizations with more than 49 workers to meet the Level AA standards of the Web Content Accessibility Guidelines (WCAG), the de facto international standard for digital accessibility.
Below, we provide an overview of the AODA's requirements and share tips for improving your website's compliance.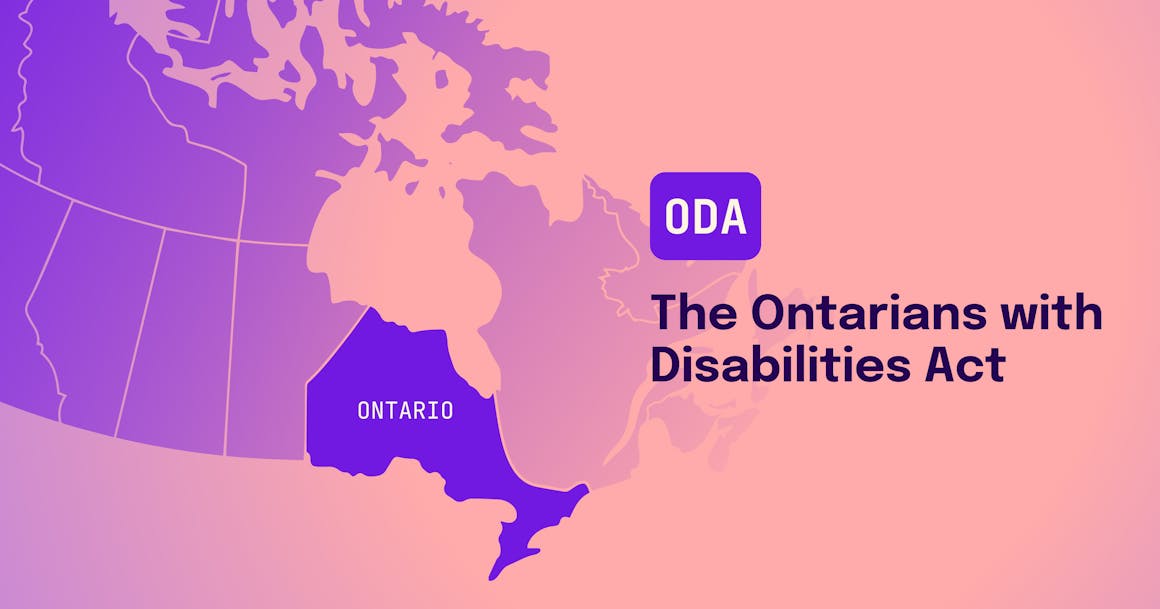 What Is the AODA?
In 2001, Ontario's provincial government passed the Ontarians with Disabilities Act (ODA), which was designed to "improve opportunities for [people] with disabilities" and identify, remove, and prevent barriers to their "full participation in the life of the province."
Although the ODA was important legislation, it lacked detailed enforcement mechanics or deadlines.
The government addressed those shortcomings in 2005 by passing the AODA, which built on the earlier statute by including accessibility standards for five key areas of daily life: customer service, information and communications, employment, design of public spaces, and transportation.
Collectively, these standards are called the Integrated Accessibility Standards Regulations (IASR). The AODA gives the government authority to set deadlines for meeting IASR requirements — and to assess penalties for non-compliance.
Under the AODA, it is important for organizations with more than 49 workers to regularly test their website for web accessibility in order to ensure that it meets the Level AA standards of the Web Content Accessibility Guidelines (WCAG) and is fully accessible to all users, including those with disabilities.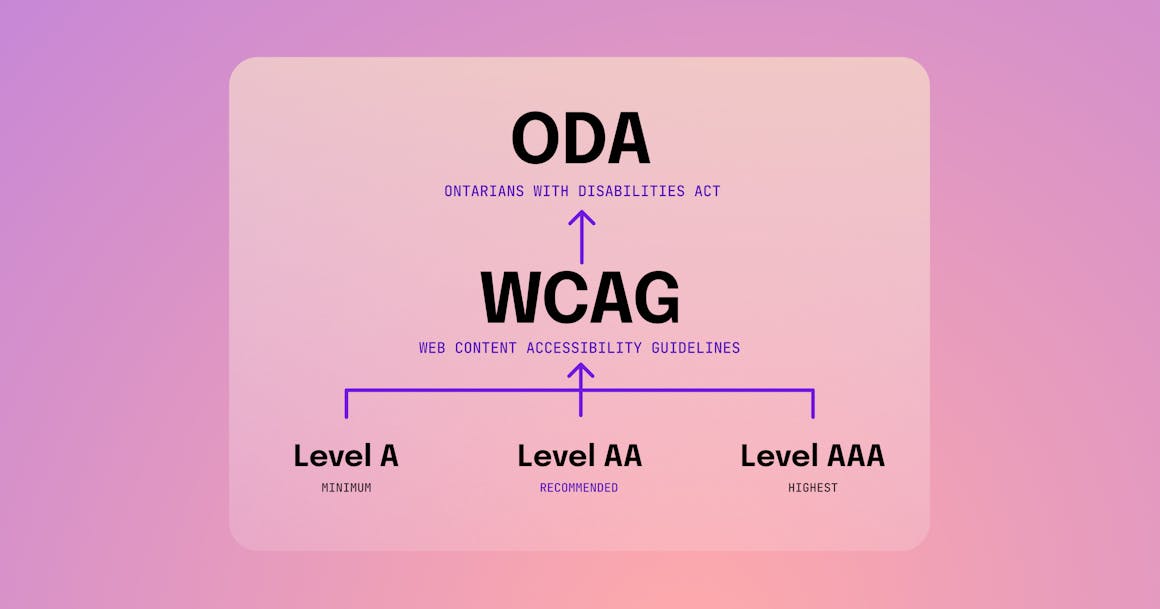 Who Has To Comply With the AODA?
All public agencies and all private organizations with at least 49 workers must meet WCAG 2.0's Level AA guidelines. While the law outlines potential exceptions for situations where content cannot be made accessible, those exceptions are extremely limited.
Additionally, all public agencies and all private organizations with 20 or more employees must also file an AODA accessibility compliance report every three years.
Under the AODA, businesses must count full-time, part-time, contract, and seasonal employees as "workers." However, they should not count independent contractors, volunteers, or workers from outside Ontario.
Although some small businesses are exempt from these requirements, it's a great business practice to accommodate as many customers as possible — and by following WCAG, you may be able to improve compliance with other laws, such as the Accessible Canada Act (ACA) and the Americans with Disabilities Act (ADA).
Which Disabilities Are Protected by the AODA?
According to the AODA, the term "disability" covers a broad range of visible and invisible conditions that may have been present from birth, caused by an accident, or developed over time. This includes, but is not limited to:
Visual impairments.
Hearing impairments.
Mental disorders, learning disabilities and neurocognitive differences.
Physical or mobility disabilities.
To fully comply with the AODA, you need to accommodate all of these disabilities. Providing a website that works for people with visual or hearing impairments alone isn't sufficient.
What Are the Penalties for Non-Compliance?
The AODA establishes strong maximum penalties for non-compliance:
A corporation can be fined up to $100,000 CAD per day.
Directors and officers of a corporation or organization can be fined up to $50,000 per day.
Fines grow until the violations are resolved. 
The License Appeal Tribunal has jurisdiction over AODA enforcement. According to the AODA's monetary penalties scheme, the Tribunal will not assess maximum fines unless an organization has a history of significant compliance violations.
What Are the AODA's Requirements For Web Accessibility?
Under the AODA's Information and Communications Standards, organizations must make their websites and mobile apps accessible. They can do so by conforming with WCAG 2.0, which gives businesses technical guidelines on how to make their digital content accessible for people with disabilities.
How Does WCAG Support Digital Accessibility?
WCAG 2.0 contains 61 success criteria, each of which provides guidance to help website owners, developers, and designers avoid specific barriers. For example:
Do I Need To Follow All WCAG Success Criteria for AODA Compliance?
WCAG is organized into three levels of conformance: Level A (the least strict requirements), Level AA, and Level AAA (the most strict requirements).
For AODA compliance, websites must meet all WCAG 2.0 Level A and Level AA success criteria, with two exceptions: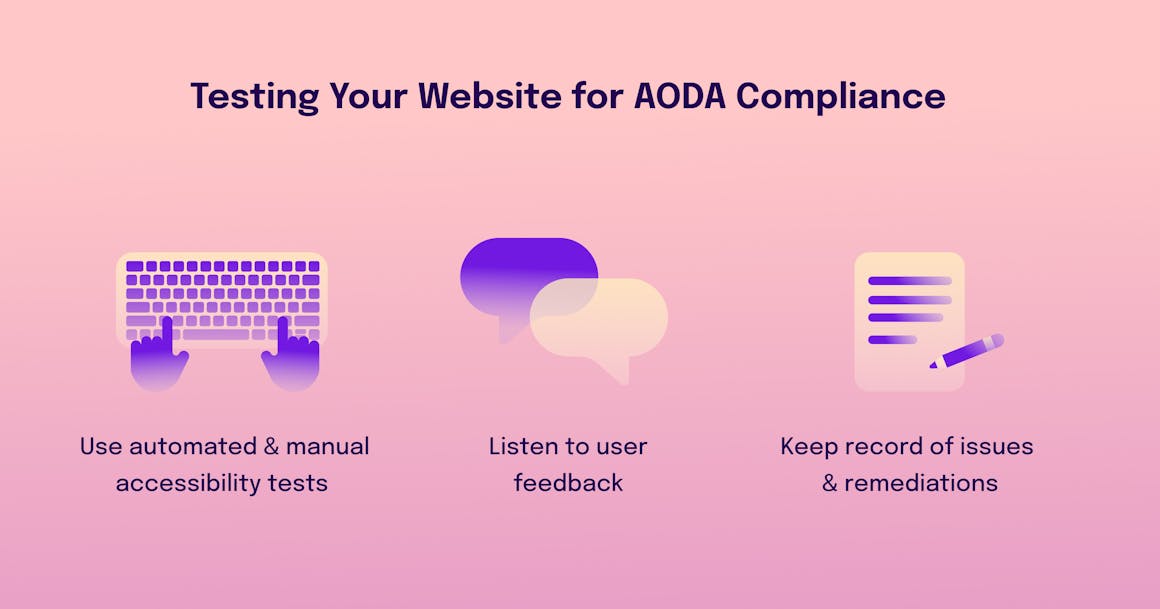 Testing Your Website for AODA Compliance
Ontario's provincial government provides several tips for testing websites for accessibility, which we summarize below:
Use a combination of automated and manual accessibility tests.
Automated tests can help identify common accessibility issues, while manual tests performed by experts using screen readers and other assistive technologies can help identify more subjective barriers.

Listen to user feedback.
Customer feedback can help guide your accessibility initiative. By publishing an accessibility statement, you can inform people of your website's current level of accessibility and give them an easy way to report issues.

Keep a record of accessibility issues and remediations.
Keep track of your site's current barriers and the steps you've taken to make improvements. Tracking key milestones can keep your team engaged in the process (and may be helpful if you're asked to prove your AODA compliance).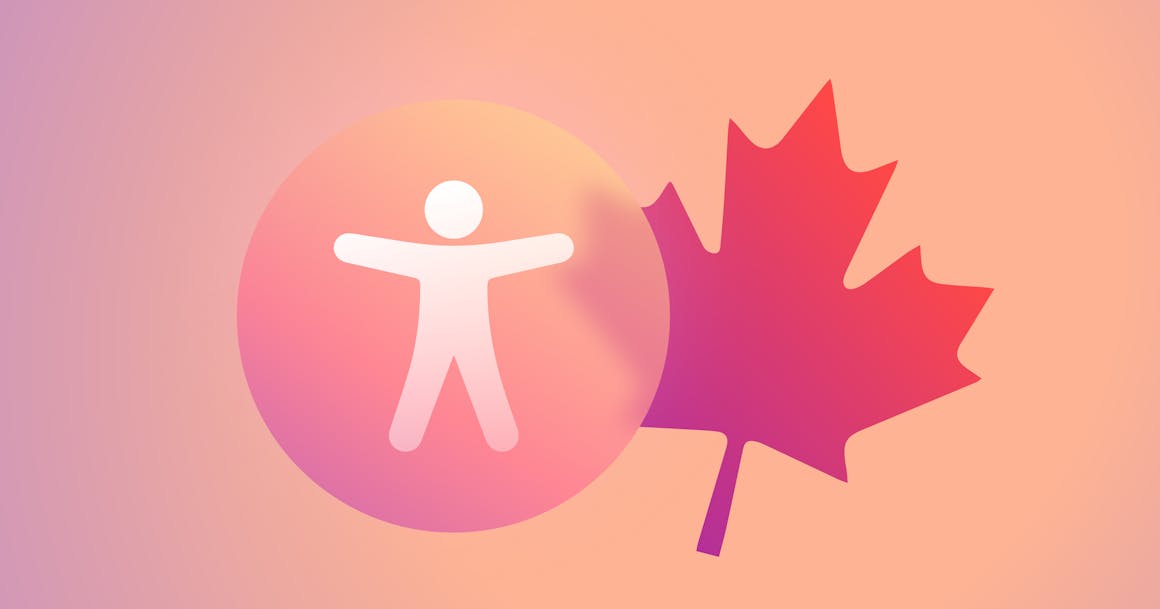 Maintain an AODA-Compliant Website With Help From AudioEye
At AudioEye, we've built the industry's most comprehensive platform for web accessibility testing and remediation. Our solution audits your content against current WCAG Level AA success criteria, performing a battery of over 400 tests to find potential accessibility barriers — and fixes many common issues as the page loads, providing users with a more accessible experience.
We combine powerful automation with expert manual testing and remediation, which helps us find and fix issues that cannot be caught with automation alone. Our Issue Reporting dashboard helps you keep track of your progress and provides guidance for fixing issues that require human support.
Want to get started today? Get a free scan of any URL to find accessibility issues on your site.
Ready to test your website for accessibility?
Scan your website now.