Back to blog
Everything You Need to Know About AudioEye's Manual Testing and Remediation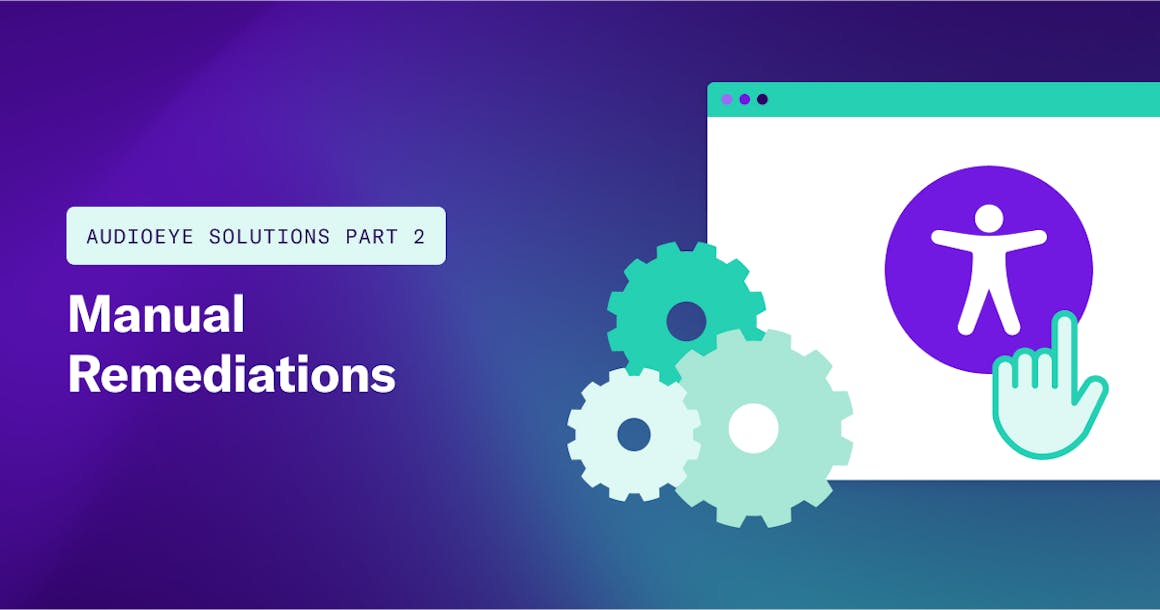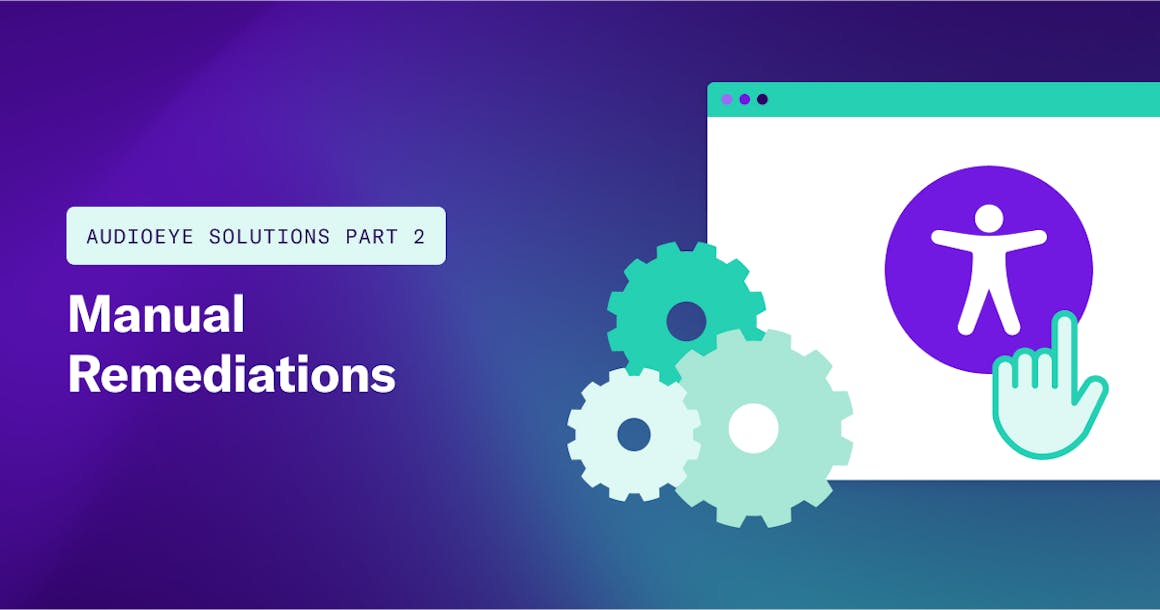 In our post on AudioEye's automation, we discussed how automation today can provide rapid improvements at scale, but cannot fix issues that depend on deeper contextual understanding and direct human experience. Nearly one in five accessibility issues remains invisible to automated technology as it exists today, and catching the remainder requires the skill, experience, and judgment of human testers conducting manual reviews to maintain compliance. 
In this post, we go over AudioEye's manual testing and remediation and how, when coupled with automation, it provides an effective and sustainable way for businesses to ensure digital accessibility.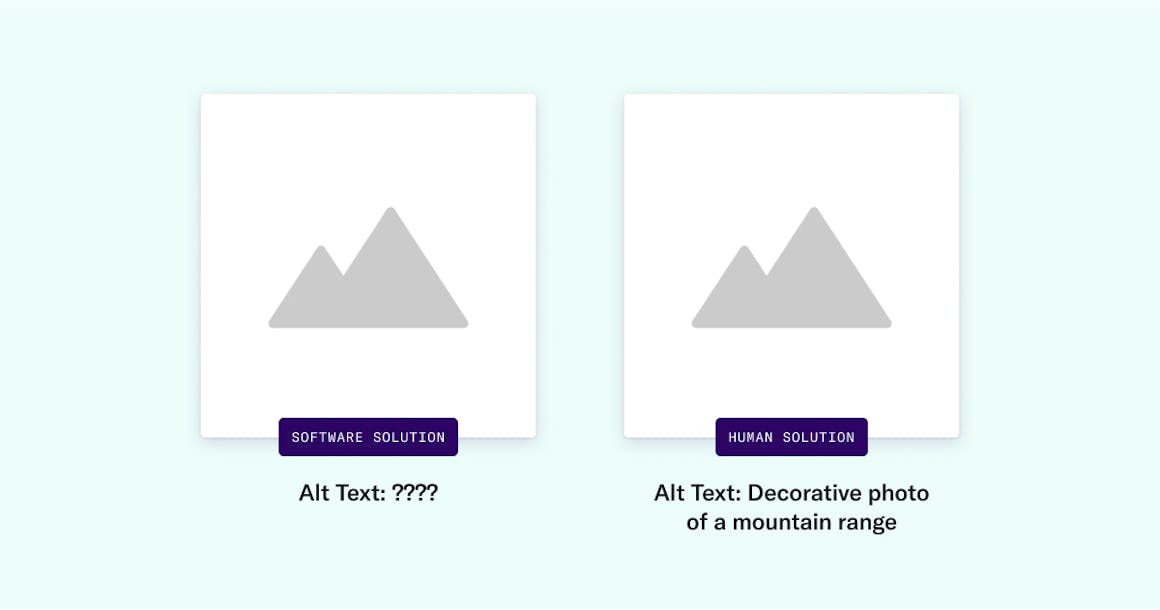 Current Limits of Automation
Many of the common barriers to digital accessibility are relatively simple to identify and resolve. Where an accessibility concern can be described in terms of a simple pass/fail test, it's often possible for software to automatically find and fix it. For example, even relatively basic, rules-based software can quickly detect and resolve errors, such as incorrectly ordered HTML header tags.
Detecting more subtle errors often requires an understanding of context that is beyond even the most sophisticated AI today. Even with human judgment, if you ask two people to describe an image, their descriptions may be similar, but it is unlikely they would be exactly the same. Determining which description is the better one is also subjective, and AI is not yet able to make those sorts of judgments. This is where manual testing and remediation come in, picking up the baton to uncover and resolve problems that require human expertise to diagnose and properly fix.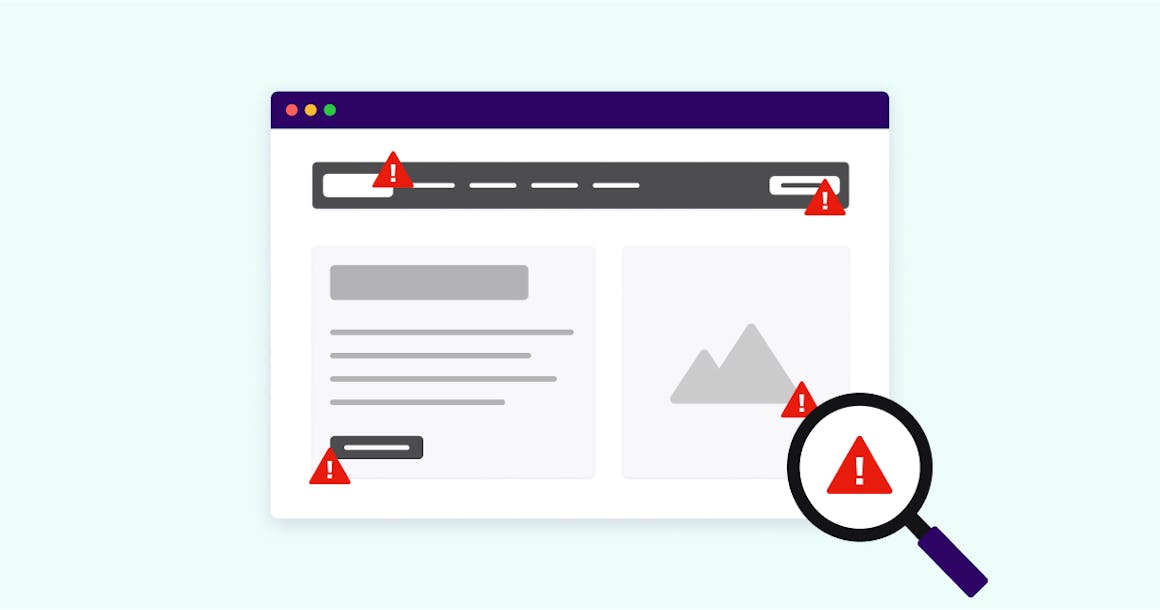 What is Manual Testing and Remediation
Manual testing is conducted by accessibility experts, preferably people who use assistive technology, such as a screen reader, to navigate the internet. They assess a website's accessibility, typically based on the Web Content Accessibility Guidelines (WCAG). WCAG provides a set of success criteria that are considered the global standard for creating accessible web content. 
Accessibility experts usually use a variety of browsers and assistive technologies to perform manual testing and help diagnose subtle hindrances to accessibility. This often includes finding accessibility issues caused by code that is technically conformant with WCAG, but will cause unexpected problems for some or all users with disabilities. 
Once the manual audit is completed, the tester delivers a report, which may provide recommendations for specific remediations. A developer then uses that report and works with the tester to analyze and fix the source code of the site.
Manual Testing and Remediation at AudioEye
AudioEye's dedicated team of accredited members of the International Association of Accessibility Professionals (IAAP) has deep expertise in accessibility guidelines and the assistive technologies most commonly used by people with disabilities.
Our developers and manual testers work in close partnership to monitor our clients' websites, following a four-step process to create and test manual remediations to improve website accessibility.
1. Initial Scan
In the first pass-through of a website, a developer remediates issues found in the initial scan. They set landmarks, enable accessible carousels, and more.
2. Manual Test
An accessibility tester, using a screen reader and keyboard navigation, goes through a testing workflow and tests patterns, or common website elements for accessibility. 
3. Remediation
A developer then remediates any additional issues found by the accessibility tester, then returns the issues to the tester to be re-tested. Steps two and three are repeated each time a remediation round is completed.
4. "Last" Pass
Before changes are published, a developer spot-checks the site to confirm the remediations are working as expected. The source feedback is compiled throughout and shared with the team, who may pass it along to the website owner.
By using native software, we can code custom remediations into the automation layer, adding custom fixes for websites that need it, without affecting the source code.
This process often reveals patterns we can develop into scalable automated solutions to deploy across all of our clients' websites. 
In addition to the manual testing and remediation services offered to clients, our accessibility QA analysts are constantly looking through the websites we support for issues that cannot be tested or fixed with automation to pass on to our development team in order to improve our technology.
AudioEye's services team regularly builds custom remediations for AudioEye customers when automated tests or manual audits find issues that can't be resolved with automation. They also fix all issues that come through our 24/7 Help Desk, directly from end users.
AudioEye A11iance Team
The AudioEye A11iance Team, a group of people with disabilities who use assistive technology in their daily lives, provides expertise and testing for product development and QA at AudioEye. A11iance members work with our QA team to test AudioEye sites with custom accessibility plans and to test manual remediations in development. Their feedback and insights are invaluable in our work, giving us an end-user perspective of websites using AudioEye's services. 
The Importance of Expertise
Creating and sustaining a robust program where accessibility is front-of-mind, tested, and considered at every stage of development is a tremendous undertaking. Most training programs for developers and software engineers don't cover accessibility in meaningful ways. Many developers don't even know they must meet accessibility standards and can have difficulty finding information on accessibility from trusted sources. 
There is also a lack of understanding around how people with disabilities use the web, so good intentions to make a site accessible can sometimes backfire when a standard is misinterpreted. For example, when labeling elements it is redundant to include words such as "button," "graphic," or "link," since screen readers will identify these elements for users. While each WCAG success criteria is technically pass/fail, there is nuance in evaluating a website and the particular elements affected. 
As a member of W3C — the standards body that manages WCAG — AudioEye is committed to staying at the cutting edge of digital accessibility. Our deep understanding of accessibility guidelines is combined with practical experience of how to conform to them on the back end. This means we know where to look for errors on our clients' websites, which errors have the greatest impact on accessibility, and how best to eliminate them.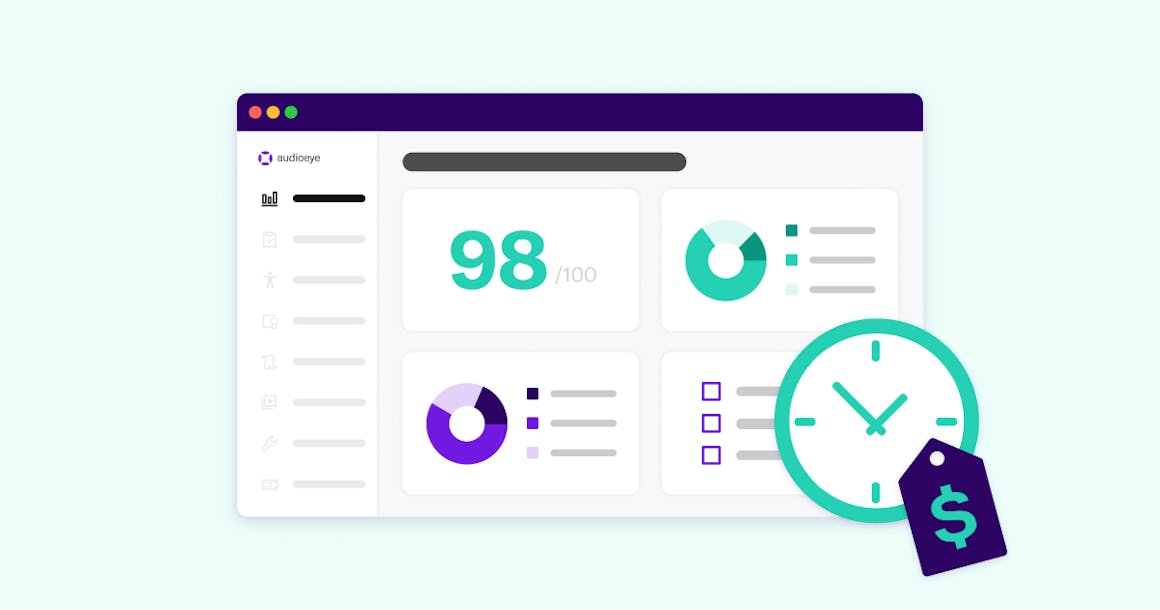 How Does a Hybrid Approach to Testing and Remediation Work?
Even though manual testing and remediation are the gold standard in accessibility, they are time-consuming and expensive. And while large and enterprise-level organizations can afford a manual approach, the majority of small- to medium-sized businesses can't.
Digital content and technologies are constantly changing, with new content being published every second. Most organizations do not have the time, budget, or expertise to continually produce accessible experiences for people with disabilities. In many cases, organizations use third-party content management tools that do not offer full control, making it that much harder to keep up with the changes and ensure continuous accessibility of all their website features. 
For these reasons, and considering that most websites were not built with accessibility in mind, the most practical option is to solve the most common accessibility issues, such as missing alt text or link, with automation and address more complex issues with manual testing and remediation. 
AudioEye's industry-leading automation delivers an immediate boost in accessibility without the cost and delay of making changes to source code. Supplementing an automated solution with expert manual testing and remediation is then a great way to tackle the remaining issues at speed, scale, and low cost. Over time, the lessons learned can feed back into the development process.
Our hybrid approach, which relies on responsible and transparent implementation of technology backed by true subject matter experts, is an effective and sustainable accessibility solution that enables businesses of all sizes to create inclusive experiences for all their customers on an ongoing basis.
Find out more about how AudioEye leads the digital accessibility market by combining sophisticated automation with expert manual testing and remediation.
Schedule a demo
Ready to test your website for accessibility?
Scan your website now.