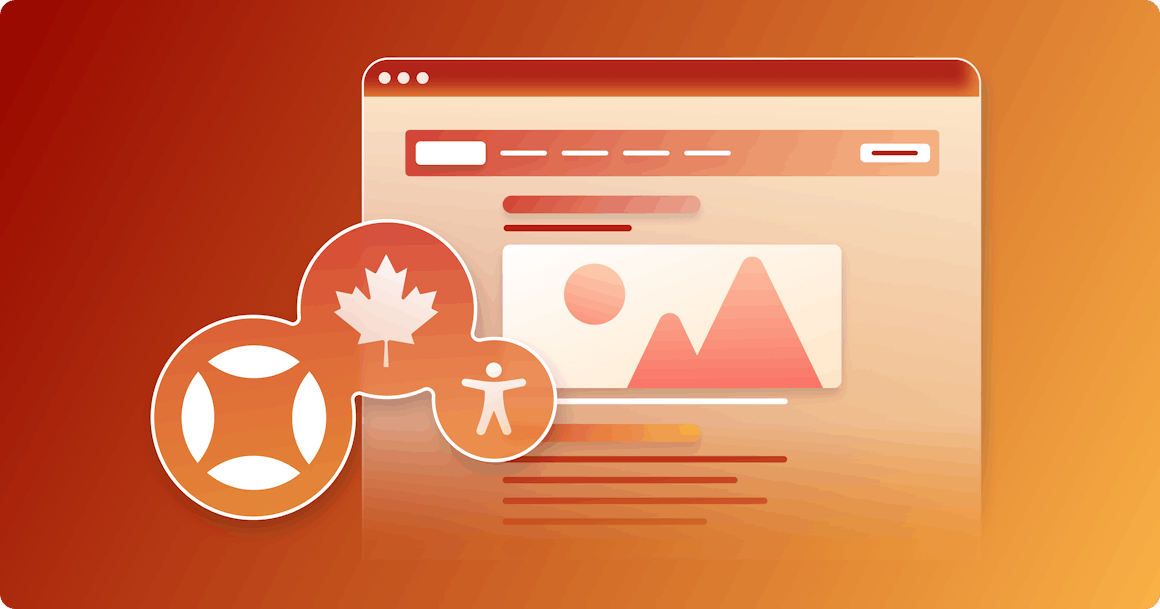 AODA Compliance, Explained
What is the Accessibility for Ontarians with Disabilities Act (AODA)?
The Ontario Government introduced the Accessibility for Ontarians with Disabilities Act (AODA) in 2005. The original goal of the Ontario Disability Act was to identify and remove access barriers (physical and virtual) for people with disabilities by 2025. The AODA applies to government bodies of all types, non-profit organizations, and commercial organizations in Ontario with at least one employee.
The AODA sets out general requirements alongside five standards:
Customer Service
Information and Communication
Employment
Transportation
Design of Public Spaces
If you found our website by searching on keywords such as "AODA compliance," then you're most likely interested in how the first two AODA compliance standards define what your organization must do to ensure all have equal access to your digital information resources. This short webpage will explain who the AODA applies to, what it requires, the risks of non-compliance (and benefits of compliance), and how to bring your website up to scratch.
The Customer Service Standards of the AODA apply to both face-to-face and remote service – which increasingly means online service. The Information and Communications Standards of the AODA require all government organizations, as well as all commercial organizations with at least 50 employees, to meet defined accessibility standards for their websites. The original deadline for doing so was January 1, 2014, and tougher standards came into force on January 1, 2021.
Who Needs to Be Compliant?
In general, AODA compliance is required for all government organizations and all commercial organizations that provide goods, services, or facilities to the public and that have at least one employee in Ontario. But when it comes to AODA website compliance, small businesses (those with one to 49 employees) are exempt. Large businesses (defined as those with 50 or more employees) are required to meet website accessibility standards.
It is important to note that the location of a company's headquarters is not relevant in determining the need to comply with the AODA. Simply having a single employee in Ontario triggers the requirement to comply with the law. In addition, public-sector organizations of all sizes, together with businesses or non-profits with 20 or more employees, must complete and submit annual Accessibility Compliance Reports.
What's the Risk of Non-Compliance?
Non-compliance with the AODA carries the risk of large financial penalties. The law sets high maximum penalties for violations:
A person or an unincorporated organization can be fined up to CA$50,000 per day until the violation is resolved.
A corporation can be fined up to CA$100,000 per day.
Company directors with fiduciary responsibility can be fined up to CA$50,000 per day.
In practice, these maximum daily penalties would only be applied in cases where the violation had a major impact and where the penalized organization had a significant history of violations. As standard, both the violations and the contravention history will be given one of three grades – minor, moderate, or major – and the combination of these two grades will determine the amount of the penalty.
For individuals and unincorporated organizations, the standard daily penalty for violating the AODA requirements will range from CA$200 (minor impact, minor history of contraventions) to CA$2,000 (major impact, major history of contraventions). For corporations, the standard daily penalty will range from CA$500 to $15,000.
Financial penalties are not the only risk of failing to maintain AODA compliance. Organizations with inaccessible websites can face lengthy, costly, and embarrassing legal proceedings, potentially with significant damage to their brand. Consumers increasingly prefer to buy from companies that align with their personal values – 60% of people over the age of 55 rate this as an important factor in their purchasing decisions, a figure that rises to 73% and 83% respectively in the 35-54 and 18-34 age brackets. Failing to maintain an AODA-compliant website could therefore see your brand left out in the cold.
What are the Benefits of AODA Compliance?
Ensuring that people of all abilities can access information and services online is clearly the right thing to do from an ethical perspective. It's also the right thing to do from the financial perspective. According to the Royal Bank of Canada, people with disabilities have an estimated spending power of about $25 billion annually across Canada.

The benefits of AODA website compliance include:
Reduced legal risk
Reduced risk of financial penalties
Improved user experience for all
Enhanced ability to reach and sell to the 16% of Canadian consumers who are living with a disability
How Can I Make My Website AODA-Compliant?
In line with many other regional and national accessibility legislation frameworks, the AODA uses the Web Content Accessibility Guidelines (WCAG) as its benchmark for determining compliance. Developed by the World Wide Web Consortium (W3C), these digital accessibility guidelines apply to dynamic content, multimedia, mobile content and non-web information and communications technologies.
The W3C continues to update the requirements as technologies and digital experiences become more sophisticated. As WCAG is an advisory standard rather than a legal framework, we usually talk about WCAG conformance rather than compliance.
These levels break down into numerous individual guidelines, effectively creating an AODA compliance checklist. Between 2014 and 2020, AODA compliance for public-sector organizations and for businesses with at least 50 employees required conformance to the Level A standard of WCAG for new or significantly redesigned websites.
From 2021 onwards, AODA compliance demands conformance to the Level AA standard of WCAG – so even if your organization was previously compliant, you will need to up your game considerably. Remember also that WCAG conformance (and, by extension, AODA compliance) is not just for HTML content, but also for any digital content such as PDF documents and videos that you host on your website.
Website Accessibility Checker
Check your website's compliance in seconds! Find out if your site is accessible for people with disabilities and meets the AODA, WCAG, and other requirements.
Scan Your Site