Back to blog
What You Need to Know About EU Digital Accessibility Laws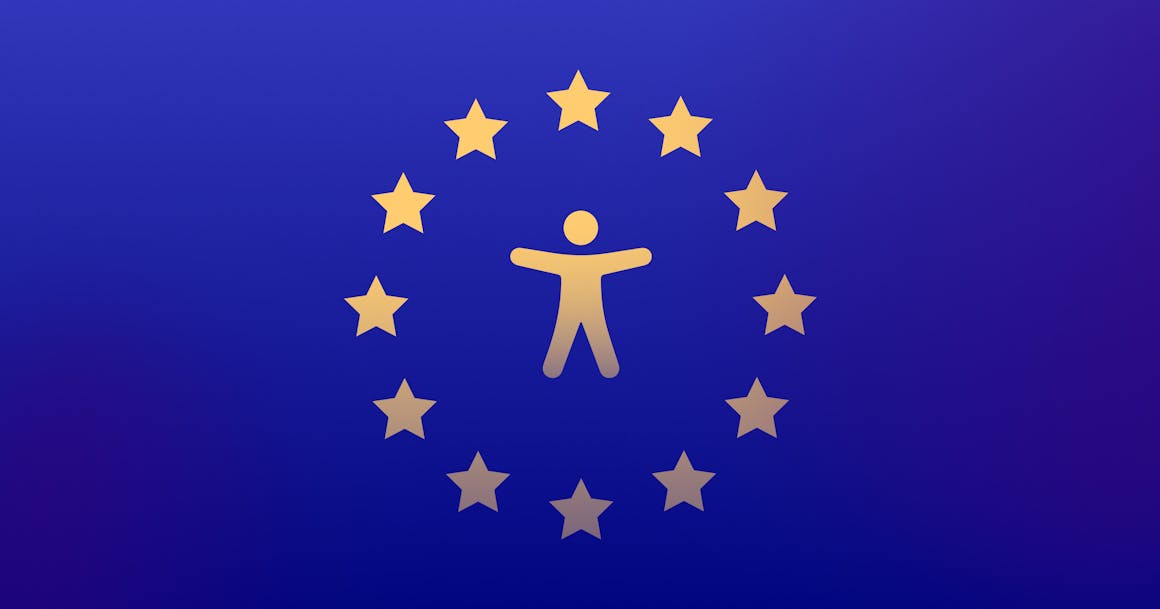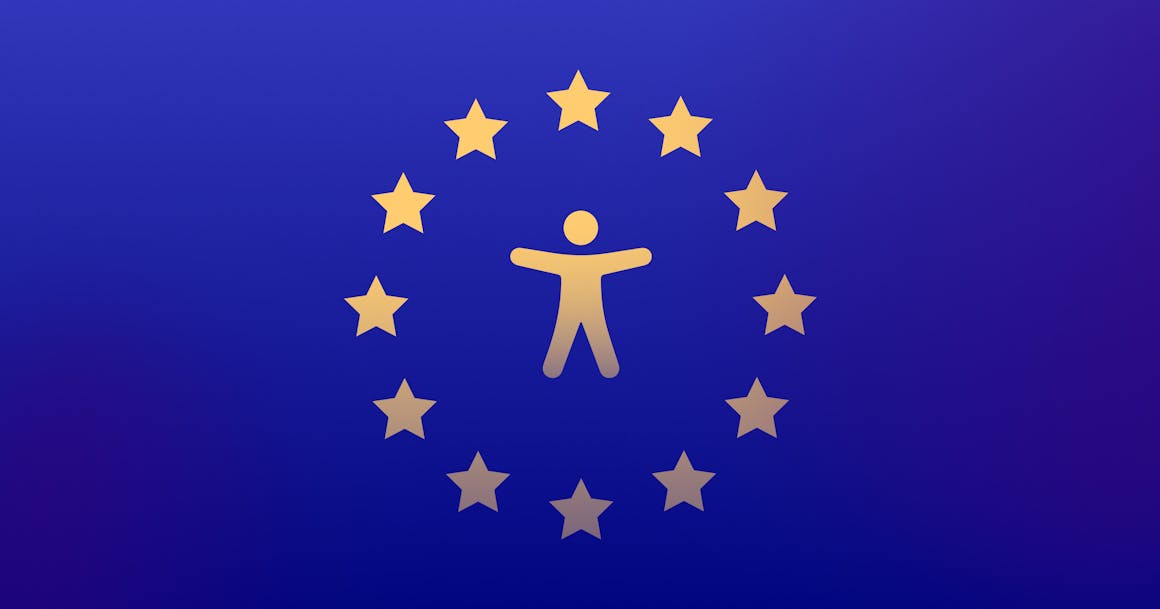 Thanks to two European Union directives, EU Member States share common standards for web accessibility. Here's a guide.
If your organization operates in the European Union (EU), you need an accessible website.
At least 100 million people in the EU have a disability, and the EU has taken steps to create consistent accessibility standards for member states by issuing two key pieces of legislation: The Web Accessibility Directive and the European Accessibility Act (EAA).
Both laws reference the Web Content Accessibility Guidelines (WCAG). Published by the World Wide Web Consortium (W3C), WCAG is widely considered the international standard for digital accessibility.
By following WCAG standards, your business can limit the risk of litigation — regardless of where you do business — and provide your users with better online experiences. WCAG may also help organizations comply with other accessibility laws, such as the Americans with Disabilities Act (ADA).
Here's what you need to know about the EU's accessibility laws: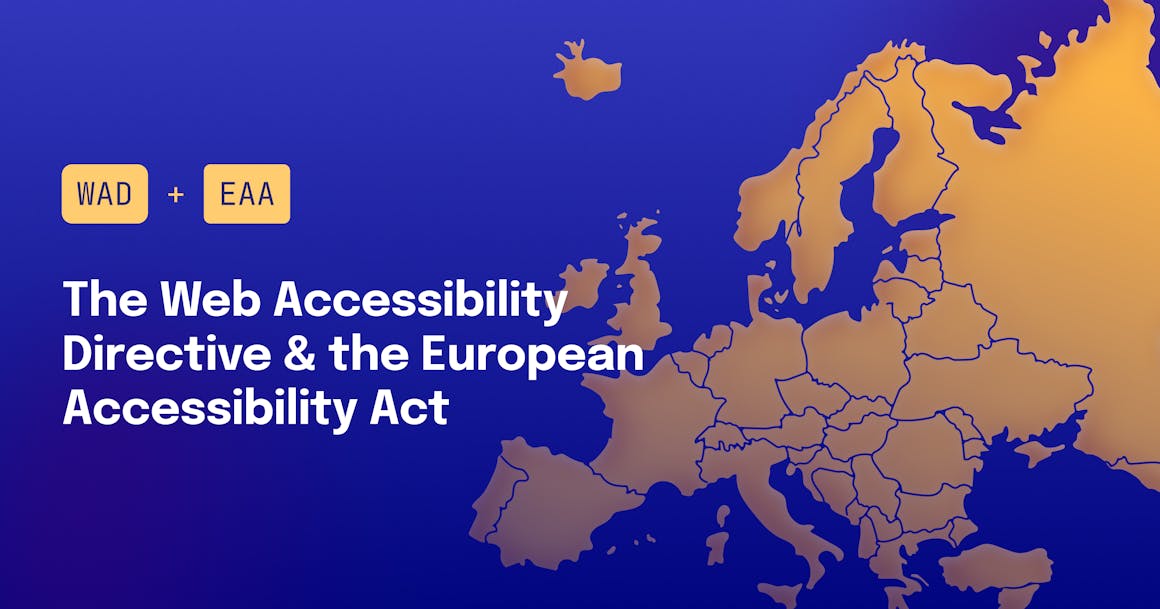 The Web Accessibility Directive and the European Accessibility Act
In 2011, the United Nations Convention on the Rights of Persons with Disabilities (UNCRPD) became the first international, legally binding instrument to establish minimum standards for the rights of people with disabilities. All EU Member States signed and ratified the convention, which started the process of standardization.
The Member States signed the Web Accessibility Directive in 2016. This 15-page document applies to all public sector agencies and organizations financed through public contracts (for example, contractors hired to create an online portal for an EU Member's website).
Key features of the Directive include:
Each Member State must develop accessibility standards based on guidance from the European Standards Organization (ESO). The ESO's web standards are based on WCAG Level AA requirements.
Organizations must publish an accessibility statement on their websites and mobile content.
Users must have a way to provide feedback about accessibility issues.
In addition to websites and mobile apps, the Directive also applies to payment terminals, ticket dispensers, and other electronic communications technologies.
The Directive was enacted in 2016 and, like many accessibility laws, was rolled out gradually. As of September 2020, all new and existing websites covered by the Directive must meet its requirements.
Although the Web Accessibility Directive covers public organizations, it isn't directly applicable to private companies. In 2019, the Member States passed the European Accessibility Act, which has broader implications for digital accessibility in the EU.
The European Accessibility Act: Extending Accessibility Standards to Private Organizations
Like the Web Accessibility Directive, the EAA requires Member States to implement universal accessibility standards based on ESO guidance. That guidance is standard 301 549, Accessibility Requirements for ICT Products and Services (PDF), which incorporates WCAG 2.1 Level AA by reference.
The EAA requires Member States to check for compliance with this standard, follow up on complaints, and verify that companies remediate accessibility issues. Other key features of the EAA include:
All Member States must have translated the EAA and adopted it into their national laws by June 28, 2022.
By July 2025, Member States must begin enforcing their laws.
In addition to online content, the EAA applies to digital products, such as smartphones, televisions, and e-readers.
The EAA applies to any product or service that is sold or used within the Member States, regardless of origin. In other words, even if your business is based in the United States, you must comply with the EAA if you sell to customers in the EU.
Does Every Business Need To Comply With the EAA?
The EAA has limited exemptions for some micro-enterprises with a small number of employees. However, the Directive encourages small businesses to provide products and services that comply with WCAG 2.1. Individual Member States may have laws that are more strict than the EAA's essential requirements.
Ultimately, every business has plenty of reasons to follow WCAG. While legal compliance is an important consideration, digital accessibility has numerous benefits for every business:
Many accessibility improvements — such as captions, transcripts, and proper use of subheadings — benefit all users, regardless of their abilities.
An inclusive website can help you reach a much wider audience.
Accessibility helps you establish your organization's social values and build your brand.
Accessibility aligns with the best practices of search engine optimization (SEO) and may help you improve search rankings.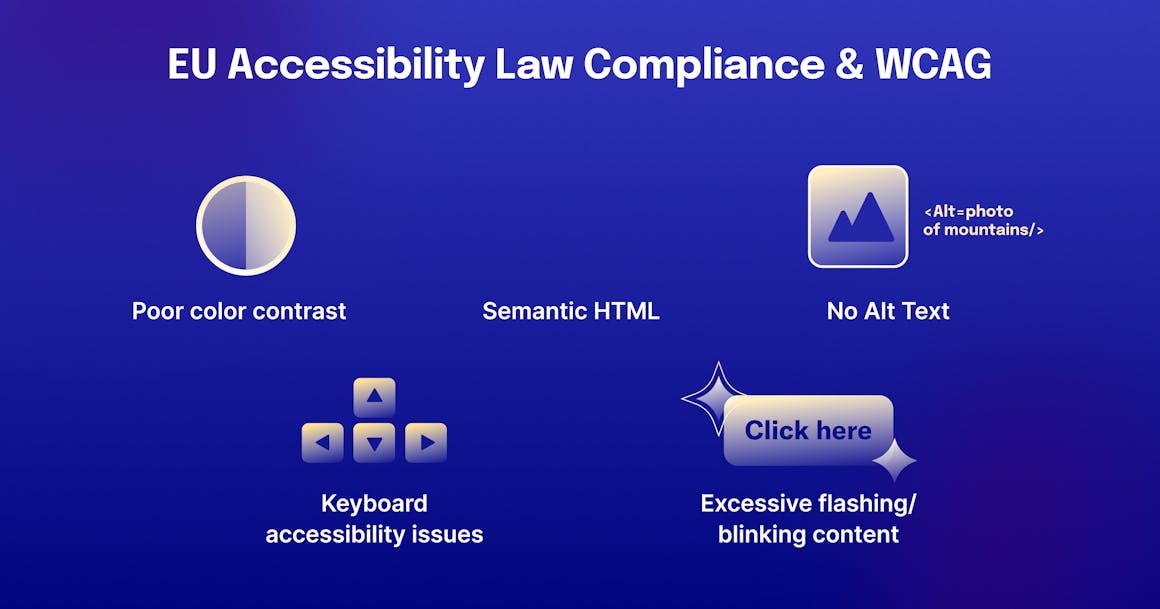 EU Accessibility Law Compliance and WCAG
The Web Accessibility Directive and the EAA share the same goal: To make the internet a better place for people with disabilities. To that end, both directives incorporate WCAG success criteria, which are pass-or-fail statements used to test (and fix) accessibility issues.
Following WCAG can fix many issues that impact people with disabilities, including:
In total, WCAG 2.1 contains 78 success criteria, which are organized into three levels of conformance: Level A (the least strict requirements), Level AA, and Level AAA (the most strict requirements). EU accessibility laws require websites to meet the Level A and Level AA standards.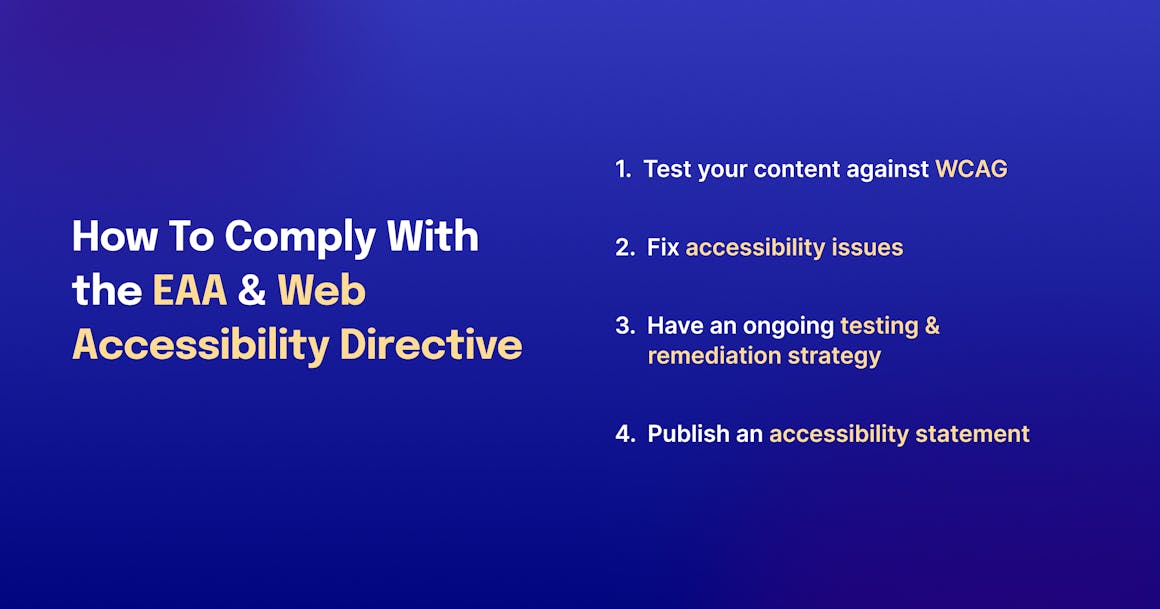 How To Comply With the EAA and Web Accessibility Directive
To comply with the European Union's digital accessibility laws, you need to think about people with disabilities when creating your content. WCAG provides a framework for finding and fixing accessibility issues, and reviewing the guidelines can help you develop an accessibility-first mindset.
If you're ready to build a more accessible website, here's how to get started (and how AudioEye can help):
1. Test your content against WCAG.
Many of the most common accessibility barriers can be identified through automated testing. AudioEye runs a battery of over 400 tests, more than any other automated solution in the industry.
Some issues require human judgment and context, and your testing strategy should also include regular manual reviews. Read about how manual testing can improve WCAG conformance.
2. Fix accessibility issues.
Our solution automatically fixes many of the most common accessibility issues — without changing your website's code or appearance. Read about AudioEye's automated remediations.
In addition to auto remediations, we provide resources for guided remediations that require a contextual understanding of content – for example, missing image alternative text, which automated tools can't write accurately. Our Custom Plans also include options for manual testing and remediation, performed by experts who use assistive technology.
3. Have an ongoing testing and remediation strategy.
Accessibility requires commitment. Even if you address every WCAG issue, you might accidentally introduce new barriers when adding new content or applying updates — that's why regular testing is essential for long-term digital compliance. 
AudioEye employs Active Monitoring technology, which tests for accessibility issues with each new visitor. Through our Issue Reporting dashboard, you can monitor your website's accessibility in realtime and provide each user with the best possible experience.
4. Publish an accessibility statement.
An Accessibility Statement shows your commitment to accessibility and provides information about your website's content. Accessibility Statements should follow a common format and include information about your testing tools, goals, and any known barriers. For more guidance, read: Does My Website Need an Accessibility Statement?
Start Building For Web Accessibility Directive and EAA Compliance
Although the EU's accessibility laws might seem complicated, they're built to help establish standards for all web content. By following the Level AA guidelines of the latest version of WCAG, you can improve compliance — and provide every user with the best possible experience.
Want to see how accessible your website is today? Get a free scan of any URL to test it against the latest WCAG standards.
Ready to test your website for accessibility?
Scan your website now.