ADA Compliance, Explained
Everything you need to know about the Americans with Disabilities Act and how to make your website be compliant.
On this page: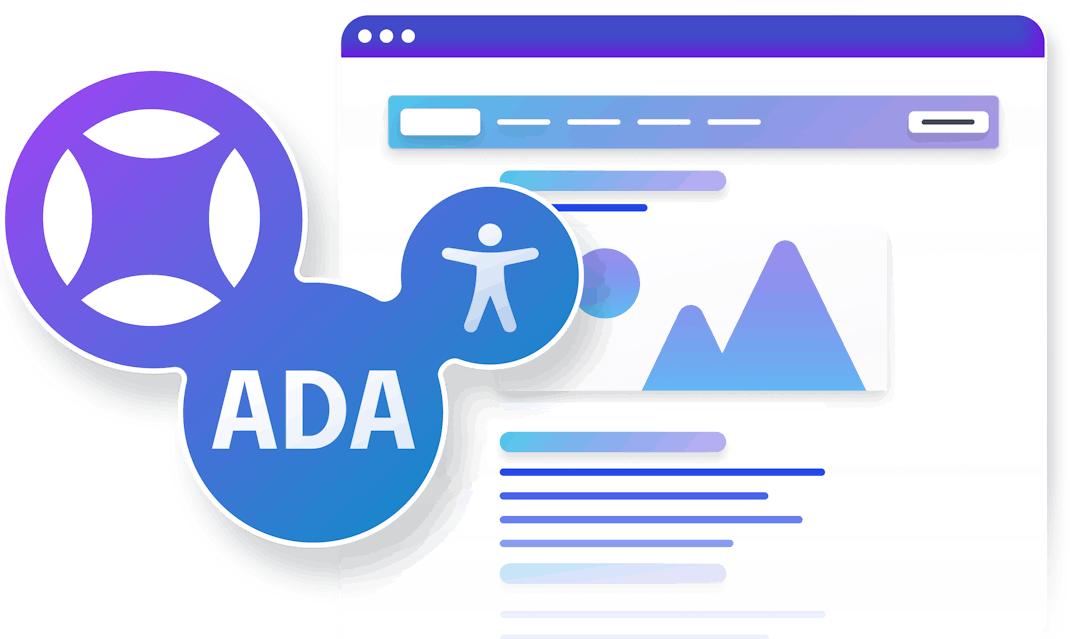 The Americans with Disabilities Act (ADA) is a landmark civil rights law that prohibits discrimination against individuals with disabilities in all areas of public life. It gives millions of individuals with disabilities equal access to all public and private places, from employment to government, telecommunications, and businesses.
Title III of the ADA addresses businesses specifically. It prohibits discrimination on the basis of disability in places of public accommodation, which include restaurants, private schools, sports stadiums, office buildings, and more. Businesses are required to make "reasonable modifications" to serve people with disabilities.
Who Needs to Be Compliant?
Under Title III, businesses "open to the public" both in the physical world and online are required to provide equal access to people with disabilities.
Examples of businesses open to the public include:
Restaurants and bars.
Retail establishments.
Hotels and other places of lodging.
Parks, zoos, and other places of recreation.
Hospitals and professional offices of healthcare providers.
Schools and universities.
Museums, libraries, and galleries.
Learn more:
Does the ADA Apply to Websites?
Although the ADA does not specifically mention web accessibility, the Department of Justice (DOJ) has regularly stated that websites qualify as "places of public accommodation." In March 2022, the DOJ published guidance on web accessibility and the ADA, writing:
The Department of Justice does not have a regulation setting out detailed standards, but the Department's longstanding interpretation of the general nondiscrimination and effective communication provisions applies to web accessibility.
Over the past 20 years, numerous lawsuits and DOJ settlements have supported this interpretation.
Put simply: If your website is intended for public use, it should be accessible for all users.
What Is Web Accessibility?
Web accessibility is the practice of making sure that websites and web-related tools and technologies are usable by everyone, regardless of ability. 
Like wheelchair ramps and Braille elevator controls commonplace in the physical world, digital concepts like image alt text and closed captions remove barriers online. When it comes to compliance with the ADA, business owners must prioritize accessibility – both in-person and on the web.
Learn more:
How Does the ADA Determine Web Accessibility?
Because the ADA does not have technical standards for web accessibility, the DOJ recommends that businesses use the Web Content Accessibility Guidelines (WCAG) to evaluate the accessibility of their websites and digital content. Although it isn't codified into law, past rulings have set WCAG 2.0 Level AA as the benchmark for web accessibility.
Published by the World Wide Web Consortium (W3C), WCAG 2.0 consists of 61 success criteria, which are written as pass-or-fail statements that address common accessibility issues like low-contrast text, missing or non-descriptive alt text, and keyboard accessibility issues.
WCAG 2.1 (which was released in June 2018) adds an additional 17 success criteria, for a total of 78 success criteria.
Learn more: The Difference Between the ADA, Section 508, and WCAG.
What's the Risk of Non-Compliance?
Every year, thousands of businesses face lawsuits that cite violations under the ADA and other non-discrimination laws. And while high-profile cases like Domino's, Nike, and Netflix get most of the headlines, the vast majority of ADA lawsuits are filed against small and medium-sized businesses.
The rising number of ADA lawsuits doesn't include demand letters related to web accessibility. According to one estimate, the number of demand letters increased from 40,000 in 2018 to more than 265,000 in 2020.
These letters typically list web accessibility issues that a user encountered on the site — and can seek restitution in the form of tens of thousands of dollars.
Read more:
Web accessibility isn't just the right thing to do. It's also a legal requirement.
Every year, thousands of businesses face lawsuits that cite violations under the Americans with Disabilities Act (ADA) and other laws.
How Can I Make My Website ADA-Compliant?
Following web accessibility standards like WCAG is an important first step toward ongoing ADA compliance. 
Based on the DOJ's guidance for web accessibility, as well as precedent set out in past cases, we recommend businesses take the following steps to best position themselves for ADA compliance:
Read more:
1. Find (and Fix) Accessibility Issues on Your Website
Websites must identify and resolve accessibility issues based on WCAG criteria.
AudioEye's Auto Remediations can detect up to 70% of common accessibility issues — and automatically fix about two-thirds of them.
Read more: What Is ADA Compliance Testing?
2. Have an Ongoing Plan for Accessibility
With every new blog post, image, and product update, you risk introducing accessibility issues to your site. That's why one-time audits are insufficient for ongoing compliance — and why you need a scalable plan for accessibility.
To make accessibility attainable and sustainable, we use Active Monitoring. Every time a visitor loads a new page on a website that uses AudioEye, our solution tests for new accessibility issues and deploys automated remediations.
3. Periodic Manual Accessibility Audits
Certain types of content — such as video, audio, and PDF — cannot be fixed with automation. And some accessibility issues are too subjective for automation to resolve. For this reason, businesses should employ regular manual accessibility testing conducted by Assistive Technology (AT) testers.
4. Provide an Accessibility Statement
An Accessibility Statement is a declaration of your commitment to accessibility that also provides information about your content, including the accessibility standard applied to your website (such as WCAG 2.1) and contact information in case users encounter accessibility issues.
As part of your statement, you should include any known accessibility limitations of your website, the measures taken by your organization to ensure accessibility, the environments in which the content has been tested, and references to applicable national or local laws and policies.
Learn more: Does My Website Need an Accessibility Statement?
5. Provide a Public "Grievance Process"
Businesses should provide a mechanism for users to report accessibility issues. By simply installing AudioEye on a website, website owners are able to offer AudioEye's 24/7 Fully Managed Help Desk to their site visitors.
Website Accessibility Checker
Check your website's compliance in seconds
Find out if your site is accessible for people with disabilities and meets the ADA, WCAG, and other requirements.