Back to Blog
10 Web Accessibility Examples for ADA Compliance
Summary: In this blog, there are some of the best web accessibility examples showcasing accessible design. These websites set the standard for ADA and WCAG compliance without compromising design.
The Web Content Accessibility Guidelines (WCAG) represent the gold standard in digital accessibility and should be essential reading for any businesses aiming to achieve compliance with the Americans With Disabilities Act (ADA).  
Now in version 2.2, WCAG sets out the key capabilities and features that organizations should prioritize to build digital experiences that are perceivable, operable, understandable, and robust. While the guidelines are comprehensive, businesses are free to deploy them in creative and innovative ways to create compelling experiences for their users.  
In this blog post, we look at 10 web accessibility examples from websites that are setting a high standard for ADA and WCAG compliance — without compromising on their look and feel.
1. Create visual impact with high contrast 
To help people with vision disabilities access and engage with web content, WCAG recommends that text should have a contrast ratio of at least 4.5:1. Scope, a disability equality charity in England and Wales, proves that businesses don't need to sacrifice a slick brand identity to meet this requirement. The company achieves a high contrast ratio of 9.66:1 between its logo and webpage background and 11.41:1 between its hero image and caption.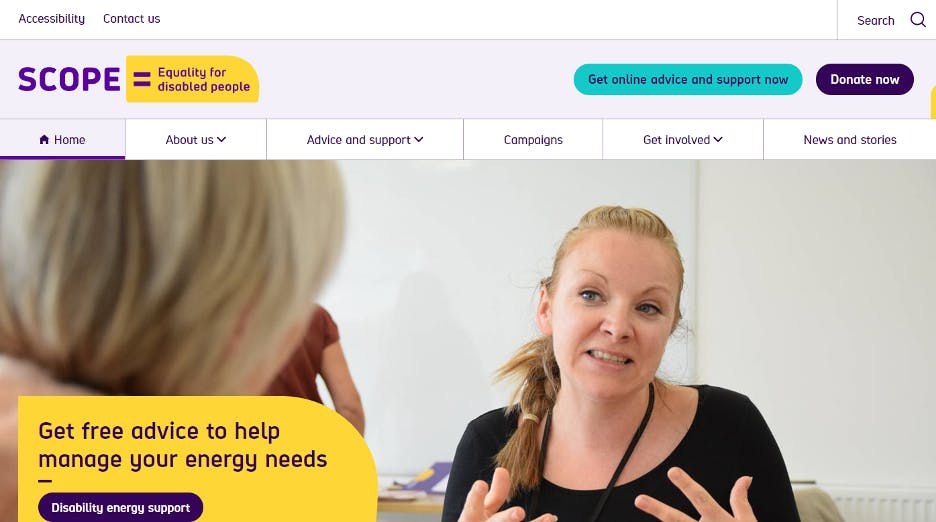 2. Take control with the keyboard  
Another important area for WCAG compliance is the ability to easily navigate a website without the use of a mouse, since working with a keyboard can be significantly easier for people with limited mobility or difficulty with fine motor control. The BBC News website is a prime example of how to implement this capability — enabling users to cycle through and select every element on the page without ever touching the mouse. 

3. Leave a trail of breadcrumbs 
Breadcrumbs are a crucial component of a well-designed user experience — but what are they? According to WCAG, a breadcrumb trail is a way of helping the user visualize how content has been structured, to navigate back to previous pages easily, and to see immediately where a page sits within a wider series of pages.  
The Vasa Museum website in Sweden provides a great example of how to use breadcrumbs. At the top of the page, a series of links breaks down content into larger topic areas such as "plan your visit," "learn more about the history of the Vasa," and "support the Vasa Museum," while a second row of tabs separates each topic further into bite-size pages. 

4. Suggest corrections if users get it wrong 
When implemented well, the search function can slash the time your users need to get where they're going on your website. One of the most effective search optimizations from the customer experience perspective is real-time correction: suggesting the most likely alternative where the information supplied by the user is spelled or formatted incorrectly but the possible correct text is known. In New York City, the Metropolitan Transportation Authority has created a responsive search experience that makes it easy for users to find the information they need to travel around the city.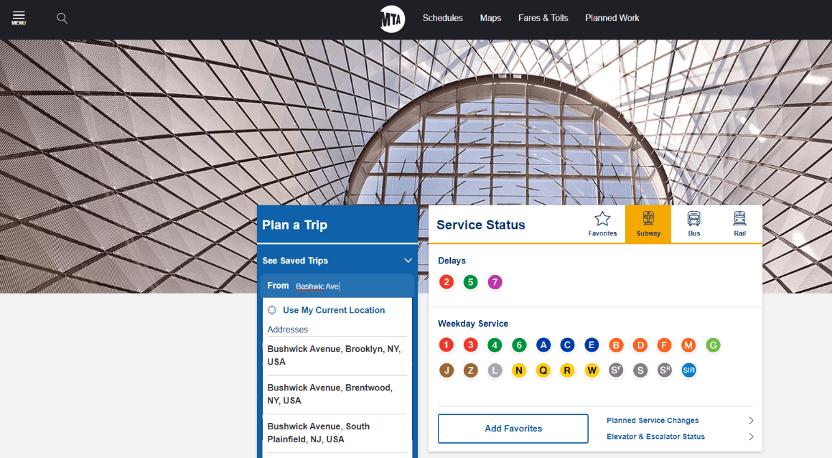 5. Scale text without compromising the user experience 
Many people with vision impairments depend on their web browser to scale up text to a comfortably readable size. As a result, WCAG stipulates that websites should avoid using images to display text, and ensure that resizing text does not cause it to spill off the screen. In the U.K., hearing-loss charity RNID showcases a clean, highly accessible design that allows users to scale up text by up to 300% without any disruption to the user experience.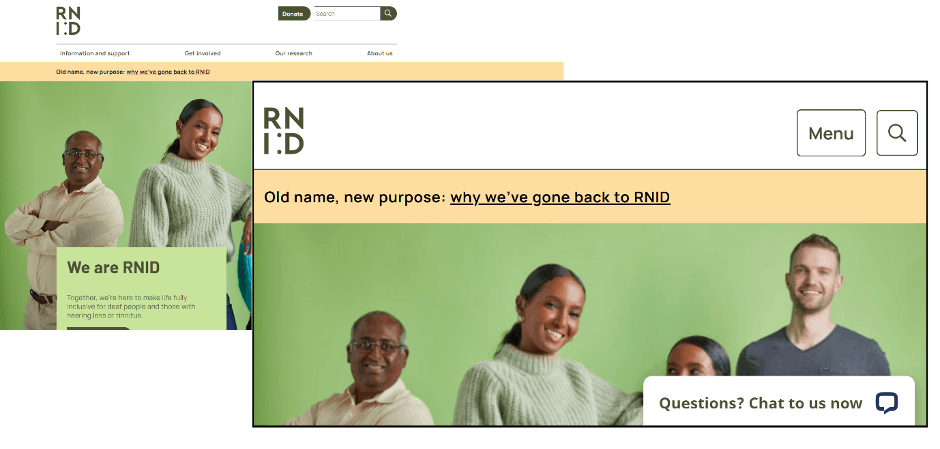 6. Provide alternative text for an inclusive experience 
Thousands of web users rely on assistive technologies such as screen readers or braille displays to access digital content — but those technologies fall flat if businesses do not add appropriate tags and alternative text to their websites. In the U.S., the National Federation of the Blind highlights some of the best practices: short, descriptive, and evocative content that's also relevant to the surrounding context of the webpage.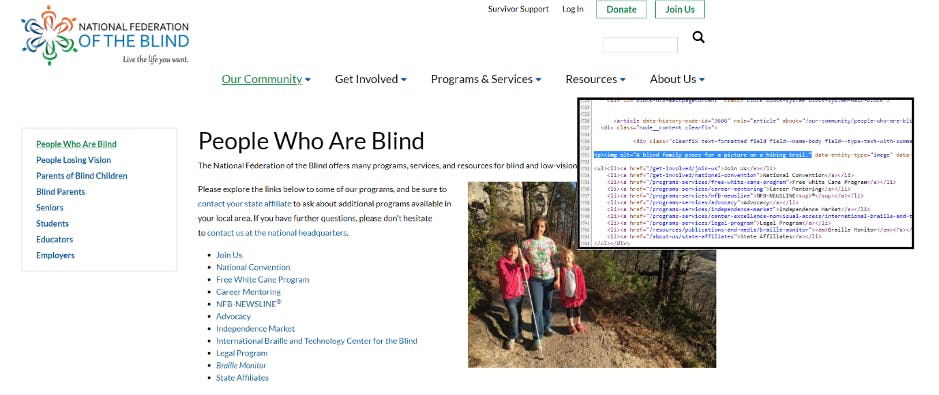 7. Empower users to pause scrolling content 
Carousels offer a visually satisfying way to display images and text to online visitors. However, businesses should be aware that scrolling content could present an impossible challenge for users with low vision or cognitive disabilities. Similarly, movement could also make it extremely difficult for some users to concentrate on other parts of your page. WCAG therefore recommends that businesses always offer a way for users to stop scrolling content — a capability on full display on the global BMW website.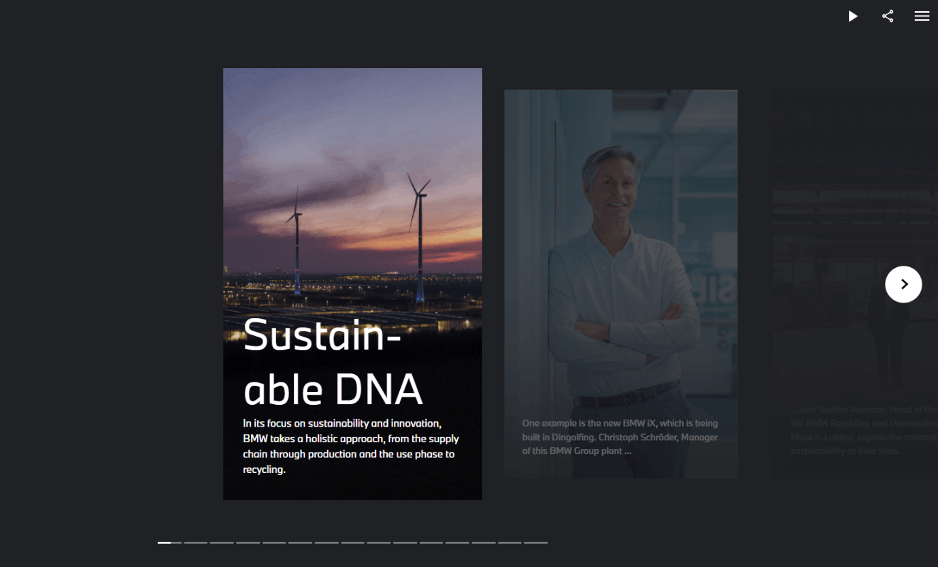 8. Set the tone with a table of contents  
For organizations aiming to convey large amounts of information in an intuitive and digestible way, WCAG suggests that it's sometimes important to go beyond basic navigational elements such as a navigation toolbar or a site map.  
In these situations, web developers can cut through complexity with a table of contents, offering users a complete overview of what they can find on the page and the ability to jump immediately to the section they're interested in. With more than six million English language pages, Wikipedia is an excellent example of the power of a simple table of contents to streamline the user experience.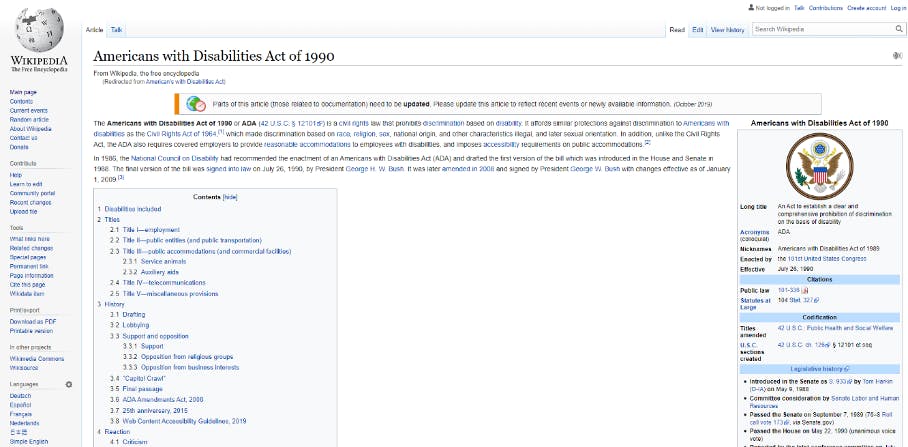 9. Use the correct HTML tags to identify headings 
Another simple — but frequently overlooked — aspect of accessible web design is the proper use of headings. Not only can nested layers of headings make text far easier and more enjoyable to read, using the appropriate HTML tags ensures that all visitors can engage with the content: for example, people using a screen reader or keyboard to navigate the web. Text-rich websites like that of the Federal Aviation Administration make good use of headings to help ensure that complex regulatory and safety information is available to all.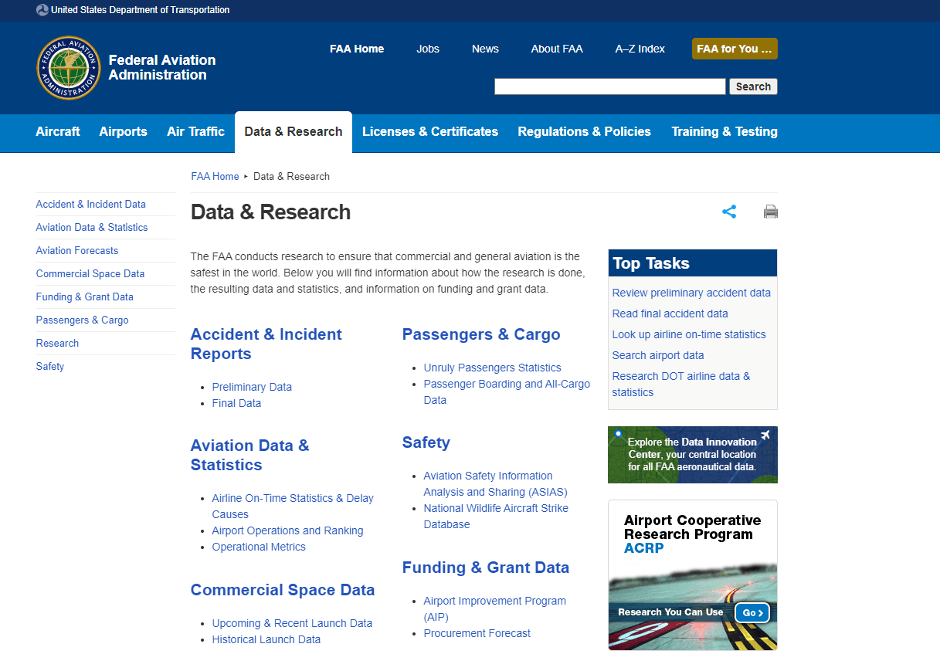 10. Choose a great page title 
Choosing the right page title isn't just important for optimizing your website's ranking on search engines, it's also a key enabler of website navigation. As well as helping sighted users to easily pick out your page in a forest of open tabs, titles are vital to shape accessible digital experiences that comply with WCAG and the ADA.  
Because the title of your page will be the first component a screen reader announces, it's important to pay close attention to getting the content and formatting right. As you'd expect, the World Wide Web Consortium (W3C) website clearly demonstrates some of the best practices for a page title: concise yet highly specific and descriptive.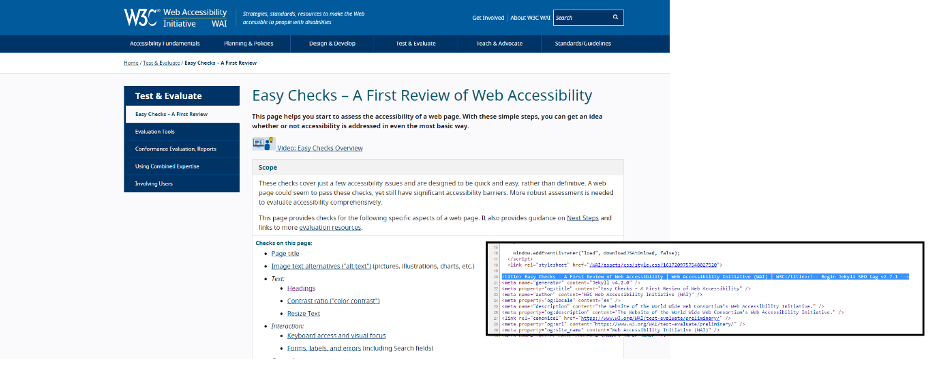 Accessible Design Resources