Back to blog
Honoring Three Women Who Have Impacted My Accessibility Journey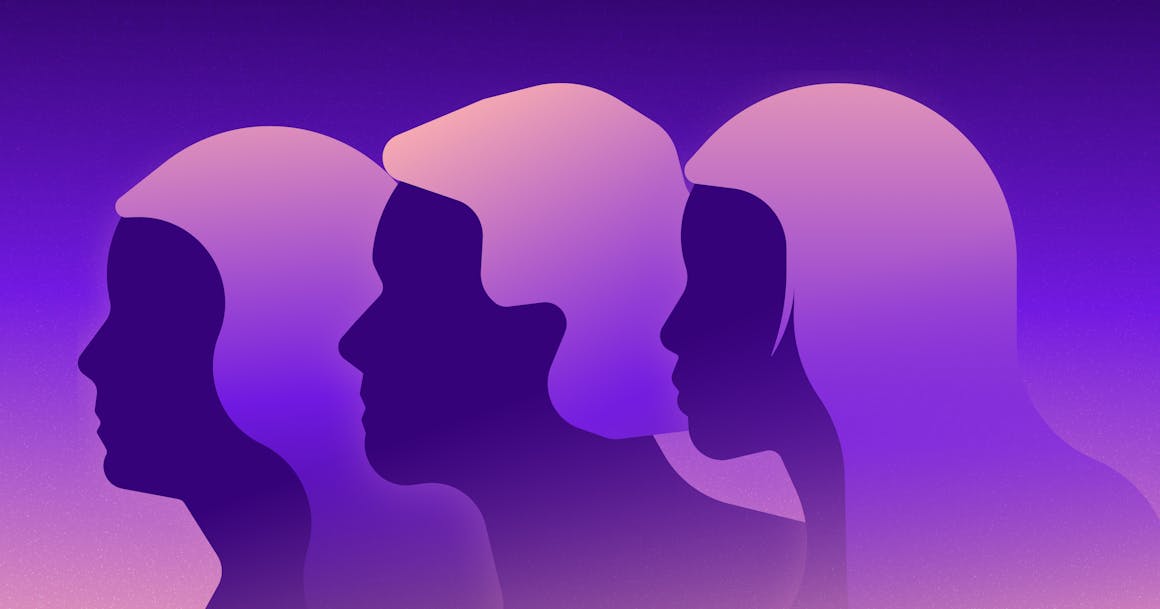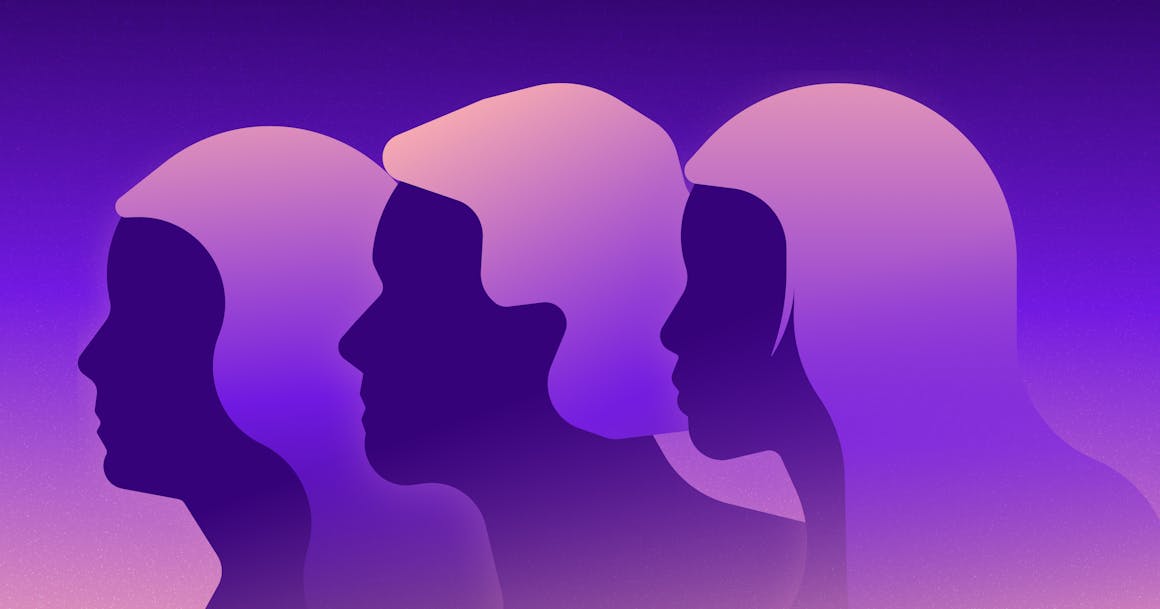 In this post, A11iance Advocate Maxwell Ivey pays tribute to three women who have been instrumental in his journey as an accessibility advocate.
I've met plenty of great people on my journey from carnival owner to who I am today. Some of them helped me solve problems. Others encouraged me to try new things. And a few were there to tell me to keep going when things were hard.
Many of these great people were women. Like my friend Adrienne Smith, who I call my blogging mama. Adrienne helped me understand that my story is inspirational, taught me about relationship marketing, and challenged me to see myself as more than just a seller of used rides.
In the spirit of Women's History Month, I wanted to honor three women who have had a big impact on the disability community — and on my own life: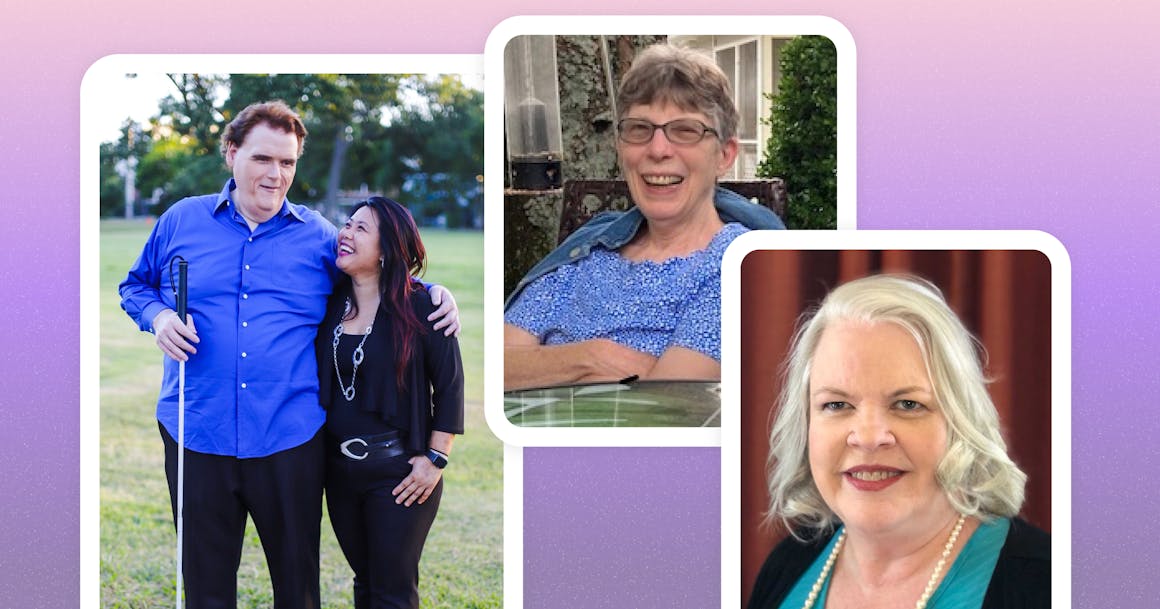 Pris Rogers
The first woman is Pris Rogers, from VisionAware's Peers group. She got involved with the program when it was still hosted by Readers Digest. The magazine wanted to find a new home for its articles on aging, many of which focused on vision loss.
In 2012, VisionAware was looking to expand the program by bringing on more people with disabilities to write for that part of the AFB's website. When I talked to Pris recently, she couldn't recall how she found out about me. But she did, and she invited me to write for the site.
It took a little convincing. At the time, I wasn't sure that I actually had value to offer the visually impaired community.
My first post was an interview. During the call, I discovered that I did have things to share with my fellow blind people. Over the years, I've written about navigating the health care system, managing social media, and my experience as one of the Amtrak Writers in Residence winners. More recently, I wrote about starting a podcast when blind and my singing journey.
Before meeting Pris, I didn't think about who I wanted to help or connect with. I had no real desire to be an advocate for my disability. I didn't reach out to groups like the AFB, the National Federation of the Blind (NFB), or the American Council of the Blind (ACB).
Pris and my fellow peer advisors helped me understand my potential to impact the vision loss community. I wouldn't be writing this post today if I hadn't met Pris and gotten involved with her group.
Their website has helped millions of people dealing with vision loss. So many have been able to receive valuable, accurate information about vision loss. And even more have received encouraging information about living passionately in spite of vision loss.
The VisionAware Peers group is now part of the American Printing House for the Blind. And they are still doing the important work of providing information, encouragement, and inspiration for their readers.
Chelsea Nguyen
The second woman in my story is Chelsea Nguyen. I met Chelsea after speaking for the Houston chapter of the Foundation Fighting Blindness. She was there supporting a friend who was speaking.
After I finished my presentation, Chelsea came up and asked if I would help her create a video library of tutorials on how visually impaired people could present a more professional image.
Chelsea was such a vibrant person. I liked her immediately, and we agreed to speak further via Zoom.
After our second conversation, Chelsea took a bit of a risk. She told me that I was a powerful speaker, but I was probably missing out on more work because of my image.
For context, I'll describe how I looked when she met me for the first time.
First, my hair was very long. Not liking to get it cut, it was down to my shoulders that day. And it had a lot of gray. I've been gray since I was a teenager, and never thought about doing anything about it.
I was wearing blue jeans, a black shirt, and a pair of tennis shoes. It's always been hard for me to find shoes, and I just hadn't gotten around to buying a new pair of dress shoes.
Chelsea gave me a whole day of her time for a complete makeover. She cut my hair shorter and dyed it. She took me shopping at thrift stores to help me find a shirt, a pair of slacks, and three ties to go with a jacket that friends from church had given me. She even helped me find a pair of shoes that worked by encouraging me to buy a size larger than normal. 
I wasn't crazy about her putting makeup on me for the photo and video, but I figured she knew what she was talking about. Thankfully, she didn't try talking me into wearing it for my podcast or at speaking events — although I have no doubt she could teach me to do it if I wanted.
Later, I found out that Chelsea also offers training courses for visually impaired people who are supported by the Texas Workforce Commission. She teaches them about style, grooming, interview tips, and other soft skills. She even brought me into her training courses. She even had me travel to Wichita, Kansas to teach visually impaired high school students as part of an Envision Level Up event.
Chelsea is helping build the confidence of so many young people. Confidence is a big part of success for anyone. But the world does so much to make people with disabilities feel less than they should. We are bombarded by people doubting our abilities and refusing to recognize our value. So, anything that builds confidence provides great value to each individual and to our community at large.
She continues to offer more and more courses. Chelsea is helping so many young people have confidence in themselves as they go for the first job interview or head out to college. Her website is www.cnvisionimage.com and she works with people with disabilities in-person or virtually. 
Neva Fairchild
Finally, I want to talk about Neva Fairchild. I first met Neva while helping Chelsea with one of her trainings. Neva gave a great talk on when and how to disclose a disability.
At the end of 2021, the AFB put out a call for mentors and fellows for its Blind Leaders Development Training Program. I found out about it from a notice they posted to the VisionAware Peers email list. I reached out to her and her team. I liked the idea of being a mentor for another blind person, but I wasn't sure I qualified. 
I told her what I have done to that point and asked if I qualified to submit as a mentor. She told me that I had a lot of lived experience that had value. She naturally couldn't say whether they would select me or not. But I was encouraged and submitted myself as a potential mentor.
I was selected and my experience as a mentor was incredible. It was hard work that challenged so many things I thought I knew about myself.
First, it confirmed that I am a thought leader — and someone who can help other people grow as people and leaders. Second, it helped me feel more confident in a room full of visually impaired people. I'm so used to being one of, if not the only, blind person in a room.
Then I participated in the in-person part of the training. Neva put us through a tough three days where we learned so much about ourselves. For me it resulted in knowing what I want to do with myself, my podcast, and the podcast network. 
The Leaders program is just one part of what Neva and the AFB are doing. But it helped me continue to change the way I see myself. And it helped 20 visually impaired people grow their skills and their confidence, which they can use to be leaders in the continued disability struggle. 
Neva did one more really important thing for me. Last year, I wrote a song called "What's Your Excuse?"
With Pris and Neva being trusted friends, I shared it with both of them. They both told me it was wonderful, and encouraged me to share it with more people. Neva even asked me to sing it at the Blind Leaders graduation ceremony.
Due to a COVID-19 surge, I had to sing it virtually. But I did it. And every time I sing that song, I inspire people to overcome their excuses. Maybe I wouldn't sing it so often if it weren't for them. You could say they are still educating and inspiring me — and everyone else they encounter.
Continuing to Inspire Change
Pris, Chelsea, and Neva are just a few of the women doing incredible work to help people with disabilities. And each person they help — either directly or through their content — is one more confident, successful, powerful person with a disability out there pushing the definition of what a disabled person can do.
Like the ripples in a pond from a thrown stone, they are changing the world through the people they help.
Ready to test your website for accessibility?
Scan your website now.