Back to blog
The Clock Is Ticking On Accessibility for Ontarians with Disabilities Act (AODA) Compliance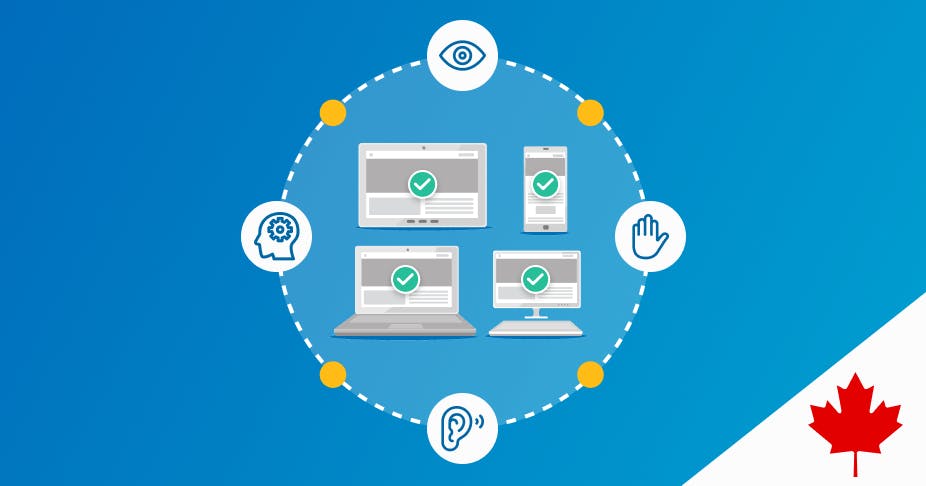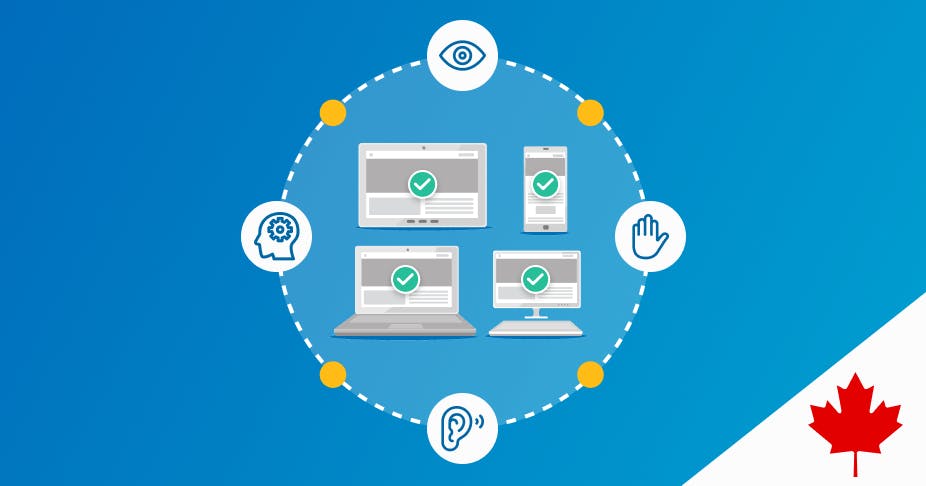 The Ontarians with Disabilities Act (AODA) goes into effect January 1, 2021. This forces organizations to meet web accessibility guidelines. If you don't meet the guidelines, you may be at risk for a lawsuit. This article explains the importance of AODA and how AudioEye can help you prepare.
Is your Canadian business ready?
Globally, the digital channel is fast becoming the preferred way for people to engage with brands, retailers, government services, healthcare providers and more. In Canada specifically, as of 2020, an estimated 83 percent of all Canadians use a smartphone, and as a new generation of born-online consumers enters the workforce, the move toward data-driven services will likely continue to gain pace.
As online and mobile channels become an integral part of our interactions with public and private organizations, there is a clear moral and legal obligation to ensure that digital services are accessible to people of all abilities.
Ontario Strides Toward Accessibility
If you've been following developments in accessibility law in the USA, you probably know that the Americans with Disability Act (ADA) has already been used by courts for a number of years to compel government organizations and private companies to make their websites accessible to everyone.
However, the ADA does not provide a specific framework for compliance, or rigorously define what constitutes digital accessibility. In Canada, the government of Ontario is set to go this extra distance, becoming the first province to establish both a specific goal and timeframe for digital accessibility.
Gearing Up for the AODA
When the Accessibility for Ontarians with Disabilities Act (AODA) comes into force on January 1, 2021, all public-sector organizations in Ontario and companies with more than 50 employees in Ontario must comply with the best practices for digital accessibility laid out in the Web Content Accessibility Guidelines (WCAG).
The clock is ticking, and organizations who fail to meet the January deadline risk financial penalties of up to CA$100,000.
For many organizations, it can be tempting to put off thinking about digital accessibility. However, doing so could be exposing your business to significant legal, financial and reputational risks. Although businesses that lack experience in accessibility might assume that achieving AODA compliance will be a quick fix—simply a matter of installing a widget or a toolbar—the opposite is true.
Beware of Quick Fixes
That's because digital accessibility is a complex and constantly evolving discipline. Just as web content is always changing, so too are the frameworks, standards and technologies that underpin accessibility on the web. And while there are a number of low-cost products on the market that promise a fully automated, one-size-fits-all solution to digital accessibility, the reality is that no single tool can lift your website to the standard of the WCAG and keep it there for the long term.
So, what is the optimal route to AODA compliance? The answer is a strategy that combines effective, automated technologies with the human expertise of digital accessibility specialists.
Introducing AudioEye
Here's where AudioEye comes in. AudioEye offers something that's unique in the digital accessibility space: an end-to-end approach to accessibility that's powered by people and tailored to the specific requirements of your business.
The moment you install our risk-free, single line of code on your site, AudioEye technology begins continuously monitoring your website for potential accessibility issues. Behind the scenes, our experts can help you to remediate these problems at the code level and empower your web developers to adopt best practices that will help prevent similar issues from occurring in the future.
At the same time, your web visitors will gain access to the AudioEye Toolbar. This intuitive set of tools adapts your website to the needs of all visitors­—providing personalization options to change text sizes, spacing and color contrast, visual focus, to contact the AudioEye helpdesk for support, and more. The result? A frictionless, high-quality experience for every visitor to your digital properties.
True Partnership
Crucially, AudioEye offers a consultative, iterative approach that enables businesses to identify their exposure to AODA risks, plan the changes required to achieve compliance, and continuously monitor their progress to that goal. Although frameworks such as the WCAG will almost certainly change over time, your business can gain the peace of mind that experts from AudioEye will help you stay on top of new requirements as they emerge.
If you've been anticipating the approaching AODA deadline, there's never been a better time to get a handle on digital accessibility—and your journey to compliance starts with a single call. Schedule a time to speak with an AudioEye expert.
Ready to test your website for accessibility?
Scan your website now.