Give Users the Power of Personalization
Learn how AudioEye's Visual Toolkit enables users to easily personalize the visual experience of a website to their individual accessibility needs.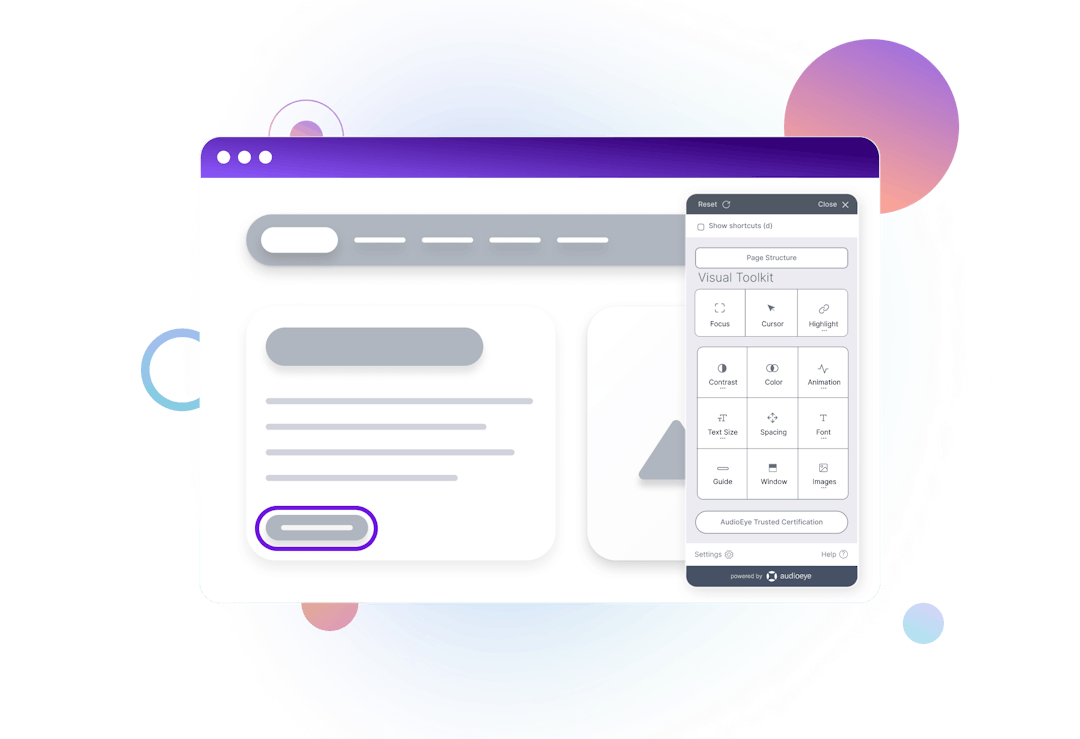 A Complete Approach to Web Accessibility
Unlike simple accessibility widgets, plugins, and overlays, AudioEye's complete accessibility solution enables you to address your website's accessibility and compliance from multiple angles.
AudioEye's Visual Toolkit enables users to personalize the visual presentation of your website to their individual preferences via a suite of usability and functionality tools. 
Accessibility Tools

From adjusting text size or color contrast to enlarging website elements, the Visual Toolkit puts website appearance into the hands of your users, enhancing their experience.

Automated Remediation

Eliminate accessibility roadblocks and bugs with automated suggestions. Easily remediate issues such as missing alt text or low image resolution using the visual toolkit, ensuring optimum accessibility for users.

24/7 Help Desk

Make it easy for site visitors to report accessibility and usability issues and get real-time support through AudioEye's Help Desk, accessible from the Visual Toolkit.
How does our complete accessibility solution work?
AudioEye's Visual Toolkit is a set of usability and customization tools that makes your website more usable to people with a wide range of disabilities, such as color blindness or seizures.
Using our suite of accessibility tools for text, font, images, spacing, images, and more, users can change the appearance of your website based on their individual needs and preferences. This ensures users can access and interact with your website, no matter their disability.
Color Shift and Contrast

Enable users with visual impairments such as color blindness to shift colors and contrast to improve image and text appearance of website content such as headings.

Navigation Tools

The Visual Toolkit includes tools that enhance focus and improve navigation. Make website elements easier to find with Focus or improve reading comprehension with Guide.

Page Elements

Users utilizing assistive technologies can easily navigate through web pages with Keyboard Focus, increase mouse size with Cursor, or eliminate potential hazards with Animation.
Frequently Asked Questions
Have more questions? Feel free to hit us up on our chat—we'd love to help you out!