Support For Digital Accessibility
Lawsuits
Reduce your risk of a digital accessibility lawsuit. AudioEye® provides legal protection support, backed by the industry's only sustainable solution certifying ADA and Section 508 compliance against WCAG 2.1 AA standards.
If You've Been Sued—We Can Help
ADA, WCAG, Title III, Section 508. Confused? It's easy to get lost in the jargon—we'll help you understand these digital compliance terms and how they can impact your business.
Coordinate

If you have received a demand letter, coordinate with your legal counsel to understand your options

Install

You can purchase and install AudioEye onto your website to start your path toward compliance

Defend

With AudioEye, you can utilize our Basic Legal Support to help defend your lawsuit
With AudioEye Enterprise, you get certified and customized service with on-demand support and an Expert Accessibility Advisor for legal consultation.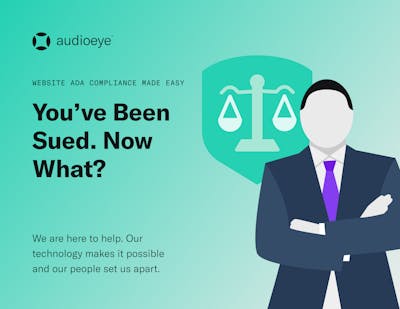 You've Been Sued. Now What?
Have you recently been sued by a plaintiff making claims that your business website has failed to uphold digital accessibility obligations under ADA Title 111 and/or the California Unruh Civil Rights Act? These types of lawsuits are expensive and time-consuming, but AudioEye is here to help you meet legal compliance and guide you through your legal response.
Download The Guide
Frequently Asked Questions
Have more questions? Feel free to hit us up on our chat—we'd love to help you out!
View all FAQ