Back to blog
A11iance Profile: Ana Jacob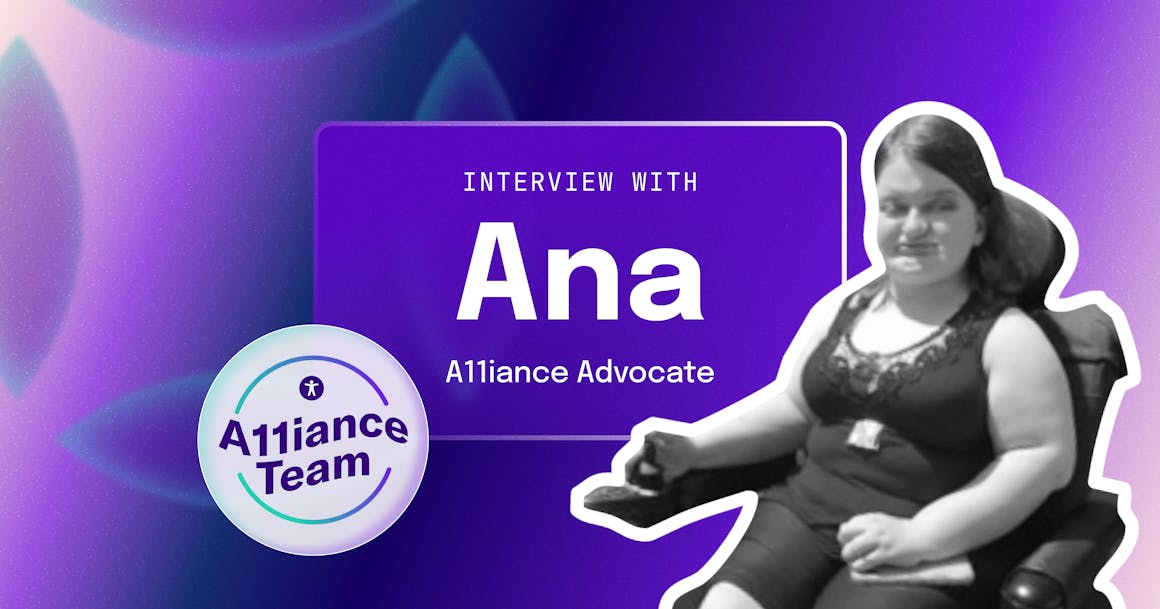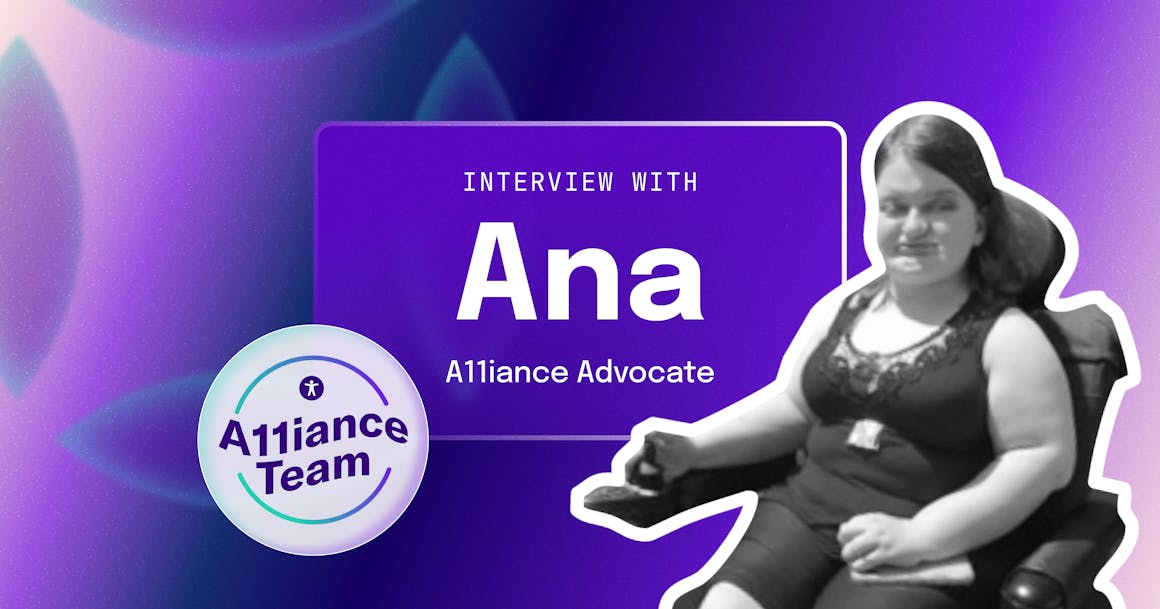 Interview with Ana Jacob, a member of AudioEye's A11iance team and a contributing writer to AudioEye's blog.
Ana Jacob is one of AudioEye's A11iance Advocates, a group of individuals who use assistive technology to conduct user testing with AudioEye. The A11iance team also helps spread the word about the importance of digital accessibility, new testing opportunities, AudioEye platform updates and news, and more.
Here's a brief interview with Ana, who is also a contributing writer on the AudioEye blog.
Let's start with a fun question. What are some of your hobbies and interests?
I love good coffee and even better books. I enjoy listening to music and figuring out what makes people tick. I like most things that are deep and/or imaginative. And I could never get anything done without my doggie snuggled beside me.
You're pretty active on social media. Can you talk about some of the community building and advocacy you do online?
I feel like having multiple disabilities gives me a unique perspective on how different disabilities intersect. I want to help people connect with each other, in spite of (or maybe even because of) our differences. We have so much to learn from each other as humans, as disabled people, as folks from all manner of experiences and backgrounds.
From our individual disabilities (or lack thereof) to our position on banning plastic straws, we could get so much more done by just genuinely listening to each other.
How about your work with AudioEye?
Right now, I'm doing a bit of everything. I test websites, write blog posts, participate in group discussions, and do some advocacy work. AudioEye is always welcoming new testers to the A11iance team, so I also help show newbies the ropes.
You talked about the idea of progress in your post on Disability Pride Month. Where have you seen the biggest strides?
The first thing that comes to mind is how many websites are popping up with overlays and other third-party "improvements." I know that's a hot topic today. It means accessibility is on people's minds, or at least on the minds of company leaders. But is it for the right reason? Or are most just slapping a band-aid on a lawsuit waiting to happen and calling it good?
Can you talk about your experience with assistive technology?
My very first computer when I was a preteen was a clunky desktop that couldn't handle running JAWS and Internet Explorer at the same time. But no one around me was techy enough to understand what the problem was. All I knew was that it wasn't working and I still felt left out of the online world everyone else seemed to be gaining access to.
From there I grew into a technologically nervous teenager too scared to activate an "OK" button without someone reassuring me that doing so wouldn't break anything.
Somewhere along the way I got more comfortable experimenting with different screen readers and even operating systems. Nowadays, I don't geek out on new technologies for the fun of it like others (no judgment, it's just not my jam), but I can certainly get things done and occasionally help others navigate the digital world.
The biggest takeaway for me has been that Windows gives me a headache every time and macOS intuitively makes more sense.
What's your favorite kind of website to test?
I enjoy working on any website that teaches me something, although it's obviously better if I'm interested in the topic. Quick examples off the top of my head include a website for a county sheriff's office, a med school's classes on phlebotomy, and a pet supplies store's pages on maintaining an aquarium.
How about your least favorite kind of website to test?
Any kind of website that's too enthusiastic about carousels!
Let's end with another fun question. What's the last great book you read?
You want me to pick a single book? That's not how this works!
All the Murmuring Bones by A.G. Slatter was phenomenal. It captured my heart, my imagination, made me think and laugh and miss the characters and the world when it ended. A true fairy tale.
Ready to test your website for accessibility?
Scan your website now.