Back to blog
A11iance Profile: Charles Hiser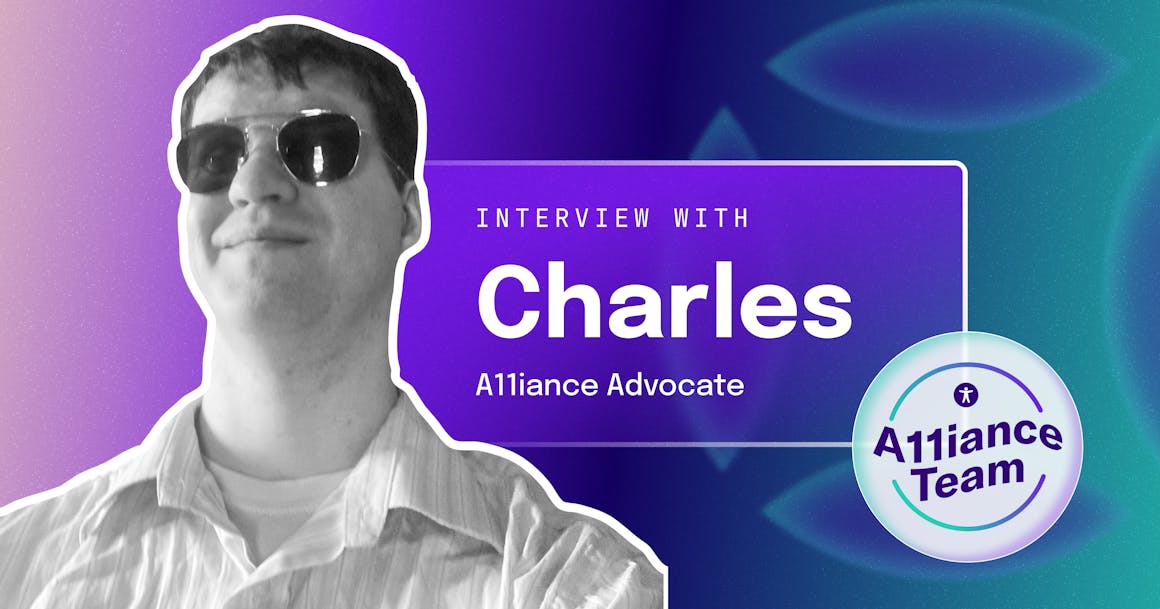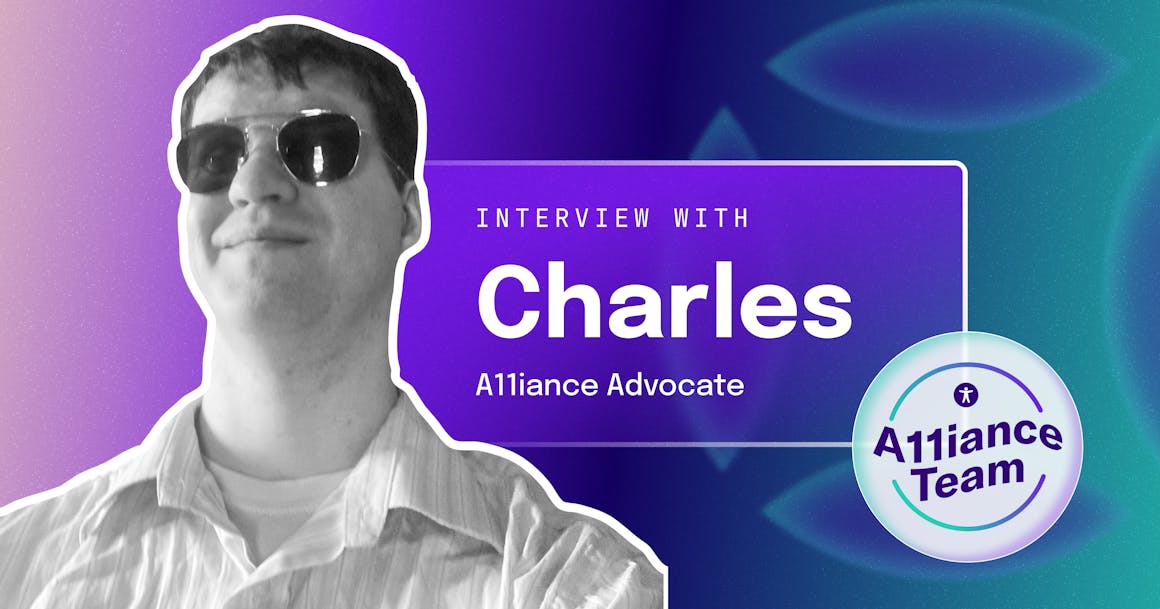 Interview with Charles Hiser, a member of AudioEye's A11iance team and a contributing writer to AudioEye's blog.
Charles Hiser is one of AudioEye's A11iance Advocates, a group of individuals who use assistive technology to conduct user testing with AudioEye. The A11iance team also helps spread the word about the importance of digital accessibility, new testing opportunities, AudioEye platform updates and news, and more.
Here's a brief interview with Charles, who is also a contributing writer on the AudioEye blog.
Let's start with a fun question. What are some of your hobbies and interests?
I enjoy cooking, reading most genres, hiking, and traveling. I'm currently researching trails to hike in Ohio, planning a trip to Austin, Texas, and building a character for the tabletop session called Ninja Crusade so my roommates and I can play a session or two before I move — all while giving plenty of attention to the two cats that are in charge of the house.
Can you talk about some of the work you do with AudioEye?
I started my journey with AudioEye as a member of the A11iance Community, a group of disabled people who use assistive technology in our daily lives. We test websites using our personal setups to provide a layer of real-world experience to more traditional QA testing approaches.
Over the past year, my responsibilities have expanded to disability educator and advocate, representing AudioEye in public social media spaces and attending internal gatherings to represent the disability community at large.
I have grown to know Web Content Accessibility Guidelines (WCAG) well during my work, and now test as more of a QA tester than an average AT user. I have obtained my JAWS Certification and NVDA Expert Certification, and will soon hold a CPACC and Trusted Tester certificate.
Finish this sentence: "My friends and family say my superpower is …"
Perseverance. Whenever I'm faced with a seemingly impossible situation, I always find a way forward. I'm not afraid to get my hands dirty and do what needs doing. I also don't let other people's judgments stand in the way of my progress.
Can you talk about your background with assistive technology?
I was born blind, so I was exposed to assistive technology (AT) during my formative years. One of my earliest memories is learning to write braille, sitting at what was essentially a braille typewriter in my preschool classroom.
My school purchase a braille computer — a notetaker — for me when I started 1st grade. Then they purchased a newer model a few years later. The biggest difference was the second model had a braille display built in, so I could read its output instead of having to rely on a synthesized voice to read everything to me.
I also received excellent training in screen reader usage, orientation and mobility, and problem solving as a visually impaired person growing up in a sighted world.
As a professional, I use most of the same tools. However, an iPad has replaced my notetaker and my braille display has become more versatile (it's now a separate device that I can connect to anything via Bluetooth).
Where do you go to learn about the latest assistive technologies?
What's your favorite kind of website to test?
My favorite website is one that is simple. I think the art of designing a simple website has been lost in the fast-paced world of competing advertisements and product placement. Simple websites may come across as boring or plain, but for people with disabilities — and frankly, anyone who spends time on the internet — they can impart a sense of peace.
How about your least favorite kind of website to test?
My least favorite website has to be car dealership websites. They tend to be overly complex and resource-intensive, especially for machines already running assistive technologies. They also tend to fail many WCAG criteria by implementing flashy features that interfere with screen readers and magnifiers, their image descriptions are often simplistic at best, and layers of CSS and JavaScript can cause some strange bugs when interacting with AT.
What are some great resources for people looking to learn more about accessibility?
Apple does a great job breaking down the accessibility features built into their products. They also offer guides for developers interested in coding specifically for accessibility.
The W3C's Web Accessibility Initiative (WAI) has also compiled its own set of news and resources for a broader audience of developers, designers, and professionals of all stripes. The World Wide Web Consortium is the same organization that publishes WCAG, so you know they've got some practice at this.
Where do you see digital accessibility making the biggest strides? And what's an area that needs more focus?
Digital accessibility has focused primarily on desktop and laptop use cases, so the features there are diverse and customizable. Multiple screen readers and magnifiers exist and are largely flushed out. Improvements can always be made, however, so I expect desktop technologies to continue to evolve.
Mobile, however, is the future of technology as a whole. Phones and tablets are becoming more powerful with every generation, and accessibility tools need to keep up. Image recognition is one of the most important areas of improvement. Some devices have built-in image and text recognition features that allow a user to point their phone's camera at something and have it announce a basic description of the object, but most affordable phones lack this feature.
I believe the ability to use your phone as an accessibility tool should be a chief concern of engineers and developers. Accessibility tools should improve everyone's experience, not just those with disabilities.
Let's end with another fun question. What's the last great book you read?
That would have to be The Butcher's Masquerade, book 5 in the Dungeon Crawler Carl series by Matt Dinniman. In the series, people can try to survive on the surface of a ruined Earth, or enter a subterranean dungeon to perform on a gameshow for the entertainment of the galaxy. It's an adventure full of danger, gore, madcap plans, foul language, and explosions. Lots of explosions.
Ready to test your website for accessibility?
Scan your website now.