Tuesday, October 3rd at 2PM ET
Webinar: Where the World's Leading Brands Fall Short on Digital Accessibility
Would you believe the average enterprise web page has 37 accessibility barriers? Or that 56% of images on the web are inaccessible to non-sighted users?
Join us as we share insights from our inaugural Digital Accessibility Index, which scanned nearly 40,000 enterprise websites to identify the most frequent accessibility barriers. Learn what other barriers our team of accessibility experts uncovered after manually auditing the top sites in key industries like retail, media, and travel.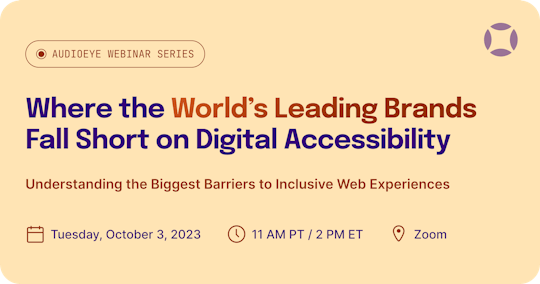 Learn how accessibility issues can slip through the cracks — even when companies have some accessibility efforts in place.
Get critical insight into the most significant accessibility issues, overall and by industry.
Connect with members of AudioEye's leadership team and the A11iance community.