Thursday, May 18th at 1:00 PM ET
Webinar: Designing for Accessibility
Are you ready to join the celebration of Global Accessibility Awareness Day (GAAD) on May 18, 2023? AudioEye invites you to a webinar that will explore the question: "how do we design for accessibility?"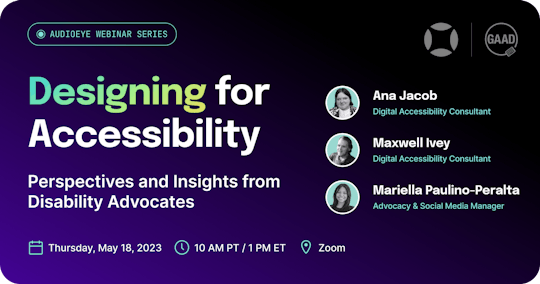 The importance of involving people with disabilities
Progress so far and opportunities for businesses to design with accessibility in mind
Best practices and examples of creating inclusive digital experiences
Mariella Paulino-Peralta

Advocacy & Social Media Manager, AudioEye

Ana Jacob

Digital Accessibility Consultant and Advocate, AudioEye

Maxwell Ivey

Digital Accessibility Consultant and Advocate, AudioEye
Mariella was on the path to law school but found the intersection of tech and social impact more fun and quit her federal job to pursue the road less traveled. She is the current Advocacy & Social Media Manager at AudioEye where she gets to use her 10+ years of technical experience as a software developer, designer, and project and community manager to build solutions at the intersection of education, government, and social justice.
Ana Jacob is a Digital Accessibility Consultant and Advocate for AudioEye. With years of experience in the field as an assistive technology user, she is dedicated to creating inclusive digital experiences for individuals with disabilities like herself. As someone with multiple disabilities, she brings a unique perspective to her work. She understands firsthand the challenges that people with disabilities face and is committed to ensuring they have equal opportunities. She has worked with clients from diverse industries, providing customized accessibility solutions that cater to their specific needs.

Maxwell Ivey, also known as Max, is a Digital Accessibility Consultant and Advocate at AudioEye, who has a unique story to share. Max grew up in a family of carnival owners, but after the early death of his father, he turned to helping people sell their amusement equipment. Along the way, Max discovered his passion for coaching and motivating others to achieve their dreams. Maxwell Ivey started blogging to promote his amusement equipment-selling site, but soon realized he had a bigger purpose. He started a second blog to share his personal journey and struggles, and through this, he gained a large following, appearing as a guest, interview subject, and motivator on various sites. Maxwell's coaching focuses on helping those who are feeling stuck and frustrated in finding their passion, and he is also available for speaking engagements. Maxwell believes that by sharing his story of personal growth and transformation, he can motivate and inspire others to achieve their goals.