Back to blog
The Difference Between the ADA, Section 508, and WCAG
To build a strategy for accessibility compliance, you need to understand the basic requirements of U.S. accessibility laws. Here's an overview.
If you're new to digital accessibility, you might feel overwhelmed by some of the terminology, especially when researching compliance.
Terms like "508," "ADA," "Title III," and "WCAG" can be confusing if you're trying to determine which accessibility standards apply to your business.
In order to build a strategy for ongoing compliance, you need to know what each term means.
Below, we summarize the most important U.S. non-discrimination laws and explain how the Web Content Accessibility Guidelines (WCAG), the de facto international standard for digital accessibility, relate to them.
Web Accessibility Standards and U.S. Civil Rights Laws
In the United States, public and private organizations are legally prohibited from discriminating against people with disabilities.
Earlier this year, the Department of Justice (DOJ) published new guidance on how to make a website accessible to people with disabilities — and reiterated its position that the Americans with Disabilities Act (ADA) applies to websites and other digital content.
Some of the most common digital accessibility barriers include:
To prevent issues like this, you should be testing your content regularly — which we discuss at the end of this article. But first, let's review the basic requirements of the ADA and Section 508 (and how WCAG relates to them).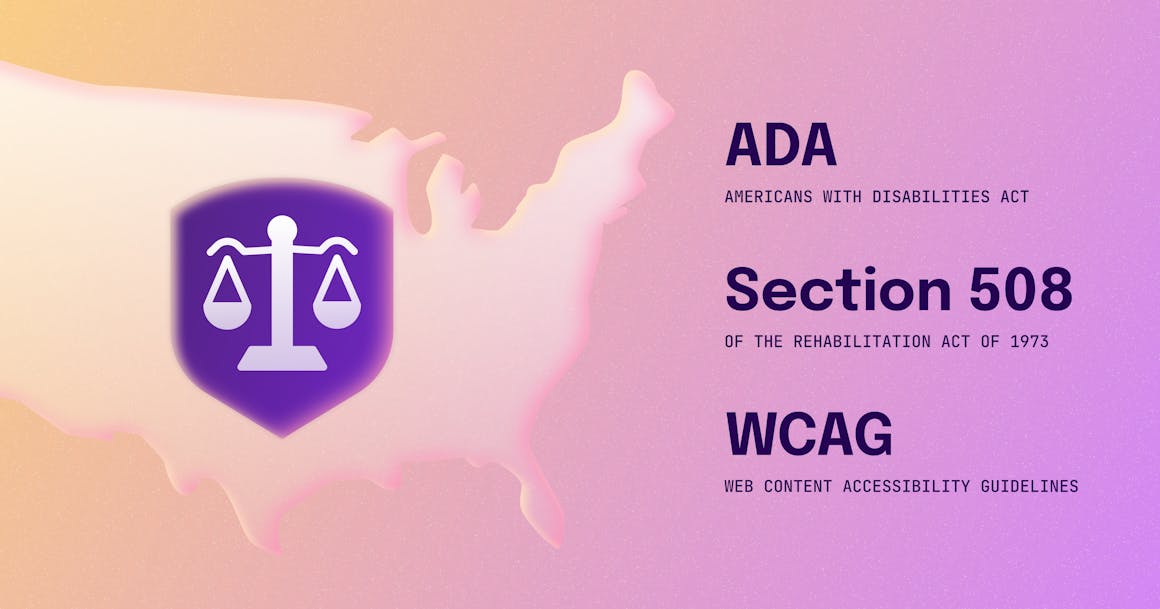 The Americans with Disabilities Act (ADA)
The Americans with Disabilities Act (ADA) prohibits discrimination against people with disabilities in all areas of public life, including jobs, schools, transportation, and all public and private places that are "open to the general public."
Two sections of the ADA are especially relevant to digital accessibility:
Title II applies to state and local governments.
Title III applies to private businesses, non-profit organizations, and other agencies that operate "places of public accommodation."
According to the DOJ, websites are "places of public accommodation" covered by Title III of the ADA. The law also applies to digital resources (like mobile apps and online documents) that are available to the public. This means most business websites should be ADA-compliant.
Title II has the same basic requirements as Title III, but contains additional requirements for assigning an ADA coordinator, evaluating accessibility, establishing grievance procedures, and other administrative functions.
The ADA and Digital Accessibility
Under the ADA, people with disabilities can file complaints against non-compliant organizations. But while the ADA requires digital accessibility, it doesn't contain any technical standards for websites. (Not a surprise, considering it was written before the internet became a fixture of our daily lives.)
To help businesses evaluate the accessibility of their websites and digital content, the DOJ recommends using WCAG and the government's own Section 508 requirements. Let's quickly review those standards.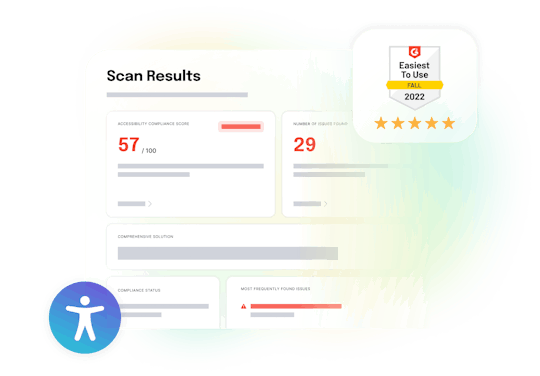 Find out if your site is accessible for people with disabilities and meets the ADA, WCAG, and other requirements.
Free Scan
Section 508 of the Rehabilitation Act of 1973
The Rehabilitation Act of 1973 was the first federal law to prohibit discrimination against people with disabilities. It applies to federal agencies, contractors, and any program that receives federal funding from the U.S. government.
In 1998, the Rehabilitation Act was amended to include Section 508, which requires agencies to "give disabled employees and members of the public access to information comparable to the access available to others."
This addition was explicitly intended to address digital accessibility, and applies to all electronic communications included (but not limited to):
Public-facing websites and mobile apps.
Internal and external emails.
PDFs and other digital documents.
Digital training resources.
Unlike the ADA, Section 508 contains clear accessibility standards developed by the U.S. Access Board.
In 2017, the board incorporated WCAG 2.0 into its Section 508 Standards. The current standards explicitly require agencies to meet WCAG's Level A and Level AA guidelines.
The Web Content Accessibility Guidelines (WCAG)
Published by the World Wide Web Consortium (W3C), WCAG provides a set of accessibility standards and instructions on making digital content more accessible to people with disabilities.
With that in mind, WCAG is organized around four guiding principles:
Content should be perceivable. It shouldn't rely on a single type of sensory perception.
Content should be operable. You shouldn't require interactions that the user cannot perform.
Content should be understandable. Users should be able to understand the information on your website and the operation of the website's interface.
Content should be robust. Your website should work with a wide variety of user agents, including screen readers and other AT tools.
Collectively, these four principles are known by the acronym POUR.
What Are the Different Guidelines?
WCAG includes 78 pass-or-fail statements called success criteria, which are organized into three levels of conformance:
Level A: the bare minimum and least strict accessibility requirements.
Level AA: the standard accessibility goal for most organizations.
Level AAA: the most strict requirements.
Most organizations should aim for Level AA conformance with the latest version of WCAG (WCAG 2.2 as of August 2023) to optimize compliance with the ADA and other digital accessibility laws.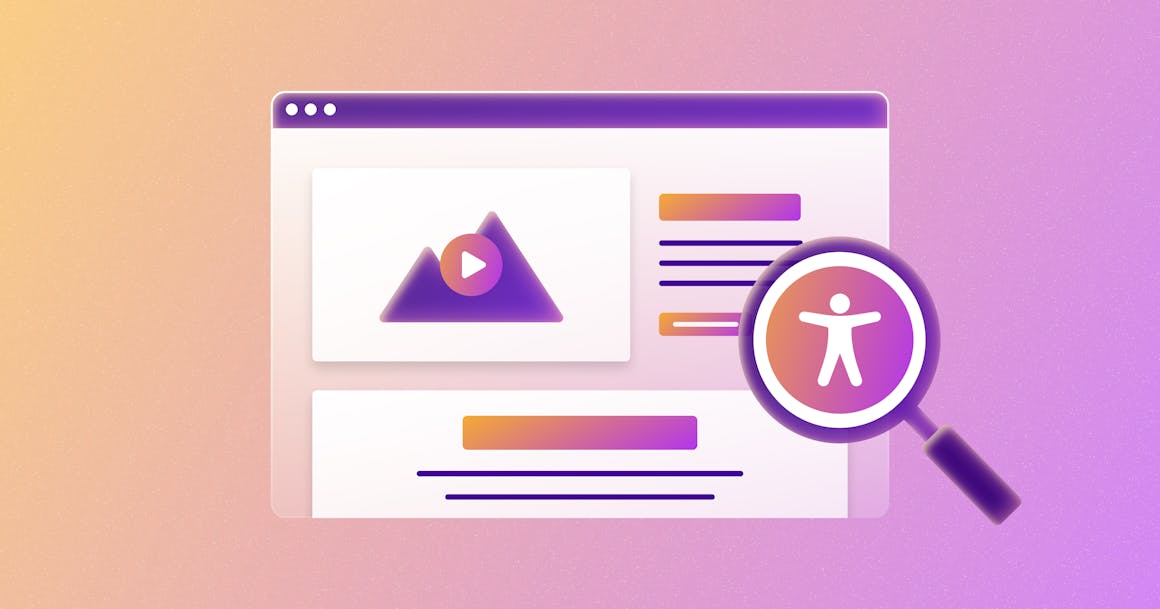 Next Steps To Improve Your Website's Accessibility
One of the biggest challenges in digital accessibility is the fact that websites are always changing. Whether it's new content being added or personalization based on user actions and preferences, websites rarely stay the same for long.
For that reason, it's important to regularly test your website's accessibility — a task that we know can be time- and cost-prohibitive for people alone.
At AudioEye, we've created an automated test suite with 400+ test outcomes and 70+ automated fixes that allow us to solve the majority of common accessibility issues in real time.
And because we know that human expertise is an important part of identifying and remediating some accessibility issues, we also provide manual testing and remediation.
Want to identify and fix accessibility issues that may be affecting your customers? Get started with a free scan of your website.
Ready to test your website for accessibility?
Scan your website now.