Back to blog
E-commerce Website Accessibility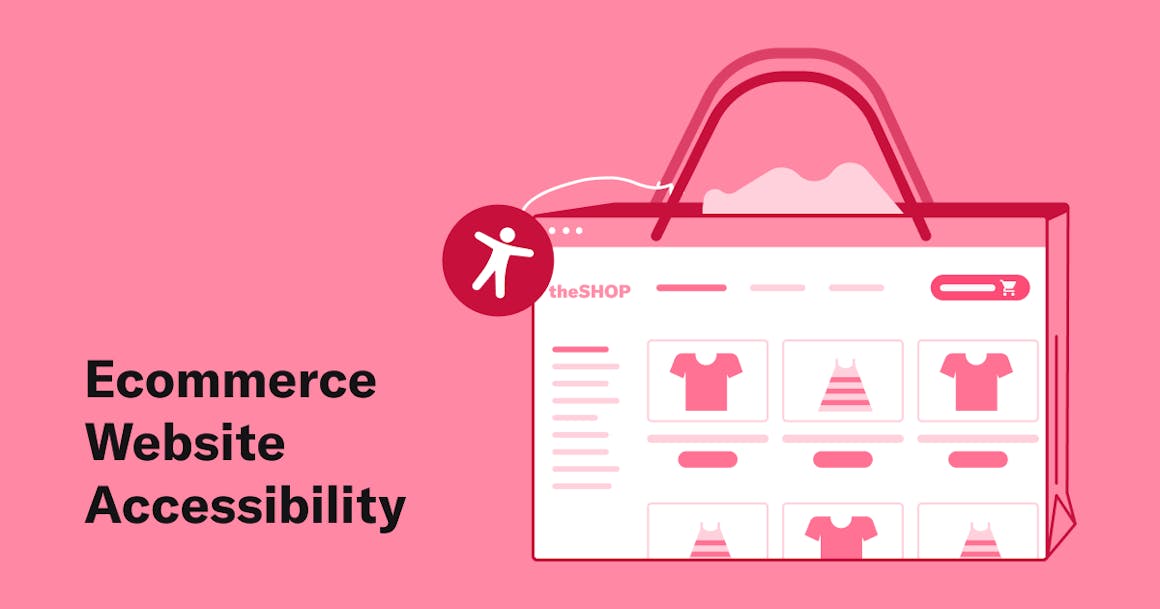 If your e-commerce site isn't accessible, you're limiting your number of potential customers. Learn why e-commerce accessibility is important and how to create an accessible web store.
Regardless of whether you're getting ready to launch your first e-commerce store, or have been selling online for years, understanding what makes an e-commerce website accessible to all shoppers is essential for your business success. In this post, we discuss the fundamentals of e-commerce website accessibility, including what it is and why it matters.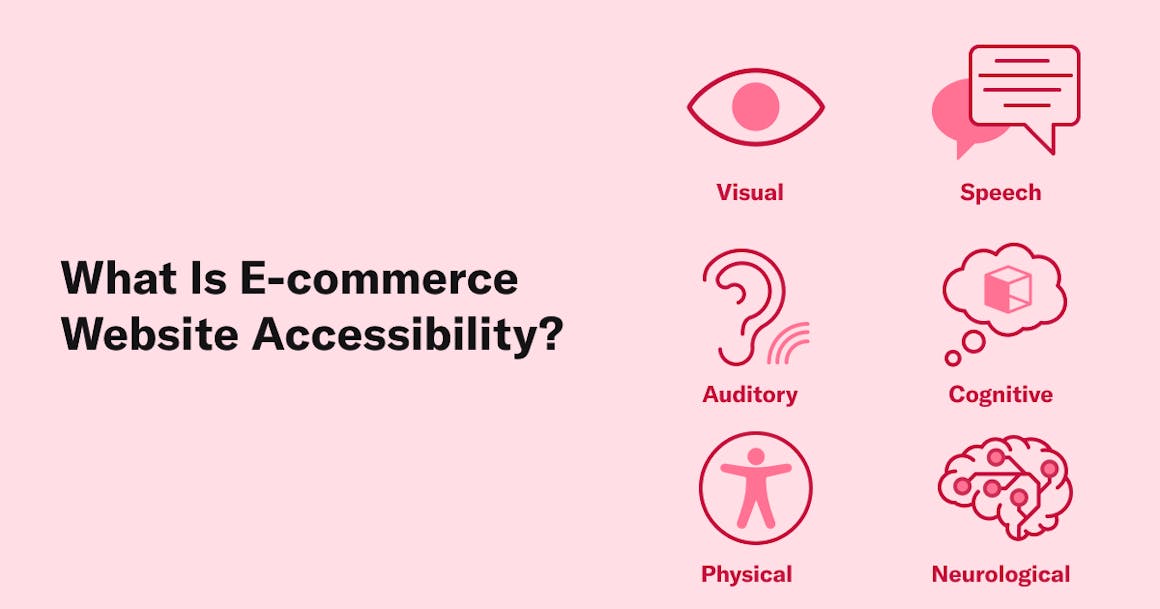 What Is E-commerce Website Accessibility?
E-commerce website accessibility is the practice of designing online stores in a way that allows people of all abilities — including those who use assistive technologies like screen readers — to easily browse products, find key information, and complete transactions. According to the World Wide Web Consortium (W3C), all digital content, which includes online stores, has to be easy to perceive, understand, interact with, and navigate by people who have any of the following disabilities: 
Auditory
Cognitive
Neurological
Physical
Speech
Visual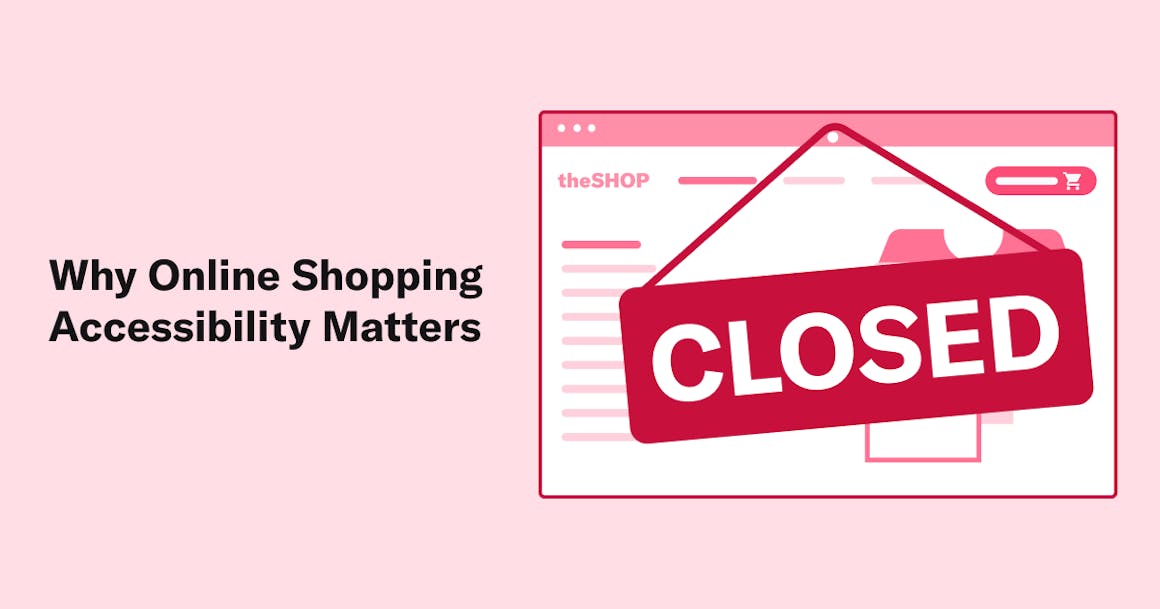 Why Online Shopping Accessibility Matters
Online shopping accessibility is one of the most critical elements of running a successful e-commerce website, the same way in-person shopping accessibility is critical to running a successful brick-and-mortar store. To put this in perspective, having an inaccessible website is like having an "Open" sign in the window of your storefront while the door is locked — customers can find you, but they can't come inside.
By making your online store accessible, you're "unlocking the door" for any user who wants to browse your products or services. You are also creating better customer experiences and fostering inclusivity — both of which can help you earn customer loyalty and grow business. 
We can't discuss the importance of an accessible online store without mentioning the need to comply with the Americans With Disabilities Act (ADA). The ADA is a civil rights law that prohibits discrimination against people with disabilities in all areas of public life. While the ADA doesn't mention "websites" specifically, business websites are viewed as "places of public accommodation," which are required to be accessible under the ADA's Title III.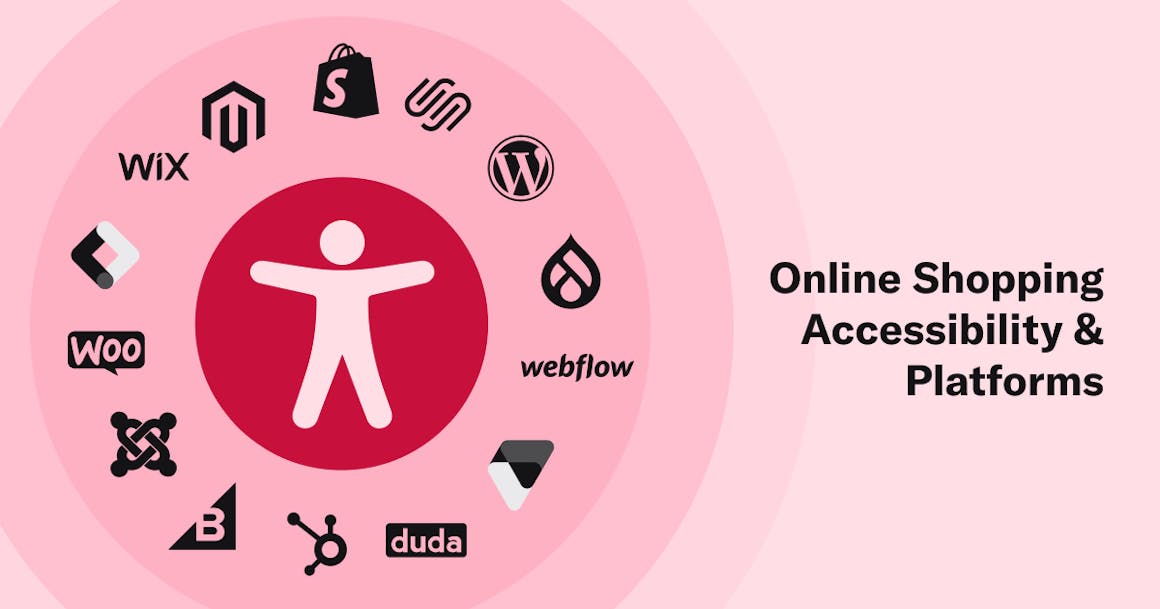 Online Shopping Accessibility & E-commerce Platforms
When looking for an e-commerce platform to create your online store, it's important to focus on accessible themes from the get-go. There are many content management systems (CMS) out there that feature built-in online shopping accessibility features. A few of the most commonly used e-commerce platforms include:
Shopify
Wix
WordPress
Squarespace
Duda
Webflow
Google Tag Manager
Joomla!
Drupal
Magneto 
HubSpot
WooCommerce
Volusion
BigCommerce
As you design or update your e-commerce site, keep in mind the following best practices that address accessibility barriers for people with visual and hearing impairments.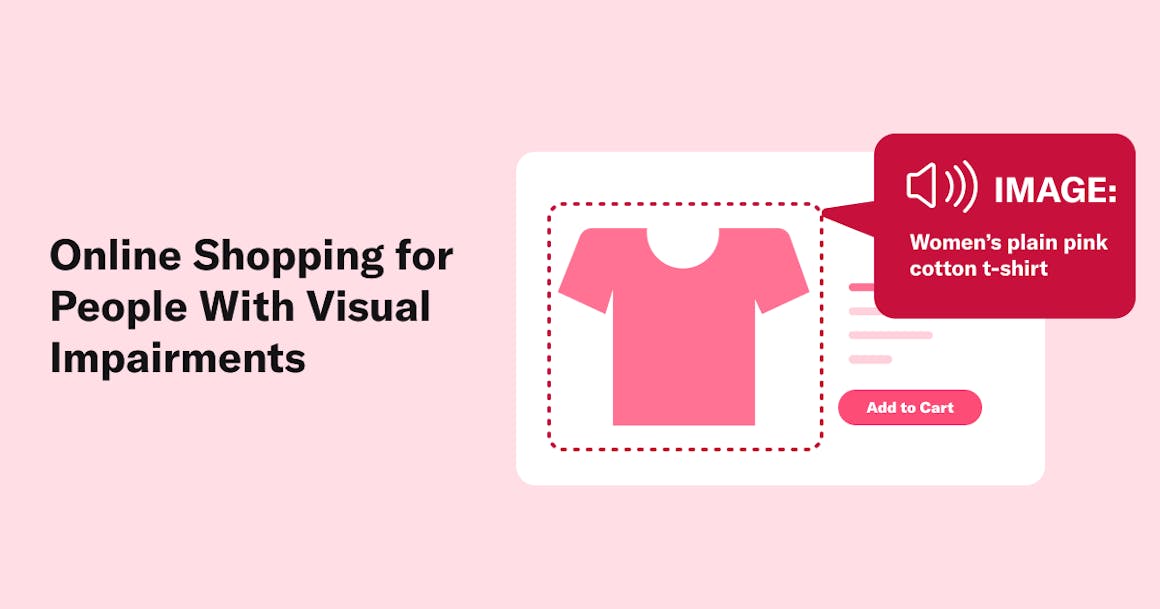 Online Shopping for People With Visual Impairments
Roughly 2.2 billion people globally have a visual impairment. Online shopping for people with visual impairments presents many unique challenges, especially when users encounter websites that are not designed with screen reader technology, including braille readers, in mind. 
For example, inaccessible e-commerce stores can unintentionally create keyboard navigator or screen reader traps that prevent users with visual disabilities from completing the checkout process. Other accessibility design failures include low-contrast color schemes or incompatibility with special browsers like MozBraille, Emacspeak, and pwWebSpeak. 
Accommodating users with partial or complete blindness starts with ensuring your site design is compatible with screen reader technology, as well as non-mainstream browsers that assist with the shopping process for those with visual impairments.
Here are a few best practices for designing accessible online storefronts for people with visual impairments: 
Structure content with clear headings.
Use simple and descriptive language.
Label all form fields.
Enable auto-complete on form fields.
Add alt text for every image.
Minimize the use of carousels.
Provide clear directions for every step of the checkout process.
Online Shopping Accessibility for Shoppers With Color Blindness
Color blindness affects 1 in 12 men and 1 in 200 women across the world. Users with color blindness have a difficult time differentiating between low-contrast text or colors on websites. For text, Web Content Accessibility Guidelines (WCAG) 2.1 require a contrast ratio of 4.5:1 for normal text and 3:1 for large text. 
Here are a few other best practices to keep in mind:
Opt for high-contrast, complementary colors. 
If you sell products that feature different color names, be sure to include simple descriptions in the product info.
Avoid communicating messages through color differentiation. For example, when a user accidentally misses a required form fill or inputs incorrect data during the checkout process, the border of that individual form fill typically turns red to indicate an error. In this scenario, users with protanopia (red-green color blindness) would not be able to visualize a red error cue. Include a symbol, such as an exclamation point, in front of an error message or add "required" in the label for mandatory form fields.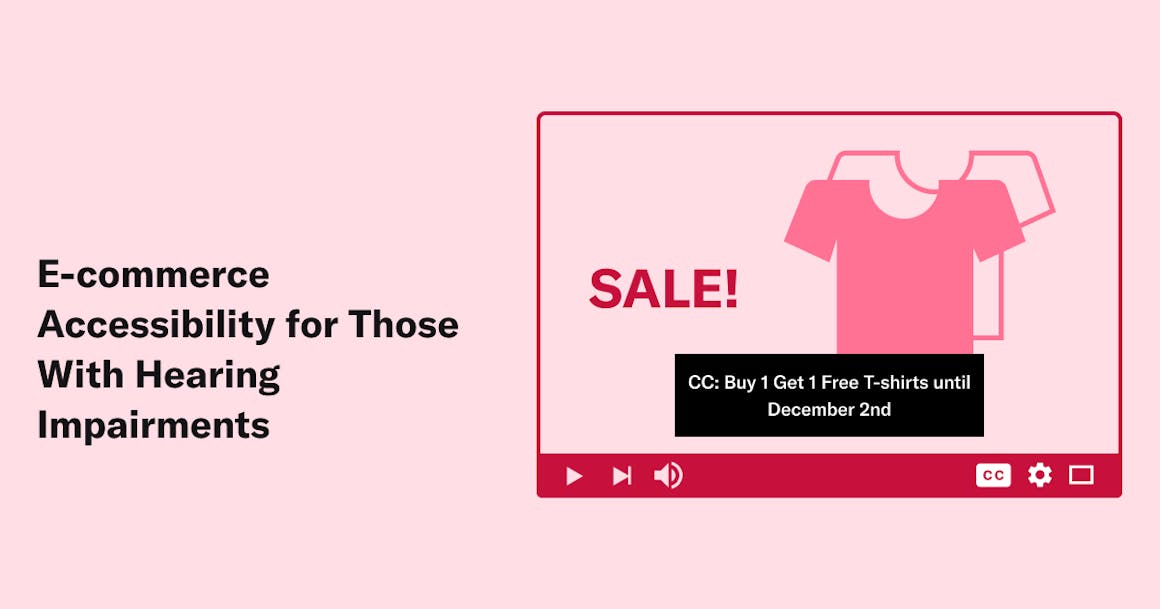 E-commerce Accessibility for Those With Hearing Impairments
2.5 billion people are projected to have some degree of hearing loss by 2050. To make your e-commerce accessible to users with hearing impairments provide video captions and a transcript with every video, so that users can read and interpret content at their own pace. People who are born deaf use sign language as their first language and written language as their second. Consider adding videos describing your site's content in sign language.
Here are a few best practices for writing video captions: 
Proofread to correct mistakes in auto-generated captions. There are multiple programs that can automate captions for your videos, but they are not perfect and often mix up words. Proofing your video captions with human eyes and ears can help catch those mistakes.
Synchronize captions so they appear on screen as close as possible to when they are said in the video. Bad timing might display words that are not relevant to what is happening in the video. 
Check caption placement to make sure your captions aren't interfering with other important visual elements in your videos. 
Provide simple access to make it easy for individuals to find the caption controls for your videos. Make sure the controls to toggle captions on or off are clearly labeled and in a place that is easy to see.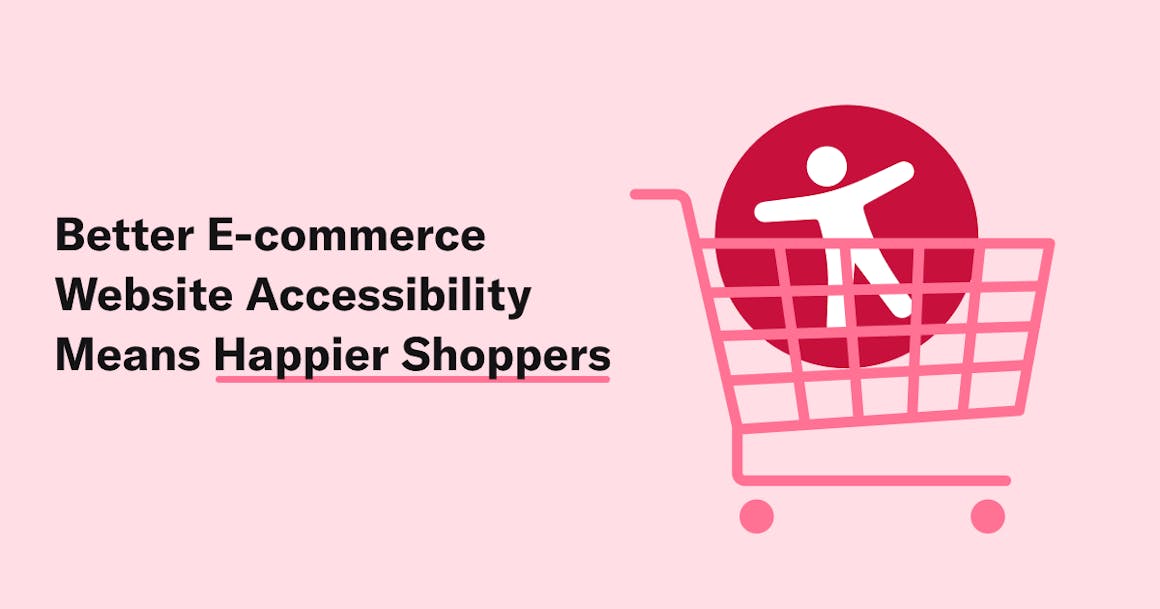 Better E-commerce Website Accessibility Means Happier Shoppers
The best way to ensure your e-commerce site is accessible to people of all abilities is to incorporate accessibility features into the planning and ongoing site maintenance. If you're unsure where your e-commerce store stands on the spectrum of website accessibility, AudioEye is here to help. Take a look at our resources on accessibility compliance to get a better understanding of what your e-commerce store needs in order to be accessible, and feel free to run your website through our free web accessibility checker.
Ready to test your website for accessibility?