Back to blog
Section 508 Compliance: Choosing Tools for Web Accessibility Testing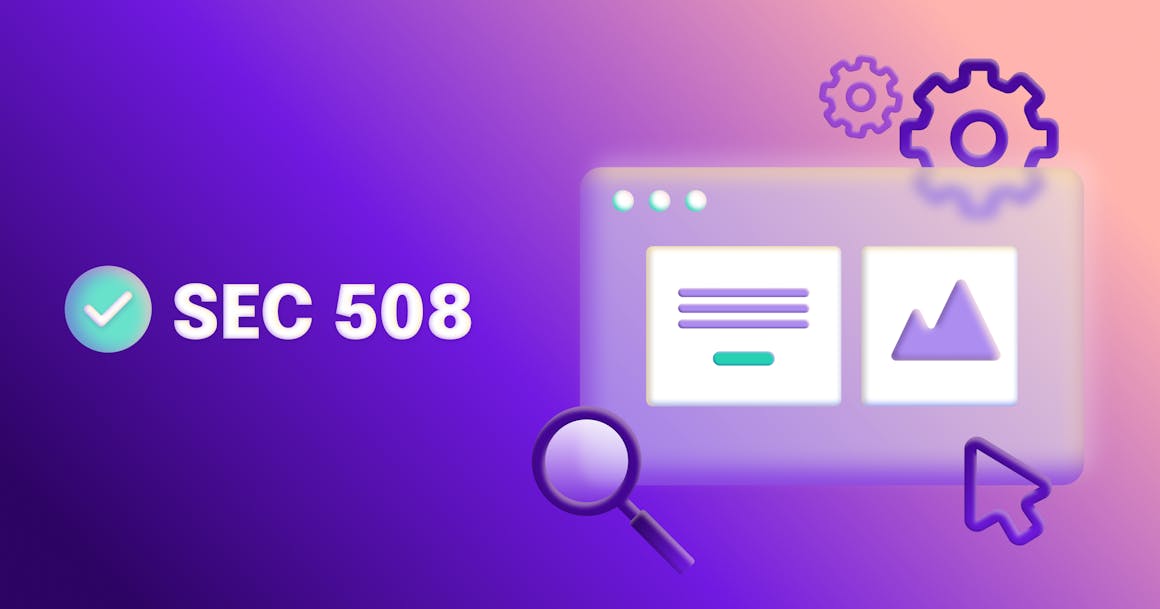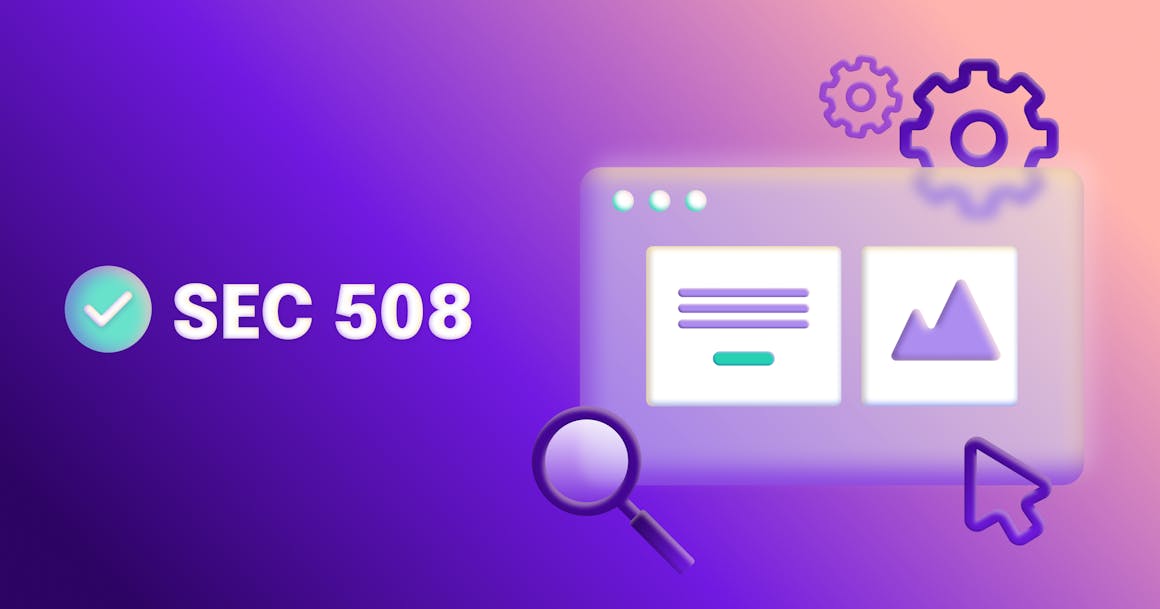 Learn how to make sure your website complies with Section 508's requirements for digital accessibility, and get tips on choosing the right tools for testing.
How can you tell whether your website complies with Section 508? And if it isn't, how can you make your content more accessible while staying on budget?
Section 508 of the United States Rehabilitation Act requires federal agencies to provide accessible digital resources for people with disabilities. That includes websites, e-portals, and other resources available to employees or the general public.
Essentially, if your agency uses electronic communications of any kind, accessibility is crucial for managing compliance risk. The good news is that Section 508 has well-defined technical standards for creating and maintaining accessible content.
Below, we'll discuss those standards and provide tips for testing your content. 
Scan your website for accessibility and Section 508 compliance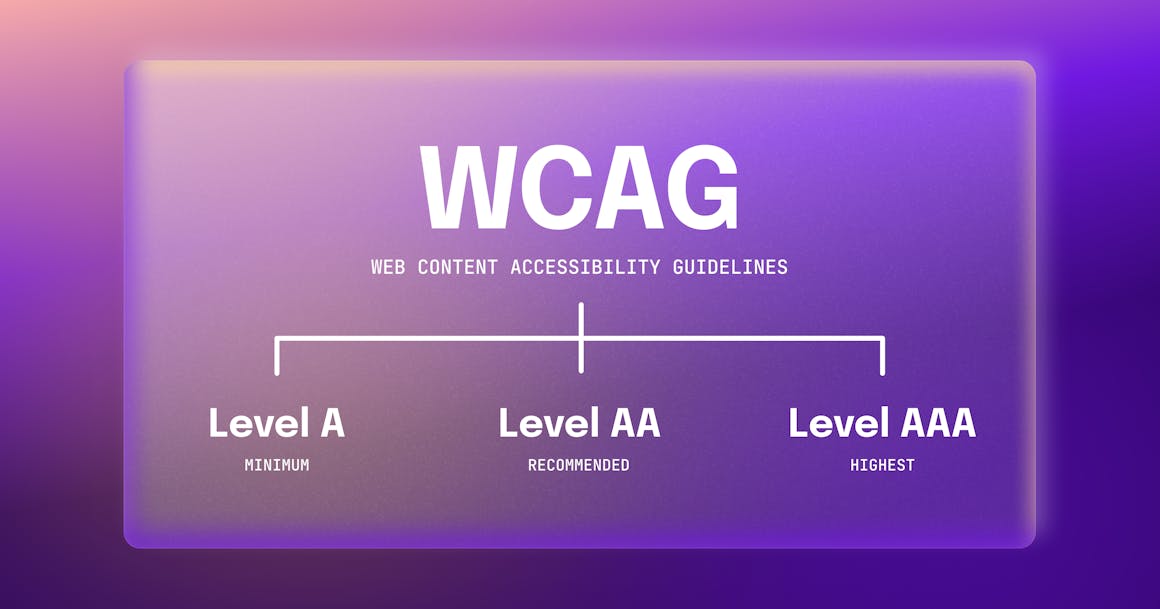 Section 508 Compliance Requirements for Digital Media
In 1998, Congress added new language to the Rehabilitation Act requiring federal agencies to provide accessible digital resources. In 2017, the Act was modified again to establish clear technical standards. 
Those standards are the Web Content Accessibility Guidelines (WCAG) 2.0, published by the World Wide Web Consortium (W3C). WCAG contain pass-or-fail success criteria that provide an objective benchmark for digital accessibility.
WCAG is organized into three levels of conformance: Level A (least strict), Level AA, and Level AAA (most strict). Federal agencies must ensure that all of their digital communications meet WCAG 2.0 Level A and Level AA standards.
By using a principle-based approach, WCAG can be applied to virtually any form of digital communication, including:
Websites and e-portals
Mobile apps
Emails
PDFs and other documents
Section 508 requires all types of digital communications to be accessible. However, website accessibility is a particularly important point of concern. Most government agencies operate websites for the general public, and if that content isn't compliant, agencies may face fines and other penalties.
If my company works with the federal government, do we need to be Section 508 compliant?
It's certainly in your best interest. If you're creating a product for a federal organization, they'll usually ask about accessibility features — and if your product doesn't follow WCAG, they may ask for changes (or move on to the next contractor).
The Government Services Administration (GSA) publishes guidance for federal agencies, including a lengthy guide for defining Section 508 accessibility criteria in contracts. That document warns agencies to carefully assess the risk of implementing inaccessible information technology items. If your organization isn't Section 508 compliant, you may miss out on opportunities.
And in the United States, every business must provide accessible digital resources to comply with the Americans with Disabilities Act (ADA). While the ADA doesn't include specific technical standards, the Justice Department recommends following WCAG and Section 508 standards.
In other words, while WCAG conformance is technically voluntary, it's the best way to ensure compliance with U.S. digital accessibility laws.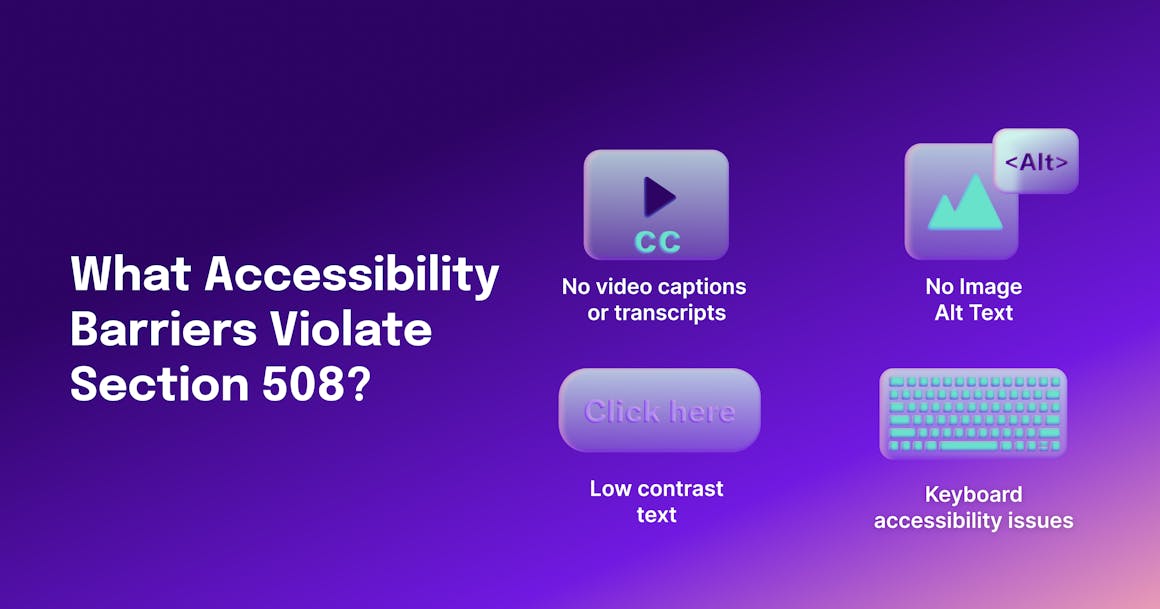 What Accessibility Barriers Violate Section 508?
WCAG 2.0 contains a total of 61 success criteria, and for Section 508 compliance, your web content must pass all 38 Level A/AA criteria. Those standards address common accessibility barriers such as:
The guidelines set out four key principles to address these issues along with dozens of other barriers that affect internet users with disabilities. When content is perceivable, operable, understandable, and robust, it's accessible for most people — regardless of their abilities or browsing preferences.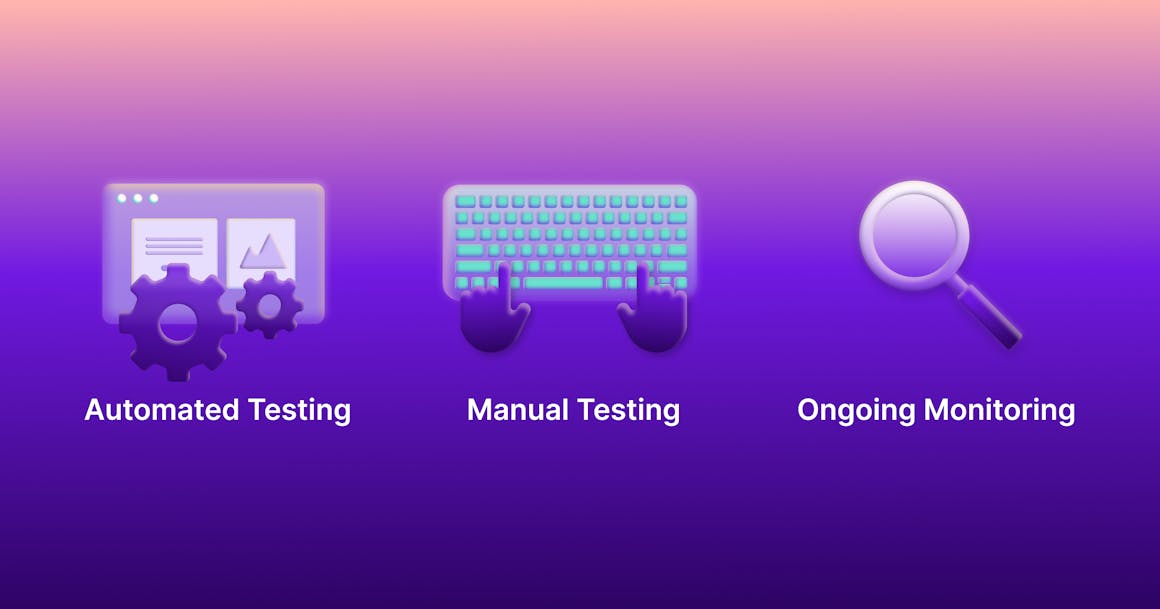 Choosing Testing Tools for Section 508 Compliance
WCAG contains helpful guidance for preventing and remediating accessibility barriers, but the W3C does not test websites for conformance. For Section 508 compliance, you'll need to audit all web content regularly. 
Here are a few tips for finding appropriate testing tools and developing a long-term compliance strategy.
Make Sure Your Testing Tool Uses the Latest Version of WCAG. 
While Section 508 requires conformance with WCAG 2.0, the current version of the guidelines is WCAG 2.1, with WCAG 2.2 expected for release in late 2022.
Meeting the latest WCAG standards will ensure that your content is truly accessible for as many people as possible — and may significantly limit the time you spend on remediation over time.
Have a Plan for Remediation.
Many accessibility issues can be fixed quickly — often, without changing your website's appearance or functionality. Others require manual review and remediation, but by working closely with an accessibility partner, you can quickly meet your compliance goals.
AudioEye's platform tests for over 400 accessibility issues, fixing most of them automatically. With a 24/7 Help Desk and active website monitoring tools, we offer a robust remediation solution built on 15+ years of expert knowledge. For complex issues that require human judgment and intervention, we have a team of accessibility experts and a user testing community. Learn more about our accessibility solution.
Publish an Accessibility Statement.
An accessibility statement shows that your organization takes accessibility seriously. It also lists known issues, declares your WCAG conformance goals, and invites users to submit feedback.
AudioEye provides standardized Accessibility Statements, which is typically deployed in your website's navigation or footer. This ensures that all visitors can review your statement when necessary.
Is Automated Testing Enough for Section 508 Compliance?
AudioEye is an excellent resource for finding common barriers that affect online experiences. But automated accessibility tools have limitations. 
Some WCAG criteria require human judgment. For example, if you're writing alternative text for an image, you'll need a human to evaluate whether or not that text is accurate and descriptive. Because Section 508 has strict technical standards, we recommend using a combination of automated and manual tests to limit compliance risks. 
AudioEye's manual testing and remediations pair our advanced artificial intelligence (AI) tools with the experience of accessibility experts. Our testers can evaluate automated reports for accuracy, provide recommendations, and provide guidance for fixing WCAG violations. Learn more about our manual testing and remediation services.
Our custom accessibility solutions include premium support, compliance roadmaps, and routine manual remediations, along with custom training to help your team develop accessible content. We've developed a strong set of resources for meeting Section 508 accessibility requirements and sustaining those improvements in the long term.
To get started, evaluate your website for Section 508 compliance using AudioEye's Website Accessibility Checker.
Ready to test your website for accessibility?
Scan your website now.