Back to blog
How to Choose a Digital Accessibility Platform for Your Agency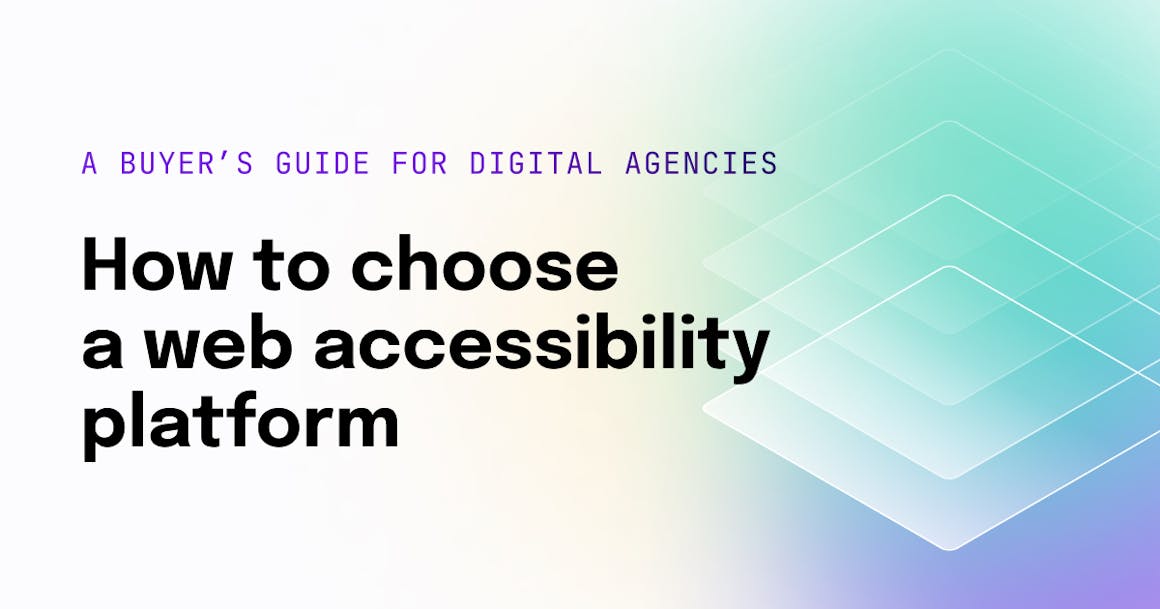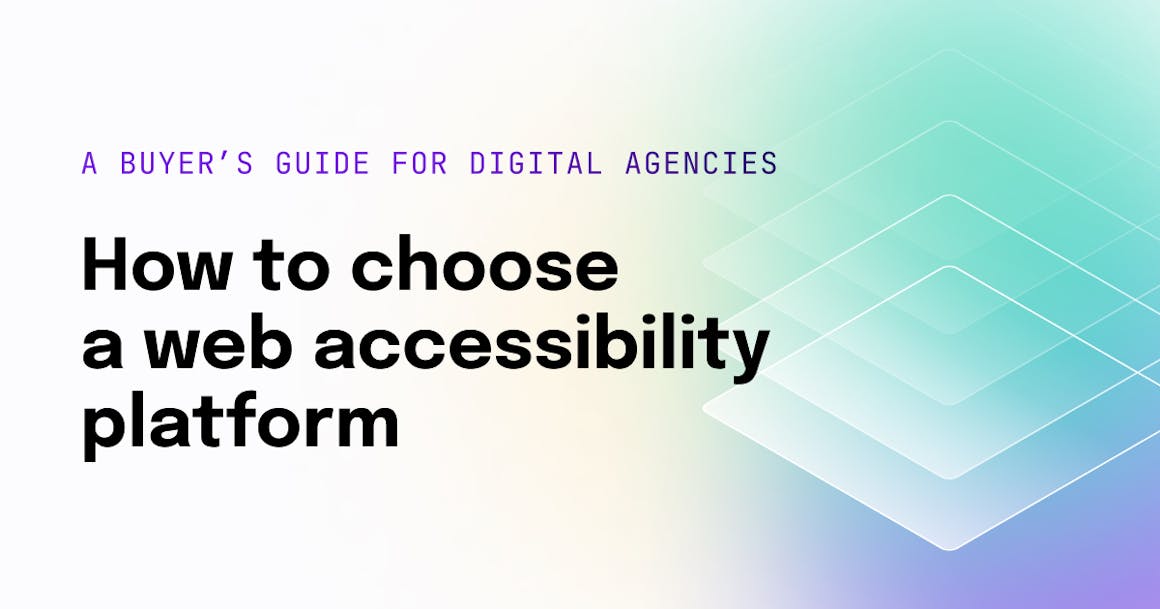 Here's a quick buyer's guide to choosing a digital accessibility platform that's right for your digital agency. To get a more in-depth guidance on choosing an accessibility platform, download AudioEye's buyer's guide for digital agencies.
For digital agencies of any size, offering accessibility at scale is a huge undertaking that can strain resources and still fall short of meeting customers' needs.
Whether you're an agency that's just starting to look into solutions, or need to outsource your current digital accessibility efforts, here are a few questions to ask in your search for the right accessibility partner for your agency.
5 Questions to Ask When Choosing a Web Accessibility Partner
Broadly speaking, you want to make sure that the accessibility solution you choose for your agency is effective (does what it's supposed to do in the best way possible) and sustainable (you can easily operationalize and offer it to your clients without depleting internal resources).  
With this in mind, here are five key questions to ask in your search for an accessibility vendor for your digital agency.
1. Does the vendor fix accessibility issues found on our clients' sites, or do they just scan and provide a list of issues to resolve?
Fixing accessibility issues across thousands or millions of pages on a regular basis is an insurmountable task even for the best-equipped teams. 
If you want to solve accessibility at scale without depleting operational resources, choose a provider that offers automated remediation of the majority of issues, continuous monitoring, and real-time issue reporting to help you identify and prioritize issues that need manual fixes. 
2. How well does the platform integrate with our existing systems and processes?
Pick a solution that's easy to set up and use both for your agency and your clients. Integration plays a critical role in reducing time to value and helping you sell accessibility to your clients. 
The easier it is for your clients to get an accessibility solution, the higher the likelihood of them buying it and realizing its value. Look for API integration with your platform and ask about onboarding and setup support. If you have a client portal, an API integration would allow your customers to purchase and instantly add an accessibility solution to their websites — all with one click and within the same interface. 
3. Does the accessibility vendor offer human-centered customer support?
Accessibility is a journey, and working with a team that can provide the support and expertise you can trust is critical to staying on the right course. As you research and compare accessibility vendors, consider how much human assistance is available to you — from onboarding to ongoing customer support, accessibility training, and litigation support (if you ever need it). 
Ask if you'll get a dedicated account manager, training, and whether the vendor would work with your clients directly to address any urgent accessibility issues that arise. If they provide expert support, ask what's all included (legal support, manual remediations, one-off reports, other?). 
Navigating evolving accessibility requirements and helping your clients mitigate legal risks requires a comprehensive approach, where people you work with can make a huge difference. When evaluating accessibility vendors, choose a team you want to work with, not just a product you want to use. 
4. Can we generate revenue through the partnership?
Some accessibility vendors offer reseller opportunities to digital agencies, others don't. Being able to sell an accessibility solution to your clients at affordable rates can unlock new revenue streams for your agency. 
Once you've confirmed that the solution is effective — i.e. it provides ongoing accessibility to help your clients meet legal standards and create inclusive experiences for all their customers — look for sustainable options to resell. 
This is when you double-check to make sure that the solution easily integrates with your SaaS platform and systems, so you don't strain your developer resources and are able to scale. Don't forget to ask about wholesale rates, discounts, and sales and marketing support.
5. How can we monitor performance?
As mentioned earlier, digital accessibility is an ongoing effort. Websites are constantly changing, and it's a challenge to keep them accessible as they get updated with new content, features, dynamic rendering based on user preferences, etc. Every change can make content inaccessible for users with disabilities, creating legal risk for site owners. 
When researching accessibility vendors, in addition to auto-remediation, look for real-time monitoring and reporting capabilities. With full visibility into accessibility errors and status updates (what has been fixed automatically, which issues need human intervention, what can be solved proactively), you can provide clients with actionable data to help them keep their sites accessible and compliant, showing the value of the accessibility solution. 
The majority of site owners never interact with accessibility features that are designed for people with disabilities, so it's often hard to track performance and its impact on user experience. Real-time reporting would allow you and your clients to make data-driven decisions, realize the full value of an accessibility solution, and measure the ROI.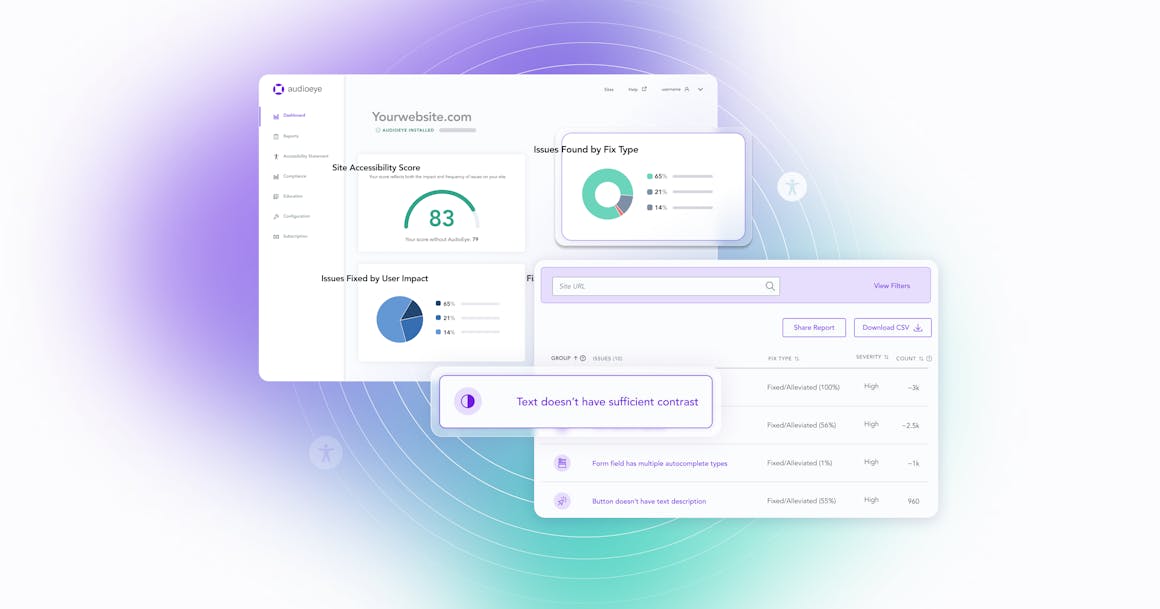 Why Choosing the Right Digital Accessibility Partner for Your Agency is Important
The dynamic nature of websites, the need to stay up-to-date on compliance regulations, ambiguity between legal and technical frameworks, and operational costs — are some of the challenges digital agencies face as they try to help their clients navigate digital accessibility.
The degree to which any digital agency can address these challenges in a way that also helps to grow business depends largely on the accessibility partner they choose. 
To get a more in-depth guidance on choosing an accessibility platform, download AudioEye's buyer's guide for digital agencies. 
Ready to test your website for accessibility?
Scan your website now.