Back to Blog
Square ADA and AudioEye Join Forces to Deliver Digital Accessibility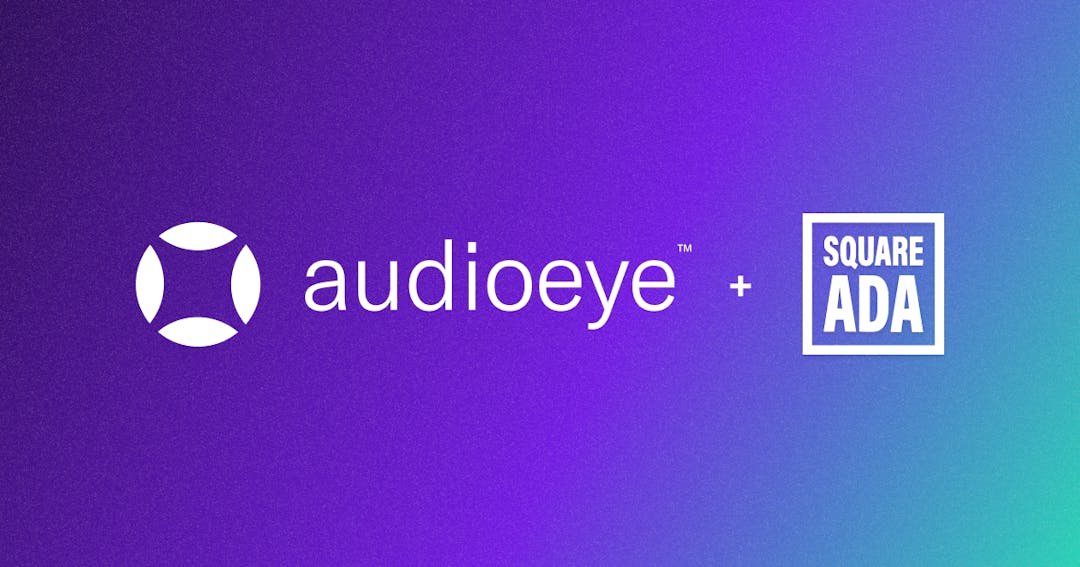 In a move to provide its customers with more robust, ongoing digital accessibility solutions and expertise, Square ADA – a web accessibility firm dedicated to Squarespace websites – is joining forces with AudioEye.
"I believe AudioEye's hybrid approach — which pairs automation with manual remediation — will offer my clients and other Squarespace users a more sustainable way to meet their digital accessibility goals as Squarespace's ecosystem continues to evolve. It's a leap in the right direction, as we all work toward a more accessible internet," says Tyler Puckett, Square ADA founder and a certified web accessibility specialist, WAS/IAAP.
Tyler started Square ADA to help small business owners build accessible websites and navigate legal requirements. Since 2019, Square ADA has provided accessibility audits and manual remediations to small businesses and non-profit organizations across industries, including healthcare, e-commerce, hospitality, and education. 
But, according to Tyler, it's increasingly difficult to keep up with the pace of new content creation and website updates with a manual process alone. Square ADA's monthly reporting occasionally leaves site owners vulnerable to undetected accessibility issues in-between each audit. 
"What excites me most about AudioEye's offering is the always-on monitoring with 24/7 access to the dashboard, where clients are able to see what's being fixed automatically and what needs manual intervention. It's no longer just magic that happens behind the curtain," says Tyler. "There's much more transparency, and site owners are empowered to have better control over their own content."
Once Square ADA customers have been migrated to AudioEye's platform, they will receive an immediate access to the following services and benefits:
1. Always-On Accessibility Audits
With AudioEye's Issue Reporting dashboard, site owners will gain 24/7 access to real-time tracking and detailed reports. When AudioEye detects new accessibility errors, most issues are immediately fixed using 70+ automatic remediations. 
2. Accessibility Recommendations
For any issues that can't be fixed automatically, AudioEye makes additional suggestions and provides training. This added transparency empowers site owners to better manage their own content, make data-driven decisions, and measure their ROI.
3. Visual Toolkit
AudioEye's Visual Toolkit allows users to change color contrast, cursor size, font size, and make other adjustments for a more accessible website experience. While having a toolbar isn't a compliance requirement, it's been a commonly requested feature from Square ADA's clients who want those additional features on their site to ensure a positive end-user experience.
4. Improved Litigation Support
AudioEye's STAR Plan and Trusted Certification help prevent or address legal threats by providing documented proof of web accessibility efforts.
5. Optional Add-on Services
AudioEye offers broader support for other web accessibility needs, including video captions and PDF remediations, which were previously outside the scope of Square ADA's service.
"We are excited to welcome Square ADA customers to the AudioEye community," says Dominic Varacalli, COO at AudioEye. "Our priority now is to ensure a smooth transition, so they can start making the most out of all that AudioEye has to offer, including our Issue Reporting dashboard, training, and legal support."