Back to blog
What Digital Agencies Should Know about AudioEye's Partnership and Integration with Duda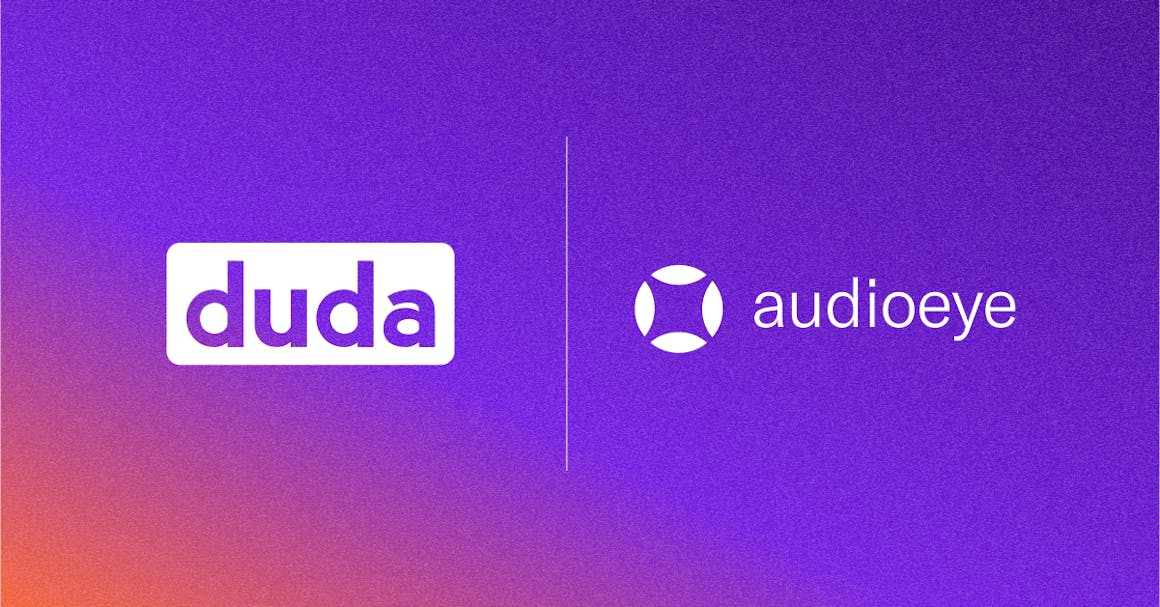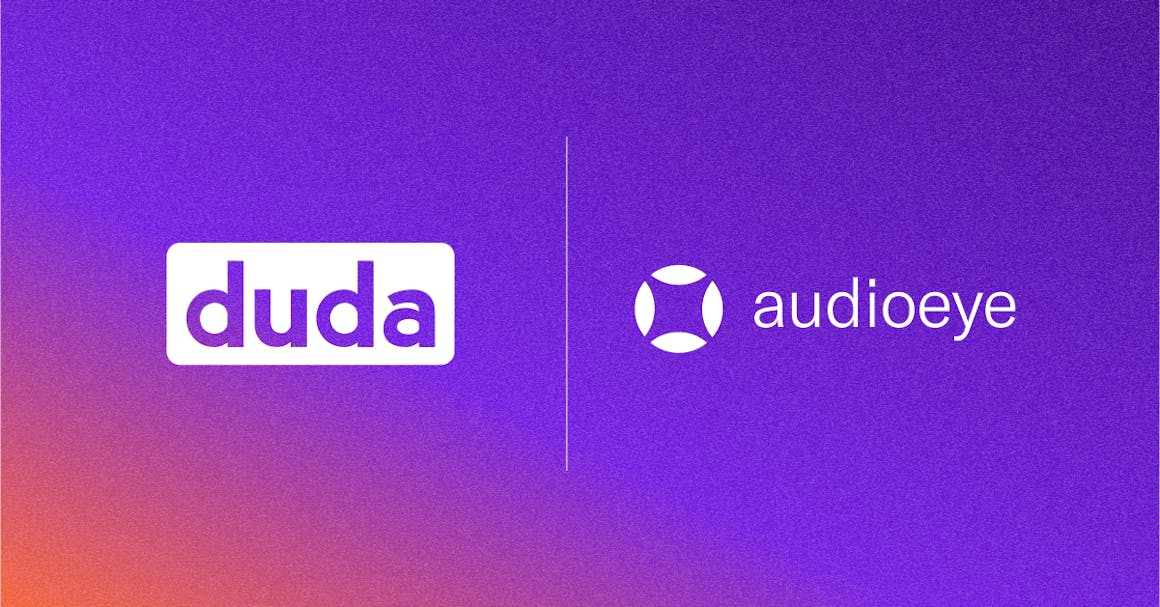 AudioEye is fully integrated on the Duda web design platform. Installing AudioEye has never been easier or more cost-effective for agency partners.
As a professional website builder, Duda powers more than a million websites for digital agencies and freelancers around the world. In 2020, Duda partnered with AudioEye to help web professionals build accessible websites and improve user experience for people with disabilities.
"Although we're not experts in the area, we know accessibility is essential, and we want to help our customers [digital agencies] with their accessibility concerns… We believe it's vital for agency leaders to be proactively talking to their clients about accessibility on an ongoing basis," says Russ Jeffery, Director of Ecosystem and Product Strategy at Duda.
AudioEye is fully integrated into the Duda platform, making it easy for their clients – agencies of all sizes and freelancers – to get AudioEye's digital accessibility solution with just one click. 
We recently caught up with Duda and one of their clients — Relentless Digital, a marketing agency based in Wisconsin. Here are a few takeaways from these conversations, along with more information on the AudioEye and Duda partnership.
How did AudioEye and Duda first come together?
The Duda team was introduced to AudioEye by a large-scale digital agency. The Duda team knew the importance of offering a digital accessibility solution and liked AudioEye's hybrid approach of using automation and human expertise to solve accessibility issues.
AudioEye's platform runs 400+ tests with each website visitor and uses 70+ automated remediations to solve common accessibility issues. 
Why did Duda choose AudioEye as their accessibility partner?
After looking at other accessibility providers, Duda selected AudioEye for three main reasons: transparency, ability to both identify and solve accessibility issues, and easy integration with Duda. 
"If you look at how some of these other accessibility companies work, you may be surprised to learn that they make you do their suggested fixes by yourself. What you pay for is a scan. They identify the problems, but when it comes to making the repair, you have to crack open the site's code on your own," says Russ. "Even when the solution is easy, you're making the fix yourself. That kind of system just doesn't work for our customers and us. What works for us is AudioEye and the AudioEye solution."
With AudioEye and Duda integration, digital agencies don't have to figure out where, precisely, to direct the installation. They also don't have to hire help. All they have to do is go to the Duda App Store and click on the AudioEye button.
"Whether they are building one site or one thousand, Duda clients can manage everything on the Duda dashboard. Thanks to our deep integration, they don't have to learn a new interface or switch between platforms," says Dominic Varacalli, COO at AudioEye.
Which AudioEye services are available to Duda clients?
Here's a summary of AudioEye services available to Duda clients, across different plans:
Visual Toolkit: Allows site visitors to fix usability issues and control things like colors, contrast, font face and size, and more.
24/7 Help Desk: Gives site visitors the ability to report an accessibility issue for AudioEye's team to fix. 
Live Site Monitoring: Generates real-time accessibility results each time a user visits a page on a client's site.
Issue Reporting:* Provides AudioEye's Accessibility Score and shows the number of pages scanned, issues fixed by AudioEye's software, remaining risks and errors that need to be addressed, type and severity of issues, and their impact on users with different abilities.
Sustainable Testing and Remediation (STAR) Plan: Outlines a site owner's accessibility plan and AudioEye ongoing work to implement the plan.
Automated Remediations of common accessibility issues to meet "consistent improvement" requirements of the Americans with Disabilities Act (ADA). 
Training: Online content to educate and guide users through fixing certain accessibility issues.
Online Support: Extensive knowledge base and support ticketing system.
How does AudioEye protect clients from legal risk?
AudioEye's automated compliance software is backed by certified accessibility experts and testers to help websites implement a compliance plan with ADA, WCAG, AODA, Section 508, California digital accessibility standards, and other laws and regulations. Unlike other automated solutions on the market, AudioEye's technology runs for every visitor to a website, so accessibility errors are fixed in real-time.
AudioEye also provides accessibility reporting, ongoing maintenance and monitoring, training resources, and AudioEye Trusted Certification to help site owners meet legal requirements and stay compliant with accessibility laws.
Why is it important for agencies to be proactive about accessibility?
There are a number of compelling reasons why agencies should provide digital accessibility services to their clients and why businesses of all sizes should invest in accessibility. Here are a few that highlight the urgency:
One in four Americans lives with a disability, and considering how much we all depend on the internet in almost every aspect of our lives — from healthcare to work, to education, and shopping — it is critical for businesses and organizations to build accessible websites. 
Businesses of all sizes are now at risk of getting sued for inaccessible website design. Just in the last four years, the number of ADA-related lawsuits has gone up 400%. Digital accessibility lawsuits and demand letters can be time-consuming, stressful, and expensive, especially for companies that don't have internal legal support. 
Accessibility can also make a big difference in customer reach and revenue. According to a 2020 Report on Disability Return, people with disabilities control over $1.2 trillion in disposable income in the United States. Yet, 75-80% of their customer experiences are failures. There's a huge opportunity for businesses that provide accessible and inclusive user experiences to reach these customers and build lasting customer relationships.
For any agency to compete in the digital age, it has to provide digital accessibility solutions — the law requires it and the customer expects it. Business owners are much more aware of digital accessibility today than they were a year ago and they rely on their digital agency partners to provide them with guidance. In a survey of business owners who use agencies to maintain their websites, "87% of those surveyed expect their web agency to inform them of the legal obligation and consequences of having an inaccessible and non-ADA compliant website" and "92% expect their agency to make their website accessible as part of the process." (Source: Baltimore Post-Examiner, May 2021)
Businesses may be hesitant to take on accessibility compliance on their own because they are worried about the cost, time, and other resources it may take. It's a complex business challenge, and most businesses are not equipped to take it on without outside help. This is where digital agencies have an opportunity to step in and differentiate themselves from competitors. 
"As an agency owner, I should know more about accessibility than my clients. And that's why, when I saw how simple the AudioEye/Duda integration was, I was like, 'Well, this is great… Let's just get this installed on all our sites,'" says Josh Crouch, founder of the marketing agency Relentless Digital. 
"Duda makes getting what I need super simple, and that helps me scale my business. I didn't know a lot about accessibility before I saw AudioEye on the Duda App Store but seeing it there was enough for me," says Josh. "Now I can tell my clients not to worry, 'I already took care of it for you. You can go back to your normal business activities.'" 
Can you upgrade the AudioEye service level through Duda?
Duda clients who manage e-commerce sites and face a higher level of risk and/or have received demand letters in the past, have an option to select AudioEye Premium service. 
With AudioEye Premium, Duda clients get the following services, in addition to the Standard Plan:
Advanced Legal Support — In the event of legal action, the AudioEye team will assist in response documentation and provide support during the legal process.
Advanced Remediations — AudioEye's team of IAAP-certified experts will periodically review your site and manually fix any errors that cannot be fixed with automation. 
Premium Support — If a question or issue arises, support from a digital accessibility expert and a dedicated account manager is available. 
Upgrading to AudioEye Premium is straightforward, with no complicated contracts and statements of work. To upgrade their service, Duda clients can simply select the option within the Duda App Store, similar to how the initial install works. 
The Premium option is set up to work on a site-by-site basis, to upgrade multiple clients at a time, clients need to contact Duda to process the transaction.
"We're a full-service marketing and web design agency. It's our job to provide more traffic and leads. Making my client's website more accessible can help with their traffic. It can help deliver new leads. And when we can protect clients from the threat of lawsuits while improving the browsing experience for their potential customers? It's stupid not to do that."

—Josh Crouch 
Founder, Relentless Digital 
Additional Resources
If you'd like to learn more about digital accessibility, including the obligations you have as a business or website owner, please check out AudioEye resources at the links below. 
What Is a Digital Accessibility Audit, and How Do You Perform One? How can you tell whether your site is accessible to people with disabilities? Learn how to evaluate your site for accessibility.
You've Been Sued. Now What? Did you receive a demand letter from an attorney, claiming that your site doesn't meet digital accessibility guidelines? This ebook will help you better understand the entire legal process, from response to defense to compliance.
Why Accessibility Plugins Aren't Enough for ADA Compliance If you're new to the world of online accessibility and want to know about the ways you can improve access for your site's visitors while protecting your business interests, take a moment to understand what fully automated accessibility solutions can and cannot do. This blog post quickly brings you up to speed on the promise — and limitations — of automated accessibility.
* Available to all clients in Spring 2022
Ready to test your website for accessibility?
Scan your website now.