Back to blog
Guide to Choosing the Right Web Accessibility Solution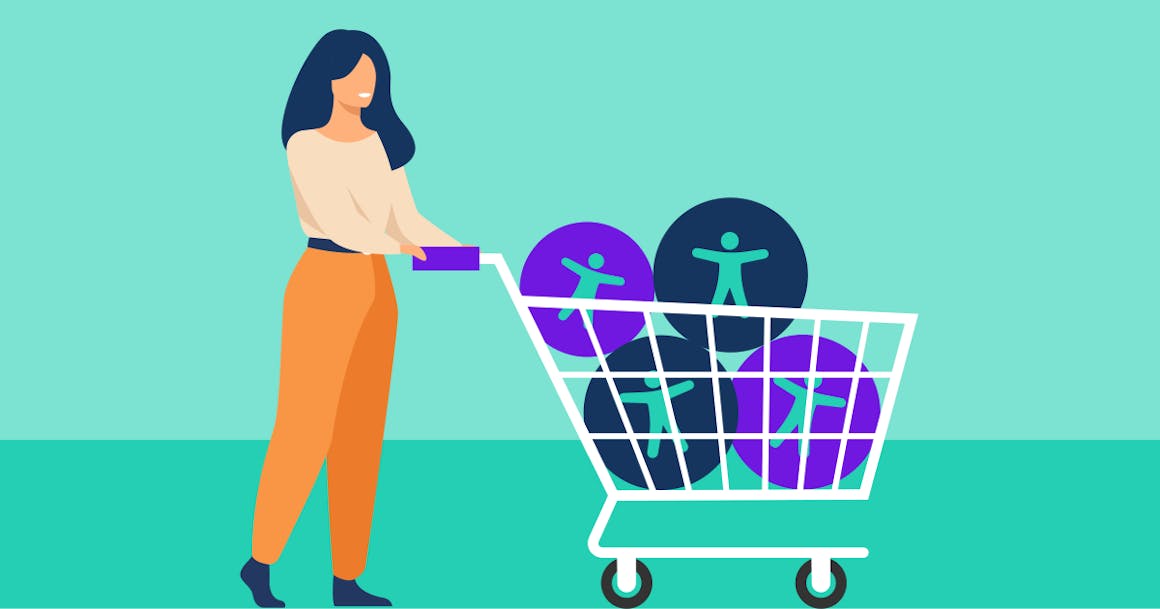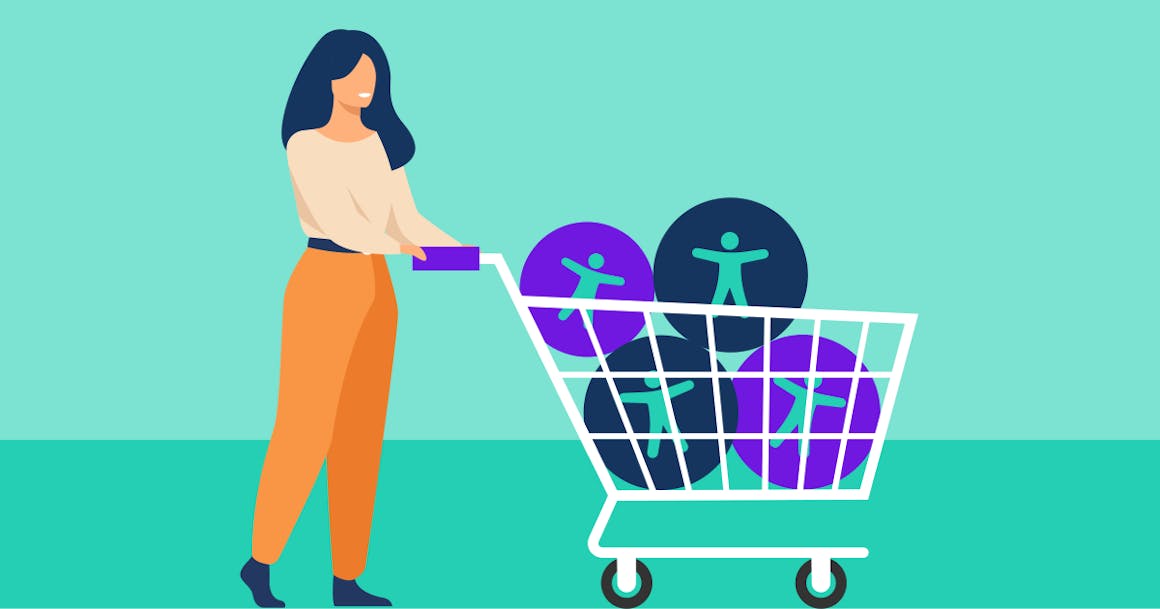 Web accessibility solutions test your website for common barriers that impact users with disabilities — and in some cases, automatically fix certain issues. Here's how to choose an accessibility solution for your organization.
Originally Posted: 05/24/21
Your organization has a moral and legal obligation to ensure that people of all abilities have full access to your website. 
But creating accessible content isn't always easy. Web accessibility solutions can help you find barriers, remediate (fix) issues, and present your users with a better overall experience. 
Below, we'll explain how accessibility tools work and provide tips for choosing an appropriate solution for your organization.
Why Is Web Accessibility Important?
Many organizations begin their accessibility journeys for a simple reason: In the United States and in most other nations, businesses have a legal duty to accommodate users with disabilities.
The Americans With Disabilities Act (ADA) is the cornerstone of digital accessibility. To comply with Title II and Title III of the ADA, enterprises and public organizations must make digital content accessible or face legal risks, which can include fines and lawsuits.
The Department of Justice (DOJ) has regularly reiterated its opinion that the ADA applies to websites, mobile apps, web-delivered apps and other types of digital content. Other non-discrimination laws, such as the Accessibility for Ontarians with Disabilities Act (AODA) and California's Unruh Act, also establish accessibility requirements for digital content creators.
But accessibility is about more than compliance: It's about providing every web visitor with a better user experience. When your website works for everyone, your potential audience is much larger — and every user can benefit from accessibility improvements.
For example, if your website includes alternative text (also called alt text) for every image, you provide a better experience for people who use screen readers (software that converts text to audio or braille). Your website will also be understandable for people who browse on slow internet connections, people who use text-to-speech (TTS) tools, and a range of other users. 
Regardless of the size of your business, the benefits of accessibility can be profound:
To experience those benefits, you'll need to set a goal — and find tools that can help you achieve that goal.
How to Choose the Right Web Accessibility Solution
Most accessibility solutions test content against the latest version of the Web Content Accessibility Guidelines (WCAG), the international standards for digital accessibility.
To find an accessibility solution that's aligned with your organizational priorities, you'll need to assess your current capabilities. Here's a basic process for making that decision.
1. Identify where you stand.
Analyze your organization's available resources and goals. Start by asking questions: 
Does your team have a solid understanding of digital compliance requirements? 
Do designers pay attention to color contrast and other WCAG requirements?
Is accessibility part of your development process? 
How does your website (or mobile app) currently stack up against WCAG requirements? 
Remember, if you're not treating accessibility as a priority, your results will be limited. Your accessibility solution should support your team's work — but to create truly inclusive content, accessibility should be a core part of your workflow.
If you don't have an organizational approach to accessibility, consider a solution that can provide guidance along the way. AudioEye's platform combines powerful automation with 24/7 access to expert guidance, which helps teams develop a self-sustainable strategy.
2. Pinpoint key stakeholders.
Determine who needs to be involved in the decision-making process. This could include web developers, designers, content creators, and your legal team.
Avoid assigning the work to a single person or team. Remember, everyone has a role to play, and your website will be much more robust if every key stakeholder shares a commitment to accessibility.
3. Analyze potential accessibility solutions.
Gather feedback from stakeholders and review options. To meet organizational goals, you'll need to analyze the features of potential accessibility solutions.
Factors to consider:
Automated testing capabilities. Most accessibility tools perform automated audits of website content (we'll discuss automated testing in detail later in this article). Determine how each solution tests content, and whether tools use a version of WCAG that aligns with your goals.
Automatic remediation capabilities. Some accessibility barriers can be addressed through automation, which can save time when remediating issues on a large or complex website.
Guidance for manual remediations. Certain accessibility barriers require human judgment (they can't be fixed with automation alone). Your accessibility solution should provide clear, practical steps for handling these remediations.
Cost. Accessibility requires an investment, and an accessible website can generate an excellent return on investment. However, you'll need a solution that aligns with your web development budget. 
Legal protection. AudioEye's solution has the lowest rate of valid legal claims in the industry, and our customers enjoy end-to-end legal support.
4. Establish timelines.
Build realistic timelines to compliance. Whether you're starting from scratch or you already have resources in place, fixing accessibility barriers can take time.
As you begin your accessibility initiative, you'll need to monitor your progress (and celebrate milestones). Our solution includes the AudioEye Accessibility Score, which provides an overview of a website's overall accessibility along with detailed guidance for taking the next steps.
Understanding WCAG 2.0/2.1 Guidelines
Typically, tools scan content automatically, using WCAG's success criteria (testable statements describing accessibility concerns). The tool creates a report, which the organization can use to address accessibility barriers. 
WCAG success criteria are organized into three levels of conformance ("conformance" means voluntarily following the guidelines). 
Level A defines the most serious accessibility issues, which are highly likely to have a major impact on users with disabilities.
Level AA includes all Level A success criteria, along with additional criteria to improve experiences for users.
Level AAA is the most strict level of conformance. It includes all Level A/AA criteria, along with additional requirements. Some types of content cannot conform to all Level AAA criteria.
For digital compliance — and to provide an equivalent experience to all users — most organizations should aim for Level AA conformance. Learn more about the differences between WCAG conformance levels. 
Occasionally, WCAG is updated to reflect changes in technology. Each version adds to previous versions, but does not deprecate them: For example, WCAG 2.1 contains all of the same criteria as WCAG 2.0, but with additional criteria.
The World Wide Web Consortium (W3C), which publishes WCAG, recommends testing content with the latest version of the guidelines. Currently, that's WCAG 2.1, with WCAG 2.2 scheduled for publication in late 2023 or early 2024.
Web Accessibility Testing Tools
The bottom line: Your goal is to follow all WCAG Level A/AA success criteria, using the current version of WCAG. To meet that goal, your accessibility solution should use the latest official version of WCAG for digital content audits.
Some key considerations to keep in mind:
Automated tools use different methodologies to test content. AudioEye's solution performs more than 400 accessibility tests as the page loads, providing realtime feedback — and ensuring that you have the latest available information about your site's accessibility.
No accessibility tool can find every issue that may impact users with disabilities. You'll still need to perform manual testing and remediation, but advanced tools can provide guidance to make this process easier. Learn about AudioEye's manual testing and remediation services.
Some tools can address simple accessibility issues before the user encounters those barriers. AudioEye's platform can automatically remediate contrast issues, improper use of semantic HTML, and other common issues that impact digital compliance. As technologies improve, new tools that utilize generative artificial intelligence (A.I.) may handle more complex issues automatically.
For detailed guidance when building your strategy to web accessibility audits, read: How to Choose a Web Accessibility Tool.
Benefits of a Web Accessibility Solution
Unfortunately, the vast majority of websites have serious issues that impact users with vision impairments, hearing disabilities, neurocognitive differences, and other conditions. Web accessibility solutions can help to address the internet's inequality gap by providing creators with tools for WCAG conformance. 
Strictly speaking, you don't need a web accessibility solution from a third party. You can build accessible content from scratch by following the latest version of WCAG.
However, the right solution can make your journey much easier. When properly implemented, an accessibility solution can reduce workloads for designers, developers, and content creators. You'll also benefit from legal support, realtime monitoring, and guidance from human accessibility experts. 
As your organization adopts the best practices of accessibility, you may rely less on your accessibility solution — but inevitably, you'll need to address issues or showcase your achievements. The right accessibility partner can provide peace of mind.
Start Your Journey Toward Compliance With the Best Accessibility Solutions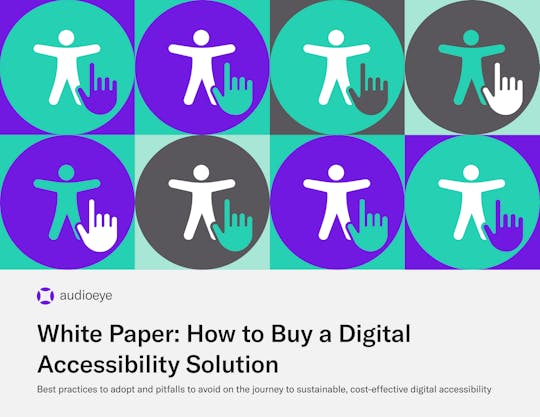 Ready to start your organization's journey toward compliance? AudioEye can help.
Our hybrid approach to accessibility combines powerful artificial intelligence with guidance from human experts. From automated remediations to customizable reporting, we simplify the hard work of accessibility — and help our clients reach their accessibility goals by providing users with the best possible experience.
Read the full AudioEye white paper today to learn more about choosing the best accessibility solution.
Read White Paper
Ready to test your website for accessibility?
Scan your website now.