Back to blog
U.S. Accessibility Laws: What Businesses Should Know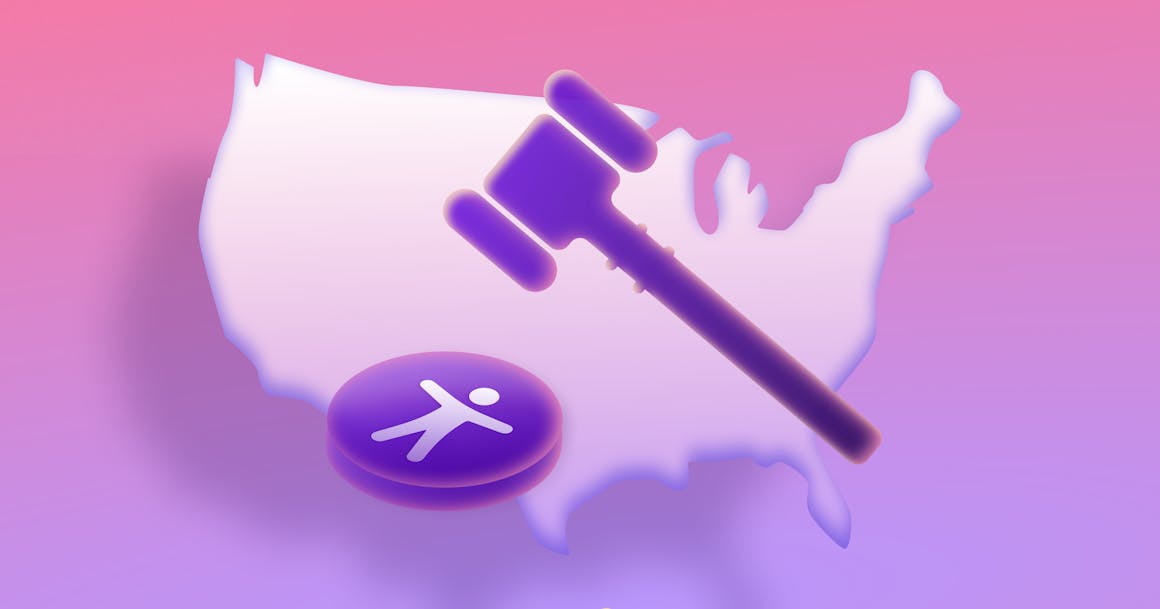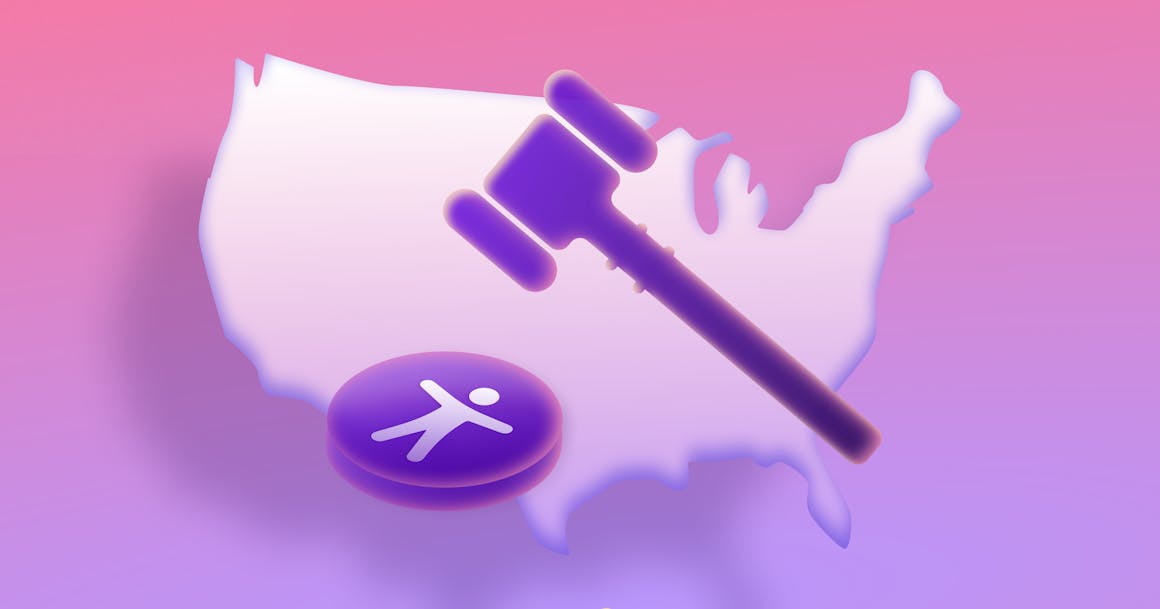 Nearly every organization in the U.S. must provide accessible digital content. Here's an overview of important federal and state laws.
When it comes to risk management for websites, most businesses focus on external threats like ransomware and data breaches.
However, there's another element of risk management that shouldn't be ignored: digital accessibility.
Each year, thousands of businesses face compliance lawsuits that cite violations under the Americans with Disabilities Act (ADA) and other laws. That number is on the rise, too. Between 2017 and 2021, the number of ADA-related lawsuits went up by 400%.
Unfortunately, it's not always clear which laws apply to your business. Or the best way to make sure your website conforms to the latest accessibility standards.
In this post, we highlight several key non-discrimination laws in the United States — and how they might impact your business.
Please note: The information on this page is not legal advice. If you have specific questions about compliance, consult an attorney.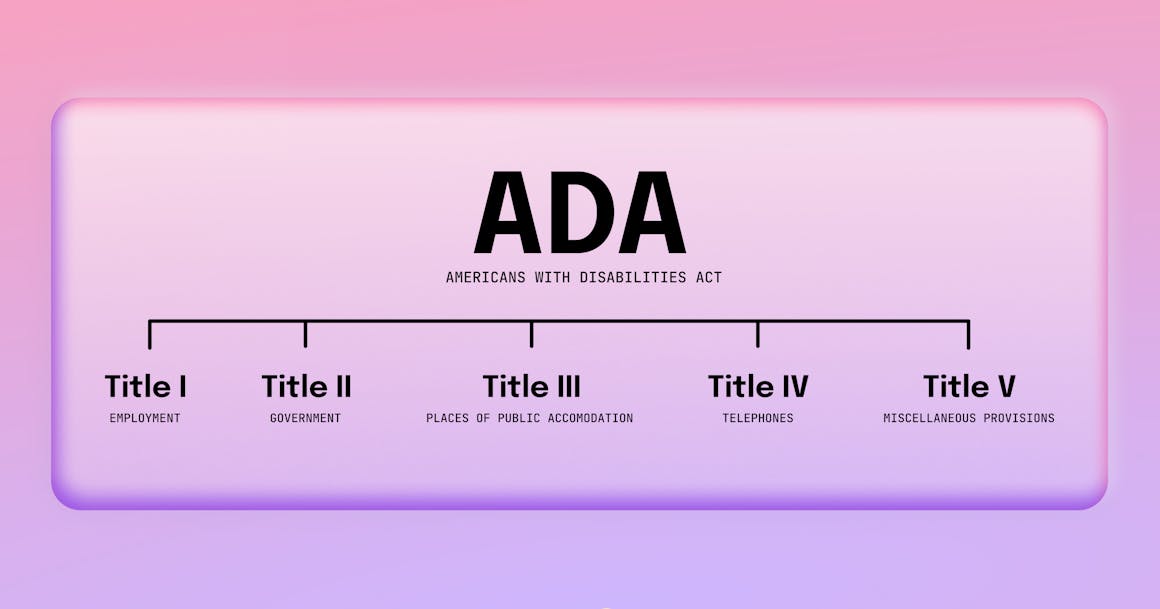 The Americans with Disabilities Act
The ADA is one of the key legislations that prohibit discrimination based on disability. The law is organized into five sections:
Title 1: Employment
Title II: Government
Title III: Businesses (also known as Places of Public Accommodation)
Title IV: Telephones
Title V: Other U.S. laws and regulations (miscellaneous provisions)
Titles II and III are the most relevant sections for digital accessibility. Under Title II, government agencies must take steps to avoid discriminating against people with disabilities. It also includes strict administrative requirements, like record keeping, self-evaluations, and grievance procedures.
Title III applies to businesses, non-profit organizations, and other "places of public accommodation." If you operate a business in the U.S., your website almost certainly must comply with the ADA. While Title III doesn't carry the same administrative requirements as Title II, it still requires organizations to make their services accessible when doing so is "readily achievable."
Does the ADA include technical requirements for digital accessibility?
Because the ADA was signed into law in 1990, it doesn't include direct language about the internet — or specific legal criteria for implementing digital accessibility.
Instead, the courts and the Department of Justice (DOJ) rely on the Web Content Accessibility Guidelines (WCAG), which are used as a web accessibility standard. Under the ADA, WCAG is almost universally cited in lawsuits and settlements — and legal precedents show that adhering to WCAG is key to ADA compliance.
In numerous court cases, website accessibility has been identified as a "readily achievable" goal. But a lot is left up to interpretation, including how many and which WCAG criteria a website needs to conform with in order to be considered ADA compliant.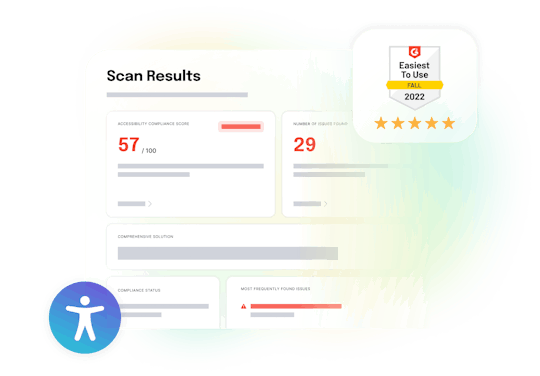 Find out if your site is accessible for people with disabilities and meets the ADA, WCAG, and other requirements.
Free Scan
Section 508 of the Rehabilitation Act of 1973
The Rehabilitation Act of 1973 was the first U.S. disability civil rights law. In 1998, Congress amended the law to require federal agencies to make their electronic information technology accessible to people with disabilities.
In 2017, Section 508 was updated again to include clear technical standards. As of May 2018, it requires government agencies to apply the WCAG 2.0 Level AA success criteria and conformance requirements to both web and non-web electronic content.
We discuss WCAG in detail below, but it's important to remember that, unlike the ADA, Section 508 only applies to federal websites — although some states have laws requiring state agencies to meet similar standards.
Additionally, if your organization works with the federal government, you may need to meet Section 508 requirements to win contracts.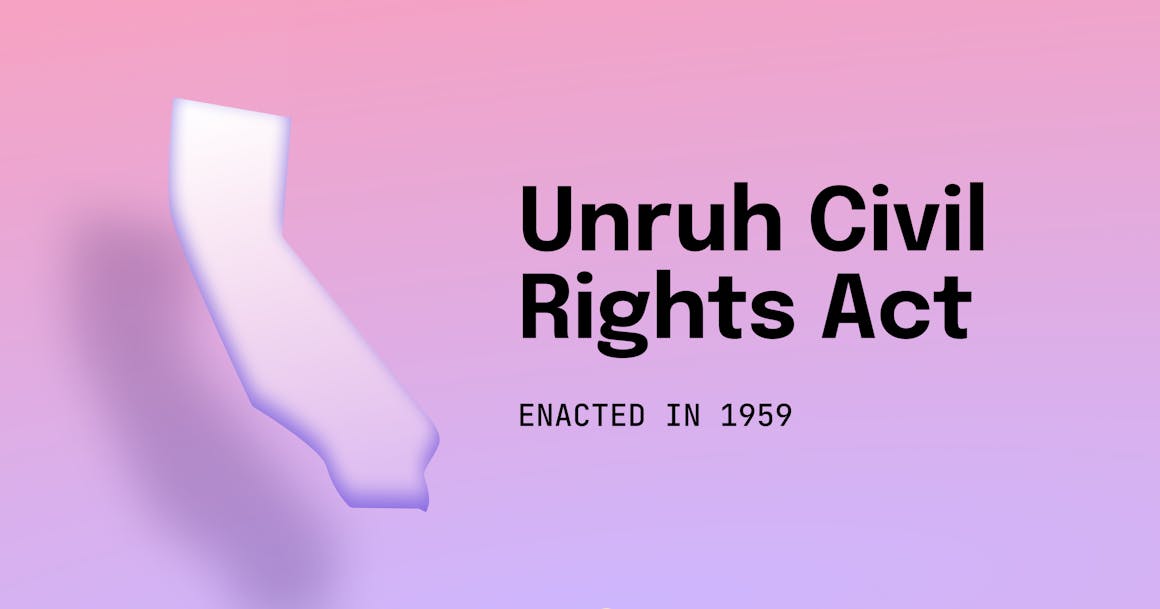 California's Unruh Civil Rights Act
The Unruh Civil Rights Act (California Civil Code Section 51) provides protection from discrimination by all business establishments in California because of age, ancestry, disability, national origin, race, religion, sex, and sexual orientation.
Enacted in 1959, the Unruh Act is different from other U.S. accessibility laws in several ways:
It isn't specific to disability status.
It has a broad scope, requiring "full and equal accommodations, advantages, privileges, or services in all business establishments."
If discrimination is intentional, plaintiffs may sue for monetary damages of up to $4,000 per offense.
Most businesses that operate in California need to comply with the Unruh Act. However, an opinion from the California Court of Appeals (PDF) in 2022 held that the act does not apply to digital-only retail businesses that do not operate brick-and-mortar establishments.
Please note: This post isn't a comprehensive review of all state non-discrimination laws. Legislation — and court interpretations of said legislation — are subject to change, so you'll need to stay up-to-date on your state's laws in order to maintain compliance. A useful resource is the Web Accessibility Initiative's Web Accessibility Laws & Policies page, which catalogs digital accessibility laws and their requirements.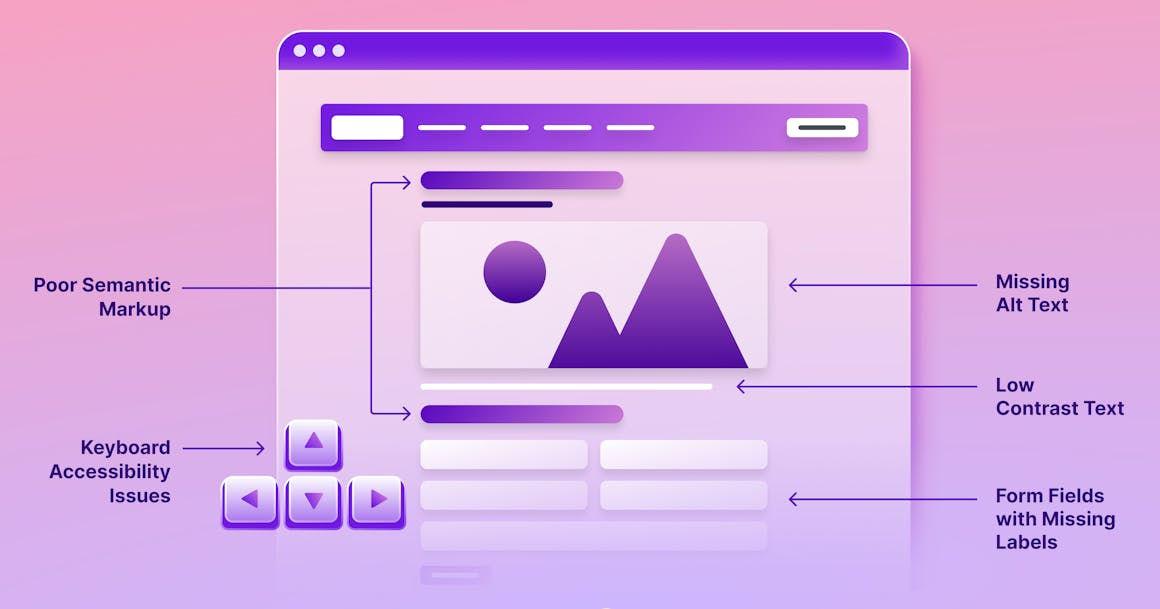 WCAG and U.S. Accessibility Laws
Given the broad scope of U.S. non-discrimination laws, most organizations have a legal responsibility to make their website and other digital content — including mobile apps and PDFs — accessible to all users, regardless of ability.
If you are new to the concept of digital accessibility, it can feel a bit overwhelming. Fortunately, many U.S. laws use WCAG as a framework and, for laws that don't establish clear technical requirements, WCAG conformance provides a roadmap for compliance.
WCAG consists of 78 success criteria, which are written as pass-or-fail statements that address accessibility barriers such as low-contrast text, missing alt text, and keyboard accessibility issues.
Is WCAG Conformance Legally Required?
No, but the DOJ cited WCAG in its 2022 guidance on web accessibility and the ADA, and many ADA cases have referenced WCAG when discussing alleged violations.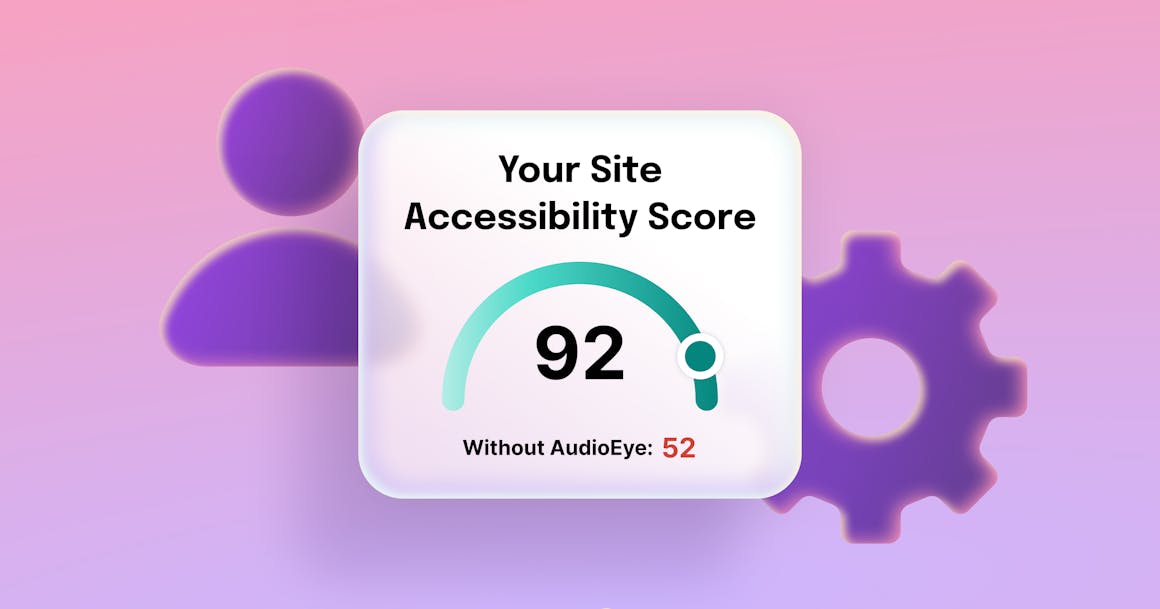 Creating a Plan for Accessibility
When we talk to prospects and customers about their websites, we like to tell them that digital accessibility — done right — isn't a one-time fix. It's a journey.
Regularly testing your website for accessibility issues is a key part of that journey. Through our continuous investment in research and development, AudioEye has created an automated test suite with 400+ test outcomes and 70+ automated fixes that allow us to solve the majority of common accessibility issues in real time.
But we also recognize the role of human expertise in delivering the highest level of accessibility to people with disabilities. To that end, we provide manual testing and remediation services and use the insights from manual audits — run by certified testers and members of the disability community — to develop new automated fixes and solve issues proactively.
To get started, evaluate your website against current WCAG standards.
Ready to test your website for accessibility?
Scan your website now.