Back to blog
Web Accessibility Lawsuits in the COVID-19 Era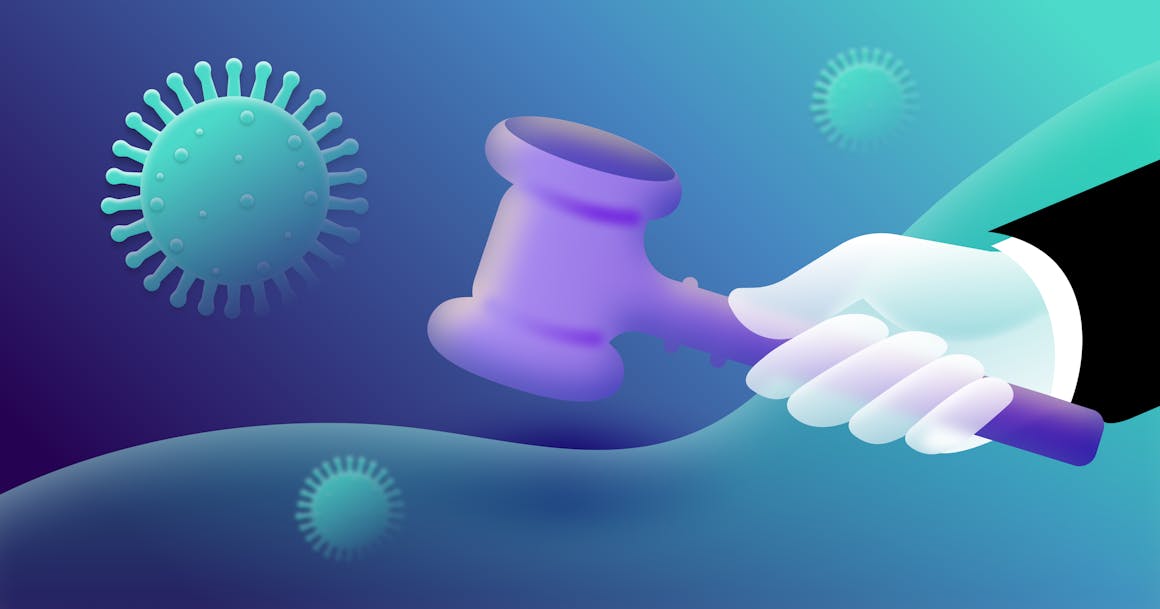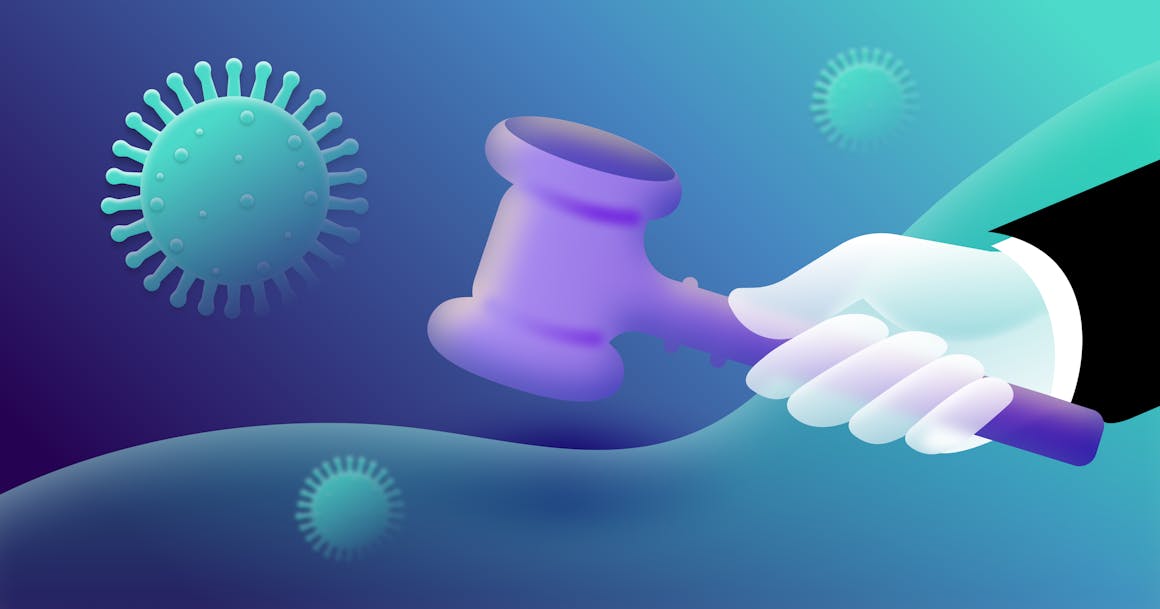 Web accessibility lawsuits skyrocketed during the COVID-19 pandemic. Here's an overview of two important cases and their lasting impact on digital accessibility.
When the COVID-19 pandemic forced people to do more things online, it clarified the importance of digital accessibility — and corresponded with a notable increase in the number of ADA web accessibility lawsuits.
In 2022, the Department of Justice (DOJ) published guidance reiterating its opinion that organizations have a responsibility to provide websites that are accessible for people with disabilities under Title III of the Americans with Disabilities Act (ADA).
Nevertheless, the majority of  websites still have serious accessibility issues. According to a 2022 report by WebAIM, 97% of the top one million websites had detectable violations of the Web Content Accessibility Guidelines (WCAG), the de facto international standard for digital accessibility.
In this article, we discuss website accessibility lawsuits of the COVID era that have changed the ADA enforcement landscape.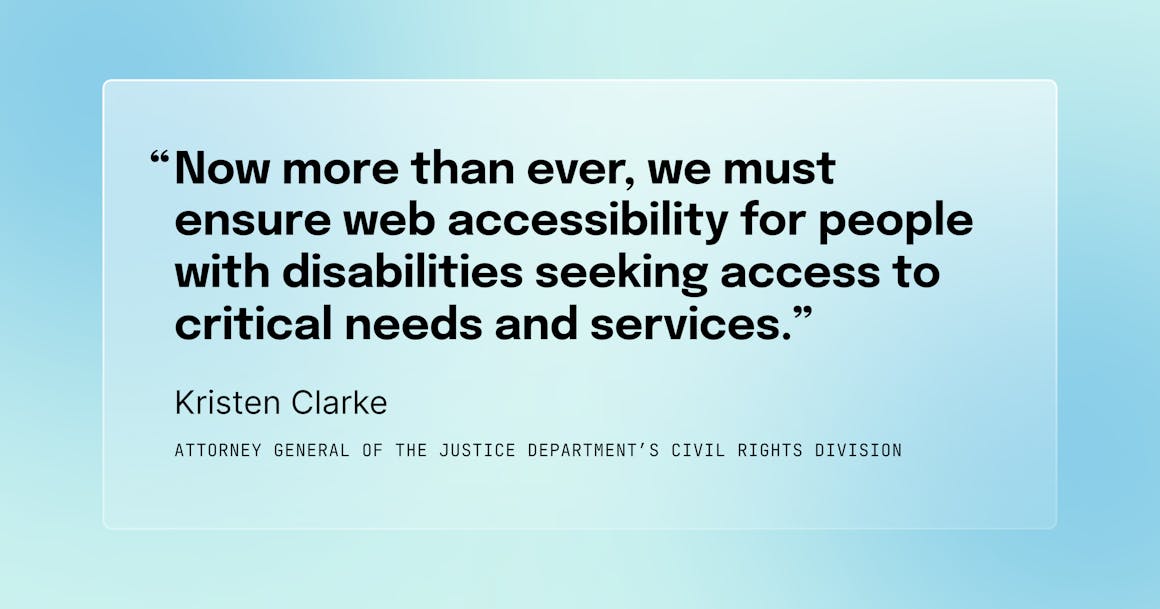 1. The Department of Justice v. HealthCare Provider Sites
Digital accessibility is often enforced through private litigation — any consumer who has a disability may file a lawsuit alleging violations of the ADA.
However, the DOJ can also investigate alleged violations and file lawsuits. Typically, the DOJ reserves investigations for scenarios in which digital accessibility issues affect a large number of consumers.
During the COVID-19 vaccine rollout, the DOJ turned its attention to vaccine registration portals. In a series of press releases announcing settlements with CVS Pharmacy, Inc., Rite Aid Corporation, Hy-Vee Inc., The Kroger Co., and Meijer Inc., the DOJ noted that these portals were not accessible to people who use screen readers and other assistive technology.
Why the Cases Matter
The settlements demonstrated that the DOJ is committed to enforcing the ADA — especially when alleged accessibility barriers can limit access to important health resources.
"Now more than ever, we must ensure web accessibility for people with disabilities seeking access to critical needs and services," said Assistant Attorney General Kristen Clarke of the DOJ's Civil Rights Division. "We are working aggressively to identify and remove barriers that prevent people with disabilities from privately and independently securing potentially life-saving COVID-19 vaccines. We will continue to work towards the ADA's promise of equal access during the ongoing global pandemic."
2. Delacruz v. Elon University
In 2022, Emmanuel Delacruz, who has a visual disability and uses a screen reader, filed a complaint against Elon University alleging that the university's website had missing alternative text, redundant hyperlinks, and other issues that made it less accessible for people with disabilities.
"The Plaintiff has suffered and continues to suffer frustration and humiliation as a result of the discriminatory conditions present on Defendant's website," the complaint reads. "These discriminatory conditions continue to contribute to the Plaintiff's sense of isolation and segregation."
Delacruz has filed dozens of other lawsuits against educational institutions and private businesses. He is seeking class action status for his lawsuit, which could broaden the impact of the lawsuit.
Why the Lawsuit Matters
Many universities have faced web accessibility lawsuits during the COVID-19 pandemic, but the majority of higher education ADA lawsuits cite violations of Title II, which requires government agencies to take steps to avoid discriminating against people with disabilities.
Delacruz v. Elon University demonstrates that educational institutions may also face litigation under Title III. The plaintiff argues that because Elon University sells products (such as sportswear) for profit, Title III, which covers businesses, is also applicable to the institutions.
In other words, educational institutions may receive ADA demand letters from any consumer who has a disability — not just current or prospective students.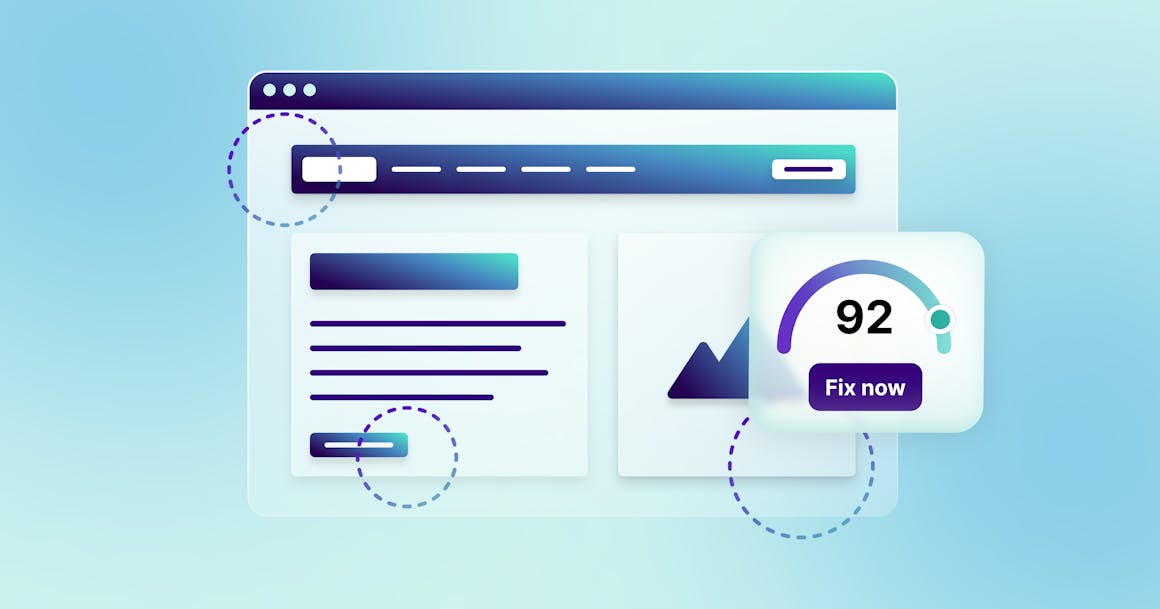 Don't Wait for an ADA Lawsuit To Think About Web Accessibility
If you're ready to build digital accessibility into your organization, AudioEye can help. Our solution includes tools for testing WCAG conformance, automatically fixing common accessibility issues for everyone who visits your website, and custom fixes for issues that require human intervention.
Want to get a sense of where your business stands today? Check your website against the latest WCAG standards using AudioEye's free Website Accessibility Checker.
Ready to test your website for accessibility?
Scan your website now.