Back to blog
Web Accessibility Myths: Debunking Common Misconceptions About Website Accessibility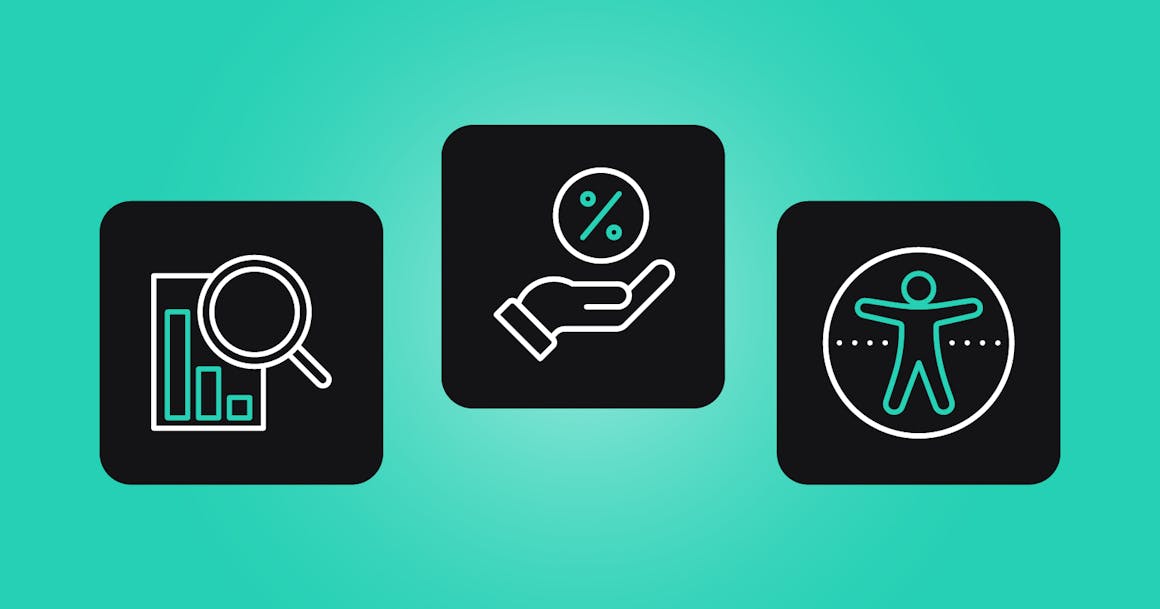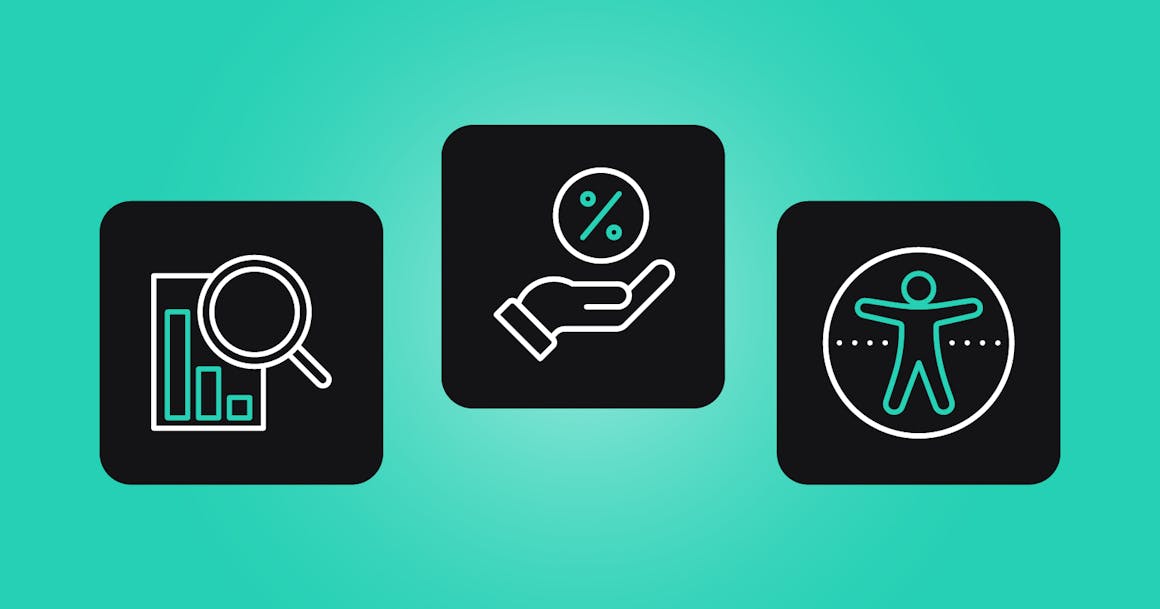 Here are the common misconceptions, myths and facts you need to be aware of to better understand web accessibility and why it's important for any business.
Website Accessibility Myths: Debunking Common Misconceptions
It's too expensive. It takes too much time. There's no real business value in making my website accessible.
The decision to make your site accessible for all people is vital. After all, one quarter of the U.S. adult population is living with a disability that may impact whether they can navigate your online content. Yet the fact remains, the overwhelming majority of websites today have accessibility problems. Why? We asked more than 500 high-level business leaders, managers, website designers, and developers about their level of familiarity with web accessibility, their hesitations, and whether they truly understand the benefits a fully useful online experience can bring to their business.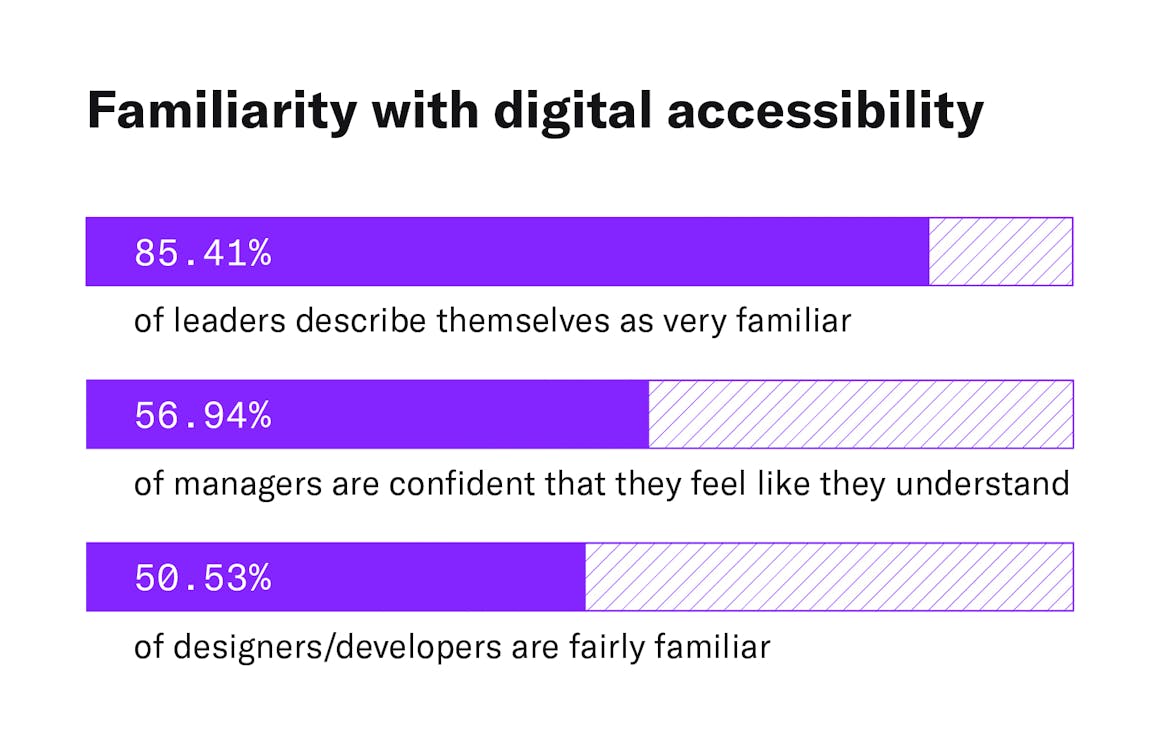 While a majority of those we asked would describe themselves as being fairly — or even very — familiar with website accessibility, more than half of the website designers and developers AudioEye surveyed lack confidence in their understanding of universal online functionality when compared with their manager or leader. No question there's confusion in the space, and rightly so. That's why we're debunking some of the most prominent misconceptions to help you make an informed decision when it comes to your, or your client's, website accessibility.
But before we do, let's back up.
What is website accessibility?
Website accessibility is the practice of making your website, or any digital experience, usable by everyone, regardless of their ability. Generally, online accessibility refers to functionality designed for individuals with disabilities — those who may have a visual impairment, motor control difficulties, neurological disorders, a learning disability, or even age-related ability concerns.
Here's an example:
An individual is blind and requires the use of assistive technology (AT) to navigate your website. If your site is not created to properly function with that AT, it cannot communicate your information in a clear and thoughtful manner to that individual. They're essentially blocked from engaging with your content. They jump off your website to find one that is useful to them.
In the physical space, this would be the equivalent of building a restaurant with no wheelchair access (a wheelchair is considered AT, after all). It's against the law, and it's uncommon.
We believe the same is true of website accessibility. As we deepen our dependency on online interactions — paying bills, virtual education, shopping, even socializing — all individuals of every ability deserve the right to a barrier-free interaction. An accessible site ensures this equality.
There's also a compliance driver. While legal requirements are crystal clear for government organizations and public schools, for example, they're less transparent for some private industries. That's where the courts have entered the arena. More and more frequently, U.S. federal courts are ruling that website accessibility is a requirement stipulated in the Americans With Disabilities Act (ADA). The courts are interpreting the ADA's Title III reference of "places of public accommodation" as one that applies to the digital world, not just the physical one. With this trend, more plaintiffs are suing companies for inaccessible online environments, and courts are ruling in favor of accessibility.
This means website accessibility is not only a moral obligation, it's a legal one.
Common hesitations in making a website accessible
Taking into consideration this moral and legal imperative, why are so many companies hesitant? Our survey revealed four primary reasons: compliance, cost, time, and return on investment.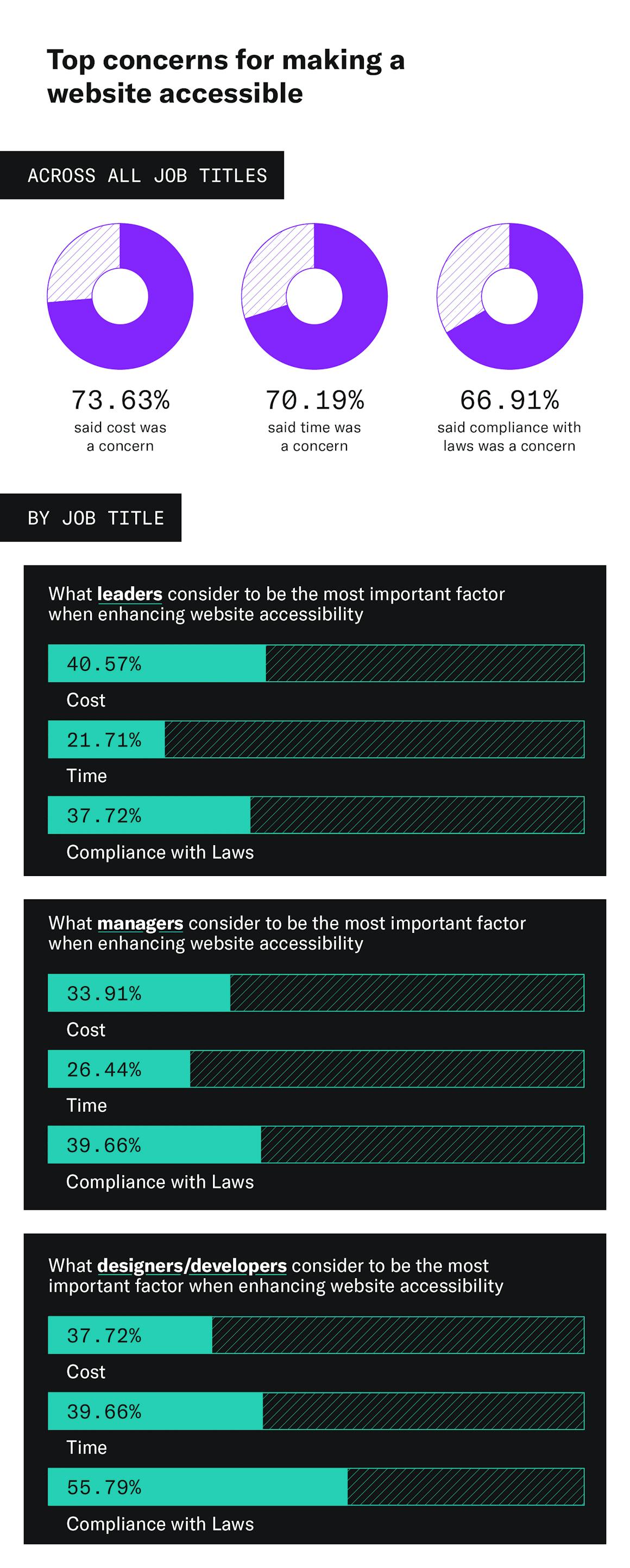 When it comes to designing and developing websites, the majority of our respondents are motivated by compliance, which isn't surprising. Companies are savvy to the uptick in lawsuits and want to protect their time, money, and reputation.
But the truth is, making a website compliant and immediately more accessible does not have to take a significant amount of time or cost a lot of money. With AudioEye, customers gain access to our powerful technology, that starts finding and fixing hundreds of the most common errors as soon as it is installed. That means an AudioEye-powered website is instantly more accessible, with plans starting at about $1.50 a day.
So what about a return on that investment? The vast majority of website owners believe it will take one to two years to see a business benefit from an accessible website. Many of them also believe that a wide range of their target audience, from 11% to 100%, has a disability and is therefore impacted by barriers to usability. In fact, 26% of the U.S. adult population identifies as having a disability. That's potentially one quarter of your consumer base. Worldwide, that number skyrockets to upwards of one billion people. Those individuals, along with their friends and family, represent $8 trillion in annual disposable income. That means making even the smallest website accessibility improvements may equate to significantly expanding your, and your clients', customer bases, not to mention your revenues as well as theirs.
Other common website accessibility myths
Myth: Using automated tools on my site is all I need to do to make it accessible
More than 65% of those we asked believe simply adding a toolbar to a website makes it accessible. More than half think AI, or automation alone equates to a site that is fully functional for all users.
Here's the fact: Artificial intelligence is sophisticated and getting better. But automation on its own will never identify and fix every accessibility error. Think about it. A computer simply cannot interpret intent. The limited scope of even the most advanced automation will leave many compliance issues unresolved and your company at risk.
Now to the toolbar. Adding this widget to your website may give the illusion of accessibility, but a toolbar is used primarily for visual display. Users can activate it to change their color contrast, text spacing, and visual focus. These personalized adjustments are great for a lot of people, but they do nothing for an individual who is blind trying to navigate your content with a screen reader. Its visual appearance doesn't matter.
That's not to say automation and toolbars are useless. Quite the contrary. These are tools in a tool kit, one that should also include regular monitoring, manual testing, reporting, analytics, a method by which users can report barriers they encounter, and more. A hybrid approach that combines technology and people is critical to achieving and maintaining an accessible online experience.
Myth: There are no other benefits to an accessible website
Why is web accessibility so important? Ensuring an equitable online experience for individuals with disabilities is the right thing to do. But there are ancillary business benefits to be aware of. For example, search engine optimization (SEO).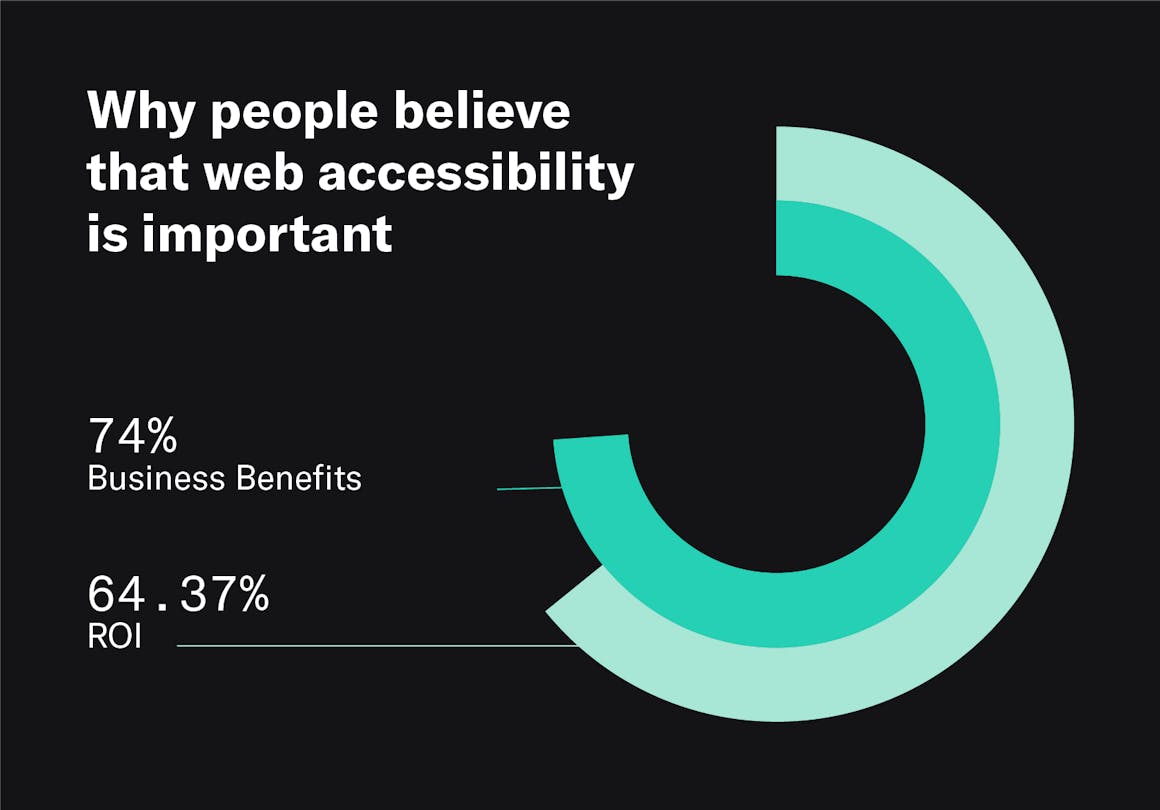 Many principles of good SEO correspond with best practices in website accessibility, and vice versa. We and our agency partners know that companies spend tens of billions of dollars every year to improve their searchability. If a search engine like Google, for example, is "confident" in both the content and the user experience of a website, the site is more likely to rank higher when Google presents its results for a search query.
Then there's the usability factor. The better the experience and functionality for your end user, the more likely they are to stay on your website. Accessibility enhancements and tools like a toolbar help with overall usability.
We've already discussed the potential to serve more customers. Try going to your marketing team and telling them that right out of the gate, one quarter of your potential customers will be blocked from their latest campaign. That's inefficient. An accessible experience takes 100% of your potential audience — and their income — into account.
Myth: Digital accessibility is needed only for those who are blind or who have low vision
Most believe that a visual impairment is the most prominent disability impacted by an inaccessible website.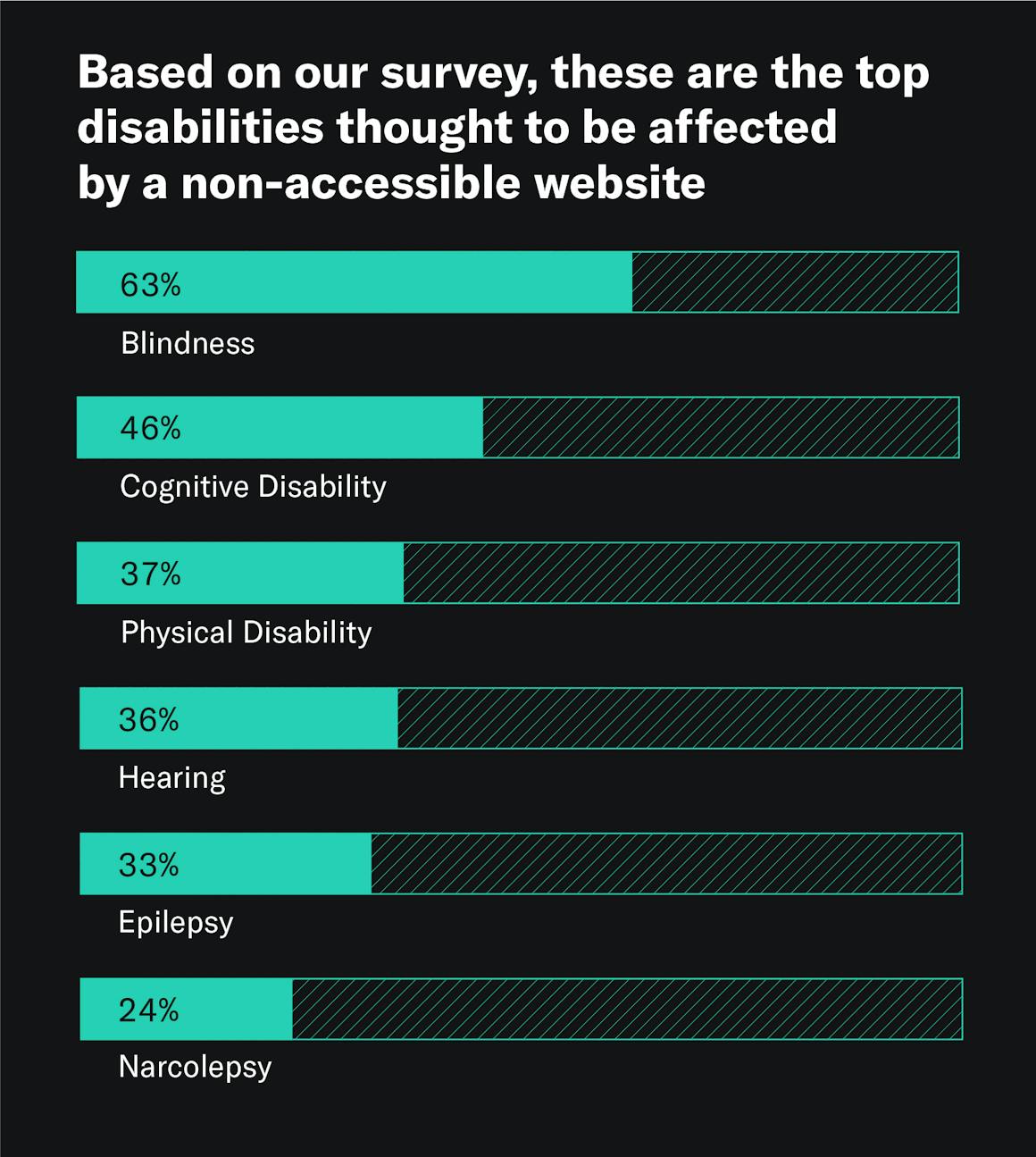 The fact is, mobility problems and cognitive issues impact a higher percentage of the population than visual impairments. This means website accessibility is essential for those who are not able to move their hands or arms and require a switch device, as well as those who have dyslexia and need the option to change a font to properly read your online information. Or consider a visitor who has epilepsy and requires the ability to disable animations or risk prompting a seizure. If there's no option to turn off animation, they're likely to bounce off your site.
And none of us are getting any younger. Accessibility impacts aging users, including those who experience declining vision and need a higher contrast or a larger font, have difficulty hearing or struggle with motor control.
Further, what about temporary or situational disabilities? Someone with a broken arm may have to temporarily rely on their keyboard instead of their mouse. A user who recently had eye surgery may prefer to take advantage of a screen reader AT for a limited time.
Bottom line, an accessible digital experience benefits users of all abilities. And design doesn't have to suffer in the process.
Myth: Accessibility means my site needs to be redesigned
More than 50% of our respondents believe creating an accessible website means starting from scratch — redesigning and redeveloping the entire site. That inevitably sounds costly and time-consuming.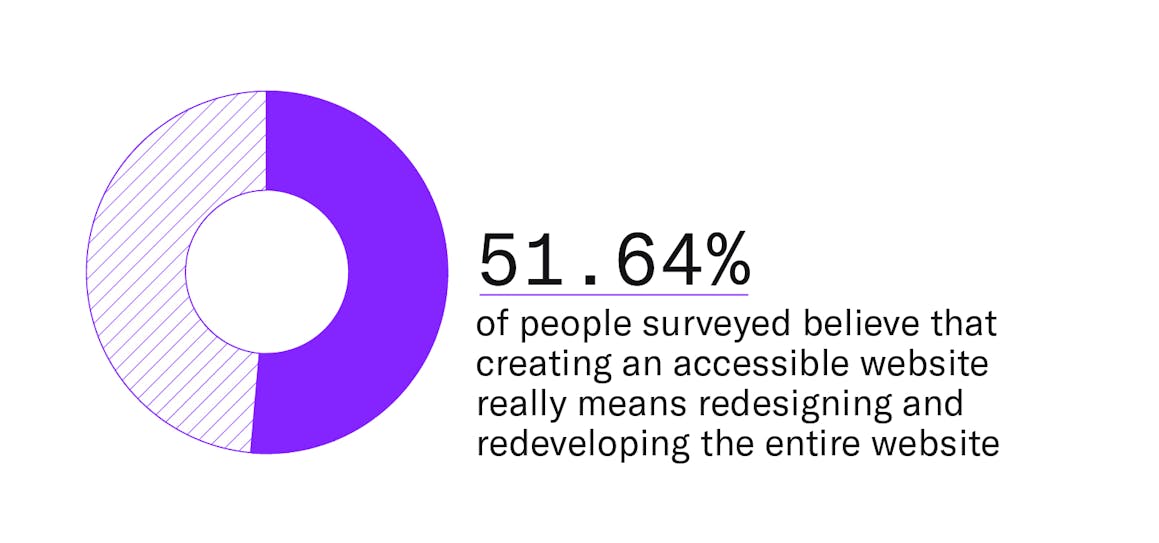 While we agree it's ideal to design a universally usable website from the first line of code, and accessibility is essential in web design, that's simply not feasible for the millions and millions of sites already in existence.
Here's the beauty of the AudioEye approach. By developing automation that finds and fixes the most common errors, we alleviate the vast majority of the redevelopment burden. And for factors like color contrast, a toolbar is instrumental. If your brand colors don't embody the proper contrast ratio, a user can adjust that contrast using our toolbar. You don't need to change your brand or your design — win, win.
Myth: Web accessibility requirements can be ignored because litigation is frivolous and invalid
Shockingly, our survey revealed that about one quarter of leaders believe accessibility lawsuits have no merit. Tell that to Domino's, whose suit made its way to the Supreme Court. Spoiler alert: Domino's fought accessibility, and the high court refused its petition. Another win in the pro-accessibility column.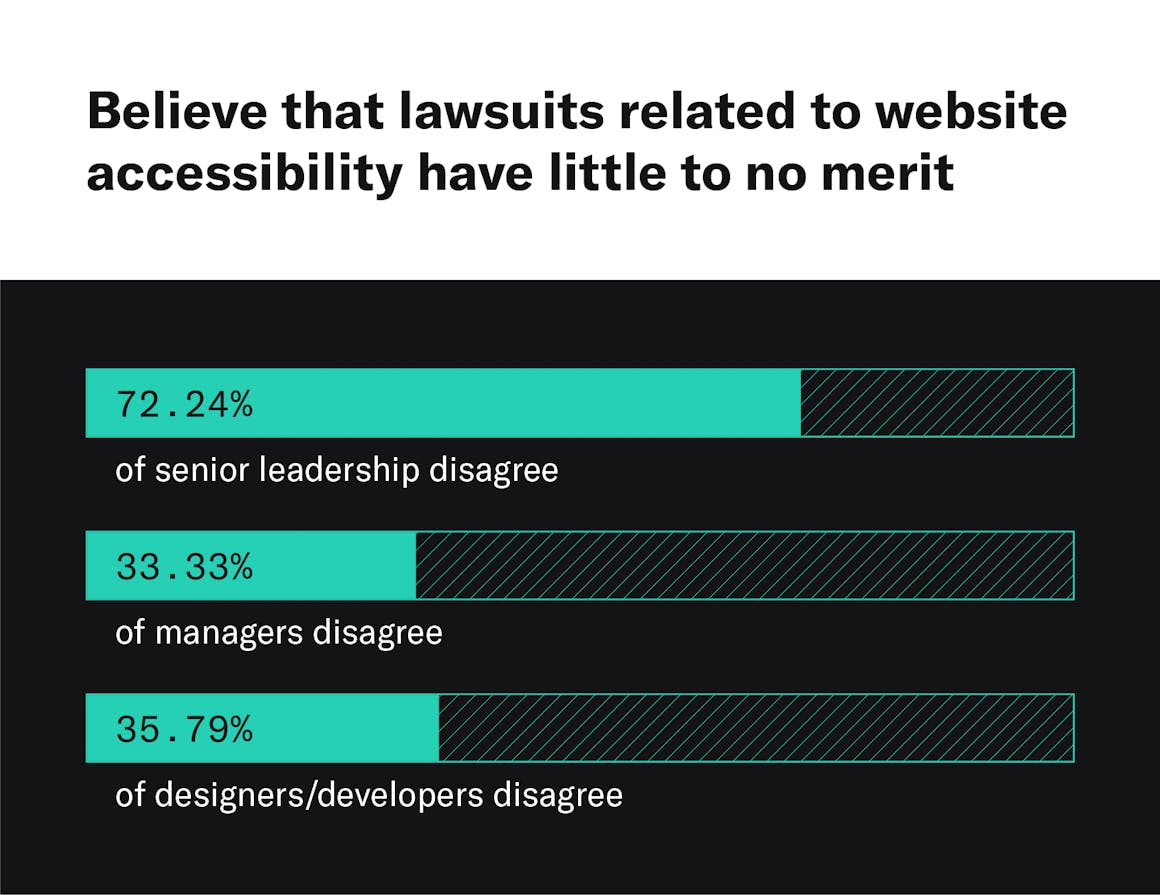 But huge name brands aren't the only ones. Thousands of small and midsize businesses are also facing, or have faced, legal action. If you think your business is small enough to fly under the radar and avoid getting sued, you're wrong. Many mom-and-pop restaurants and small stores have recently fought, and lost, website accessibility lawsuits.
Fact: Web accessibility is smart business
If you've fallen victim to believing some of these common myths and misconceptions, the data speaks for itself: You're not alone. But you can take action.
AudioEye has made it easy to achieve website accessibility compliance without breaking your budget, without taking too much of your time, and without the need to completely redesign your website. Our holistic approach combines the best of automation with an expert touch. Our solution is always on, so as you change your content, we're monitoring for, and reporting on any new errors. And our team of Certified Professional in Accessibility Core Competencies (CPACC)-certified experts can help you through every step of your journey toward universal online functionality, even if you're facing legal action.
We believe in equal access for all, and we want to help you achieve it. Start your free trial of AudioEye today.
We Believe In Equal Access For All
AudioEye can help you achieve it when you start your free trial.