Back to Blog
The Americans with Disabilities Act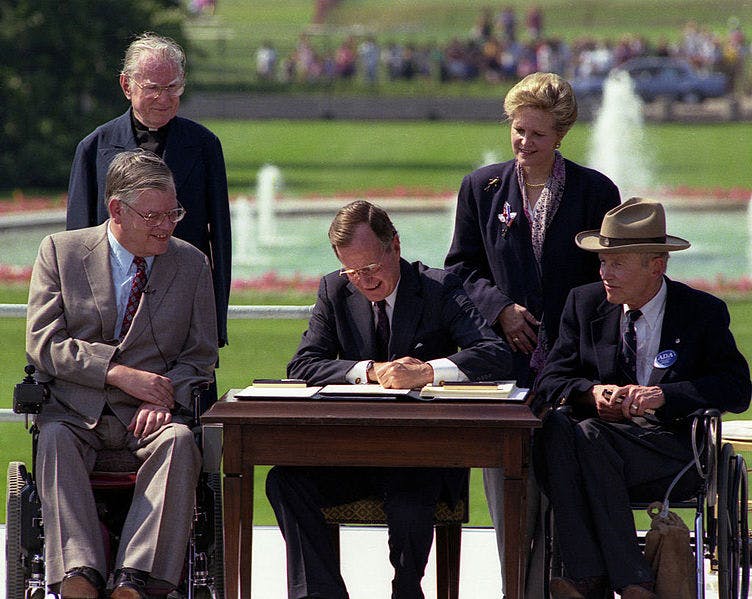 "Let the shameful wall of exclusion finally come tumbling down" 

— President George H.W. Bush at the Signing of the Americans with Disabilities Act
The Americans with Disabilities Act (ADA) was enacted in 1990 to prohibit discrimination based on disability in spaces of Public Accommodation, Employment, Government, Commercial Facilities, Transportation, and Telecommunications. It was designed to provide equal opportunities to all, without thought to disability.
According to U.S. Department of Justice (DOJ), the ADA defines an individual with a disability as someone having "a physical or mental impairment that substantially limits one or more "major life activities". Major life activities include "…functions such as caring for oneself, performing manual tasks, walking, seeing, hearing, speaking, breathing, learning, and working." 
Sections of the ADA
The ADA is broken down into 5 sections: 
Title I: Employment
Title II: State and Local Government
Tile III: Public Accommodations
Title IV: Telecommunications
Title V: Miscellaneous Provisions
Title I prohibits employment discrimination on the basis that a person has a disability. Disability discrimination is prohibited from the start of the employment process with recruitment and hiring and continues through to employment opportunities. This can include pay, training, activities, and privileges. 
In today's society, there has been a shifting focus to Title II and Title III of the ADA as websites become more prevalent in everyday life. Not only do employers need to provide equal access to all employees, websites need to provide equal access to its visitors. Websites are providing more information and services for government entities and key industries, such as educational organizations, e-commerce, banking, and health care. 
Title II of the ADA
Title II of the Americans with Disabilities Act applies to public entities, in other words, state and local governments. The DOJ implements the act to services, activities, and programs that are provided to the public. Encompassed in Title II, Section 504 of the Rehabilitation Act makes state and local governments subject to the ADA, regardless of whether or not they are receiving financial assistance from the Federal government. This includes schools and universities. 
Under Title II, public entities must not discriminate on the basis of disability; to the contrary, they must provide "effective communication" to citizens. This pertains to people who need assistive technology or other services to be able to access web content. 
The Department of Justice has initiated Project Civic Access, a country-wide program, evaluating counties, cities, towns, and villages to the specifications of Title II. The DOJ has taken a stance to ensure that everyone, regardless of disability, has access to their civic rights.
Title III of the ADA
Title III of the ADA outlines requirements for public accommodation, which refers to the private entities that have facilities opened and visited by the public. This includes schools, retail, restaurants, doctors' offices, banks, and much more. If you stop and think about the number of places you visit on a given week, most of them will apply to Title III. 
Under Title III, these places of public accommodation are prohibited from discriminating against people who have disabilities. Discrimination includes unequal treatment, segregation, and exclusion of their services. 
Title III also mandates that all places of public accommodation provide closed captioning to all of the videos that are displayed in the place of public accommodation or distributed by the place of accommodation. If a video is playing in a place of public accommodation that does not have closed captioning, it is not providing equal access. Individuals who are hard of hearing or deaf are unable to know what is being said in the video.
Enforcement of the ADA
The ADA is enforced through a complaint process, whereby any individual who has been discriminated against may file a complaint through a formal process. Individuals may also file complaints on behalf of others. The Department of Justice's Disability Rights Section receives and overviews complaints. After investigation into the complaints, the DOJ proceeds with a lawsuit or settlement agreement based on their findings. 
ADA and Website Accessibility
ADA Title III's definition of public accommodation has been used to file lawsuits proclaiming that websites are inaccessible to those who are blind or have other disabilities. Through past settlement agreements between places of public accommodation and the DOJ, the DOJ has consistently supported a position that considers websites as falling under ADA. Recently, the DOJ has proposed a revision to the ADA, under Title III, to have "public accommodation" include services rendered through websites. 
Even though the revision has not been put into effect, under Title II and Title III of the Americans with Disabilities Act, the Department of Justice has entered into settlement agreements and lawsuits to make websites accessible to people with disabilities. The DOJ has been outlining that websites must comply with Web Content Accessibility Guidelines (WCAG) 2.0 in order to be accessible. WCAG 2.0 is a set of internationally adopted web accessibility guidelines and outlines how to design and develop websites to be fully accessible to people with disabilities. Learn more about WCAG 2.0.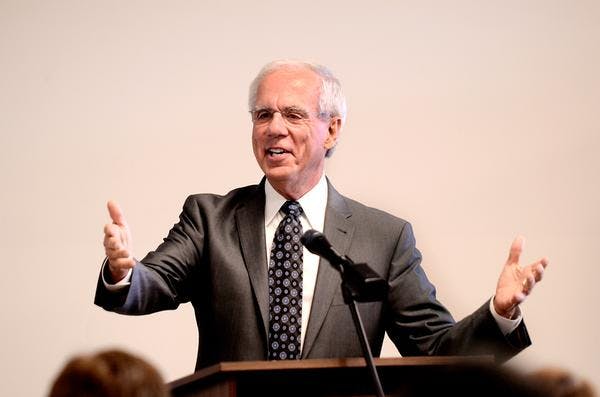 Acknowledgment
AudioEye would like to thank the primary sponsor of the Americans with Disabilities Act, former United States U.S. Representative from California and AudioEye Board Member, the Honorable, Tony Coelho. Thank you, Congressman, for all that you have done to advance disability rights in the United States and throughout the world. Learn more about Tony Coelho.
Key Terms
Listed below are key terms that are prevalent and frequently used when discussing the Americans with Disabilities Act, lawsuits, and settlement agreements. 
All key terms are defined using the definitions outlined in the Americans with Disabilities Act, unless states otherwise. 
Qualified Individual with Disability: "…an individual with a disability who, with or without reasonable modifications to rules, policies, or practices, the removal of architectural, communication, or transportation barriers, or the provision of auxiliary aids and services, meets the essential eligibility requirements for the receipt of services or the participation in programs or activities provided by a public entity."
Major life activities: "…include, but are not limited to, caring for oneself, performing manual tasks, seeing, hearing, eating, sleeping, walking, standing, lifting, bending, speaking, breathing, learning, reading, concentrating, thinking, communicating, and working."
Public entity: "…any State or local government; any department, agency, special purpose district, or other instrumentality of a State or States or local government; and the National Railroad Passenger Corporation, and any commuter authority."
Private entity: "…any entity other than a public entity."
Public Accommodation: includes, "an inn, hotel, motel, or other place of lodging, except for an establishment located within a building that contains not more than five rooms for rent or hire and that is actually occupied by the proprietor of such establishment as the residence of such proprietor; a restaurant, bar, or other establishment serving food or drink; a motion picture house, theater, concert hall, stadium, or other place of exhibition entertainment; an auditorium, convention center, lecture hall, or other place of public gathering; a bakery, grocery store, clothing store, hardware store, shopping center, or other sales or rental establishment; a laundromat, dry-cleaner, bank, barber shop, beauty shop, travel service, shoe repair service, funeral parlor, gas station, office of an accountant or lawyer, pharmacy, insurance office, professional office of a health care provider, hospital, or other service establishment; a terminal, depot, or other station used for specified public transportation; a museum, library, gallery, or other place of public display or collection; a park, zoo, amusement park, or other place of recreation; a nursery, elementary, secondary, undergraduate, or postgraduate private school, or other place of education; a day care center, senior citizen center, homeless shelter, food bank, adoption agency, or other social service center establishment; and a gymnasium, health spa, bowling alley, golf course, or other place of exercise or recreation."
Web Content Accessibility Guidelines 2.0: "defines how to make Web content more accessible to people with disabilities. Accessibility involves a wide range of disabilities, including visual, auditory, physical, speech, cognitive, language, learning, and neurological disabilities."